Fallen Soldier's Sister Says President Bush 'Held Me While I Sobbed'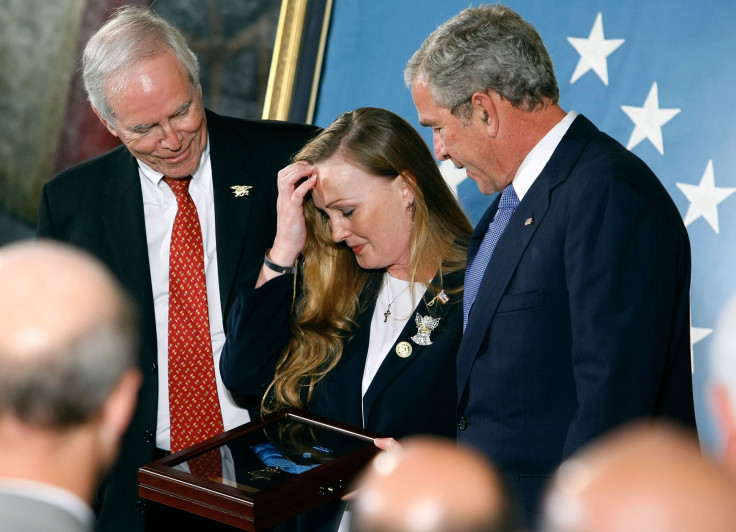 The sister of a fallen soldier lashed out at President Donald Trump Monday following his comments about past presidents and their dealings with gold star families. During a Rose Garden speech, Trump claimed that presidents before him did not call the families of soldiers who died while they were in office.
"The traditional way, if you look at President Obama and other presidents, most of them didn't make calls, a lot of them didn't make calls," he said. "I like to call when it's appropriate, when I think I'm able to do it."
Delilia O'Malley, whose brother died while serving in Iraq during President George W. Bush's tenure, took to Twitter to excoriate the current president for his remarks.
"@realDonaldTrump When my brother was killed, Pres Bush listened while I screamed at him & then held me as I sobbed, you fat f---ing liar," O'Malley tweeted Monday.
There is well-documented evidence of both Bush and Obama writing to, calling and visiting the families of fallen soldiers during their presidencies. Trump appeared to try and walk back the remarks when pressed further Monday.
"I don't know if he did," Trump said of Obama. "A lot of presidents don't, they write letters. I do a combination of both. Sometimes it's a very difficult thing to do, but I do a combination of both."
O'Malley was not the only one to condemn the president's remarks: aides of former presidents and others criticize Trump and shared their experiences with past presidents.
"That's a f---ing lie," Alyssa Mastromonaco, former deputy chief of staff for operations for Obama, wrote on Twitter. "To say President Obama (or past presidents) didn't call the family members of soldiers KIA – he's a deranged animal."
Ben Rhodes, former speechwriter and foreign policy adviser to Obama, called the accusation an "outrageous and disrespectful lie even by Trump standards."
Pictures quickly proliferated online of past presidents, including Bush and Obama, meeting and comforting the families of those killed in action.
"POTUS 43 & 44 and first ladies cared deeply, worked tirelessly for the serving, the fallen and their families," Gen. Martin Dempsey wrote on Twitter Monday. "Not politics. Sacred trust."
© Copyright IBTimes 2023. All rights reserved.