'Family Guy' Season 14 Spoilers: 7 Celebrity Guest Stars To Look Forward To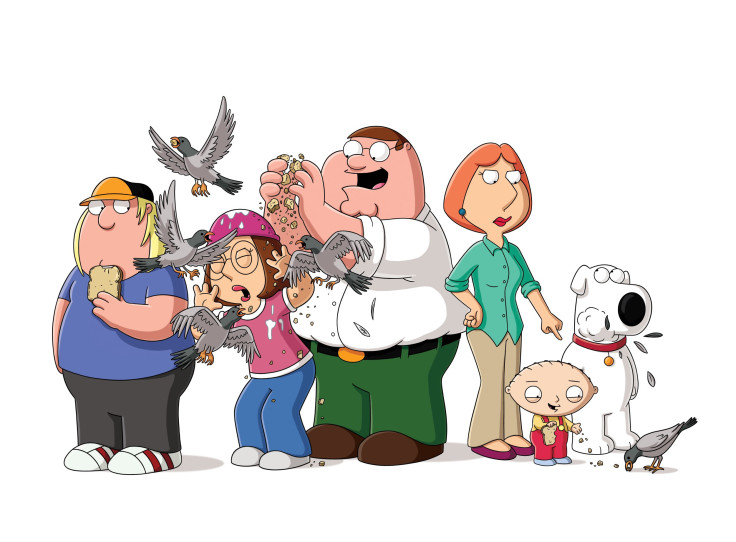 "Family Guy" will return with brand new episodes on Sunday, Sept. 27 when the Fox show kicks things off with its Season 14 premiere, titled "Peternormal Activity." The episode will see Peter Griffin (Seth MacFarlane) and his friends try to find ideas for a horror movie. However, things go horribly wrong when the guys end up killing someone.
Of course, the craziness won't end there and the show has tapped an impressive list of celebrity guest stars to partake in different adventures with the Griffin family. Check out the 7 celebs slated to appear on "Family Guy" Season 14 below:
1. Ashton Kutcher - The "Two And a Half Men" star is set to appear as himself in a live-action shot on Season 14. Not much has been revealed about the role, but executive producer Steve Callaghan told Entertainment Weekly Kutcher will have the "most ridiculous dialogue." It's not clear if Kutcher will appear on the show in a scene with his wife Mila Kunis, who voices Meg Griffin.
2. John Mellencamp - The Grammy winner will appear on the show's Season 14 premiere episode where he will perform an original song.
3. Ed O'Neill - The "Modern Family" actor will voice the father of Joe Swanson in episode 3, titled "Papa Has a Rollin' Son." According to Entertainment Weekly, O'Neill's visit will be full of surprises when he learns his son has been keeping his handicap hidden from him. In an episode synopsis, Peter pretends to be Joe when he realizes O'Neill's character hates handicapped people.
4. Kate McKinnon - The "Saturday Night Live" star will make her appearance at the family's Thanksgiving dinner as Peter's sister, Heavy Flow. Peter doesn't know his sister is a professional wrestler, and when they keep getting into arguments throughout the dinner he suggests they solve their issues by fighting each other in the ring.
5. Neil DeGrasse Tyson - The well-known Astrophysicist is also slated to appear in an episode on Season 14 but details about his character are being kept secret. However, MacFarlane is known to be a lover of science and teamed up with Tyson last year for the TV docuseries "Cosmos: A Spacetime Odyssey."
6. Jeff Garlin - The "Curb Your Enthusiasm" actor guest starred on "Family Guy" last season in an episode titled "The 2000-Year-Old Virgin" when Jesus tried to trick Peter into letting him sleep with Lois. Garlin made a quick cameo when Peter was admiring an expensive massage chair he said the actor would most likely have in his home.
7. Glenn Close - The "Guardians Of The Galaxy" actress has been tapped to head to Quahog, but details about her character have not been released. However, Close's film "Fatal Attraction" has been referenced quite a few times on the show in past episodes.
Other guests stars slated to appear on "Family Guy" this season include sportscaster Joe Buck, "Bloodline" star Kyle Chandler, "Tomorrowland" actress Kathryn Hahn and comedienne Margaret Cho.
"Family Guy" Season 14 premieres on Sunday, Sept. 27 at 9 p.m. ET.
© Copyright IBTimes 2023. All rights reserved.