Fear And Latex In Los Angeles: Will The Porn Industry Be Forced To Use Condoms?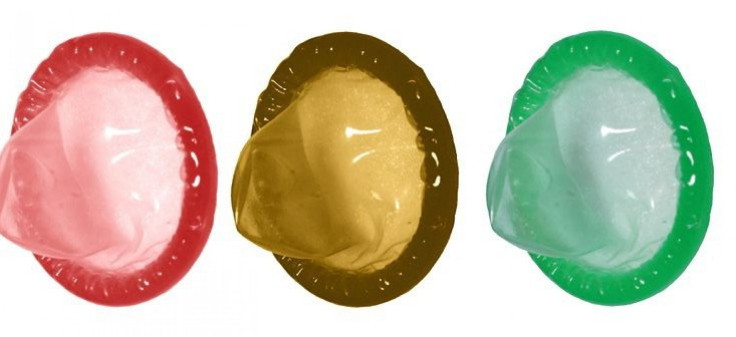 Danny Wylde's job doesn't usually involve wearing clothes, but come November, voters in Los Angeles County will get to decide if he has to cover up. Measure B, a ballot initiative that would require condom use in adult films, is pitting a vocal group of public health advocates against a pornography industry already rattled by a recent disease scare and struggling to stay afloat in the digital age.
Wylde's roster of appearances ranges from parody films like "This Ain't Avatar XXX," to more standard fare like all eight installments of "MILF Hunters." He says he's still "mostly" against Measure B, but can see how it could be the right thing to do from a public health perspective.
"I think right now I feel a little more conflicted about it than ever before because of the last syphilis exposure," Wylde said in a phone interview.
In August, major studios enacted an industry-wide shutdown after a crop of syphilis cases. The outbreak was traced back to a performer named "Mr. Marcus," who admitted that he had falsified his testing results to he could keep working.
Despite the recent scare, many porn performers remain strident in their opposition to Measure B, which the industry argues will hurt sales. People just don't like seeing condoms in porn, the typical argument goes. It ruins the fantasy -- and the bottom line, which is already suffering from free sites like YouPorn and RedTube.
Plus, there is the issue of singling out one industry -- and as a much-maligned one, an easy target -- for special treatment. Adult industry veteran Steven St. Croix has pointed to the fact that in California, many cases of food poisoning can be traced back to hygenic failings among food workers.
"Yet, there is no law requiring them to wear gloves in the workplace or to cover their mouths and hair in the workplace," St. Croix wrote on his blog in July. (It's true - the California Retail Food Code encourages food service employees to minimize bare hand contact with food that is ready to eat by wearing gloves or using utensils, but they can prepare food in a preparation area as long as they wash their hands in accordance with the law.)
"Because pathogens can come from anywhere on the body, especially the mouth and hair. No law passed, but still the public continues to get sick. Why no law for them?"
Opponents of Measure B also point to the pornography industry's rigorous testing schedule. Every actor is tested monthly for HIV, gonorrhea, chlamydia and syphilis. In the straight porn sector, every actor has to show proof of an HIV-negative result to work. And, as seen in August, the industry is quick to shut down production if an outbreak is discovered.
In Los Angeles County there were 6,447 cases of HIV reported to the California Department of Health between June 2008 and June 2011, but only two of those were adult performers, both of whom contracted the virus off-set, according to the industry group opposing Measure B, the No on Government Waste Committee.
There are also new tests for HIV that look for traces of the virus itself instead of antibodies manufactured by the body, which often don't show up until between two and eight weeks after infection. These RNA tests can detect infections very early on, nine to 11 days after infection, but are more costly and thus usually only used in instances when a person is known to be at high risk for a recent infection.
But "testing is not prevention," says Michael Weinstein, president of the AIDS Healthcare Foundation. "You can get tested today, get infected tomorrow and infect somebody else after that, whether it's HIV or any other STD."
AHF, a public advocacy group, is the major force behind Measure B. It was an advocate for stricter state guidelines for pornography shoots, and collected signatures for a Los Angeles city ballot initiative similar to Measure B that was later enacted as an ordinance by the city council. Then AHF collected 371,000 signatures in support of a countywide initiative,
The group is poised to roll out a major ad campaign in favor of the measure next week. One television spot features Darren James and Derrick Burts, two former porn performers who contracted HIV while working in the industry. James was likely infected in 2004 while filming in Rio de Janeiro. Burts told the Independent in 2010 that his HIV infection was traced back to a gay shoot in Florida in 2010, though an adult industry clinic later said it came from his private sex life, he claims.
"My employers are responsible for providing a safe work environment," Burts says in the ad. "They obviously didn't."
There's already bad blood between the porn industry and AHF, which many blame for the shutdown of the Adult Industry Medical Health Care Foundation, or AIM, which focused on testing porn actors for sexually transmitted infections and providing treatment. The organization was founded in 1998, and maintained a centralized database of performers' test results to make it easier for an outbreak to be traced back to its source, and for anyone that had had sex with the infected party to be notified and seek testing and treatment.
But that centralized database proved to be AIM's Achilles heel. AHF was party to a major lawsuit challenging the AIM database as a violation of patients' privacy rights, as it seemed that many people could have access to performers' testing records. Faced by mounting legal costs, AIM shut down and filed for bankruptcy in May 2011.
Shortly after AIM closed its doors, AHF was quick to pounce on the condom issue.
"Now that AIM has closed -- and the industry 'fig leaf' is gone -- the responsible thing for the industry to do is to put performers' health first and require condom use on all adult film sets," Weinstein said at the time.
Will voters agree? AHF commissioned a poll in March that showed, out of a total 1,046 likely Los Angeles County voters, support for Measure B running above 60 percent.
If Measure B does pass, adult industry lawyer Michael Fattorosi thinks pornographers have an avenue to challenge the condom requirement under the First Amendment. A porn production's decision to go condomless could be characterized as protected speech.
After all, Fattorosi says, Weinstein recognizes the importance of porn's voice in society.
"He's trying to force [condoms] on the straight industry in L.A. because he wants to send a message of safe sex," Fattorosi says. "He knows if he puts condoms in straight porn, that'll send a message."
Fattorosi also characterizes Measure B as a massive overreach. They say the law is rooted in the past, while the present face of pornography is less about big film shoots, and increasingly similar to the independent film industry: guerrilla, permit-less shoots, or semi-amateur efforts using personal webcams.
Under existing Los Angeles County laws, a monogamous married couple that wanted to film themselves having sex is technically required to get a permit, Fattorosi says. And if Measure B passes, they'll also be required to use condoms.
"How can you have a law that reaches so far into the marital bedroom?" he said.
There's also some confusion as to how Measure B, if it became law, would interact with state health guidelines. Many porn videos focus on ejaculation on a performers' body. State guidelines allow for ejaculation away from an orifice, but if it comes near the vagina, anus or mouth, then it's considered a health risk.
And what about oral sex? Will condoms be required for that as well? It's not clear where the line will be drawn, according to Fattorosi.
"Right now we've got this big mess of regulations swirling around the industry from city to county to state," Fattorosi says. "No one really knows what's gonna happen."
It's unclear how a possible court challenge to Measure B would play out, but studios won't be waiting for one to bear fruit. They're already threatening to take their business elsewhere -- like Florida, Las Vegas, San Francisco.
"No one that I've heard is really like 'how are we going to use condoms?'; the conversation has been, 100 percent of the time, 'how are we going to get away with not using them?'" Wylde says.
All the more reason to regulate, according to AHF's president.
"All of the defenses and all of the positions of this industry are based on being scofflaws: talking about how the law's not enforceable, how they're going to move or go underground," Weinstein says. "All of this is code for 'we're gonna break the law no matter what.' I don't know why we should accede to that sort of thing."
Plus, Weinstein points out that the only two states that are truly legal to shoot pornography in are California and New Hampshire. Even though pornography is shot in Florida on a regular basis, it is still legally prostitution there. A case that would have challenged the law in Florida fizzled out in 2008 when porn producer Clinton Ramond McCowen, alias Ray Guhn, pleaded guilty to one count of participating in an unlawful financial transaction, allowing him to duck obscenity, prostitution and racketeering charges.
"It's gonna be pretty chilly for them to take off their clothes in the winter in New Hampshire," Weinstein said. "But we will follow them wherever they will go."
© Copyright IBTimes 2022. All rights reserved.
FOLLOW MORE IBT NEWS ON THE BELOW CHANNELS