'Fear The Walking Dead' Will Not Reveal Cause Of The Zombie Virus; Characters Will Be 'More Deadly'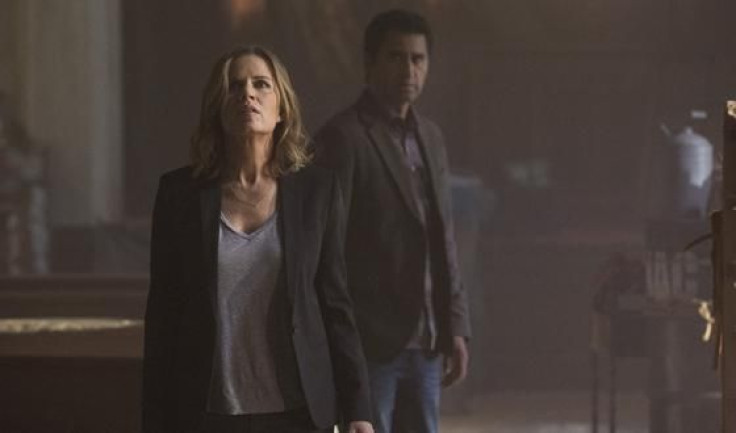 Bad news for "Walking Dead" fans who want to find out how the zombie apocalypse started. Although the new AMC "spinoff" series is set at the start of the deadly virus, series creator Robert Kirkman confirmed at a National Association of Broadcasters panel that "Fear the Walking" Dead" will not expose the cause of the outbreak.
Kirkman was joined by AMC President Charlie Collier and actor Steven Yeun (Glenn) to talk about all things "Walking Dead." Naturally the conversation turned to the upcoming new series, which is set to premiere this summer. Although Collier and Kirkman did not confirm a premiere date for "Fear the Walking Dead," they dished out some new scoop on what fans can expect – and not expect.
Although many viewers have questions about how the zombie apocalypse started and how to end it, Kirkman revealed that he finds those story lines to be played out too often. He's not interested in "fixing" or "learning the cause" of the outbreak. Instead, Kirkman wants to tell the tale of the struggles each character endures.
"We're dealing with the heart of this," he explained.
As previously reported, the new show is based in the same universe as "The Walking Dead." However Collier is hesitant to call it a "spinoff." No characters from the original series will make their way to "Fear the Walking Dead." Kirkman added that the show is "it's own thing" and can stand on its own.
"When you see it you'll know what we're talking about," he said.
But just because "Fear the Walking Dead" is its own thing, doesn't mean that it's that different from "The Walking Dead." The series creator promised the audience that it "pays homage" to the original while still putting its own twist on things.
"It's taking us back to a time when the walking dead were much more dangerous and a much more ever present threat," Kirkman continued. "So it's definitely a time to fear the walking dead. But I've always liked the fact that the walking dead refers to the zombies and the people that we're exploring, because they are in a sense all on borrowed time."
The big reveal from Robert Kirkman is that the new characters on "Fear the Walking Dead" could potentially be more dangerous than the survivors that "Walking Dead" fans have encountered in the past five seasons.
"It's possible that the people that we're following in the show are maybe a little bit more deadly in certain ways," he teased.
Watch Kirkman, Collier and Yeun talk about "The Walking Dead" at the NAB panel below:
© Copyright IBTimes 2023. All rights reserved.