Feast Of San Gennaro 2015 New York City Guide: Little Italy Festival Events, Food, Schedule And Celebrity Guests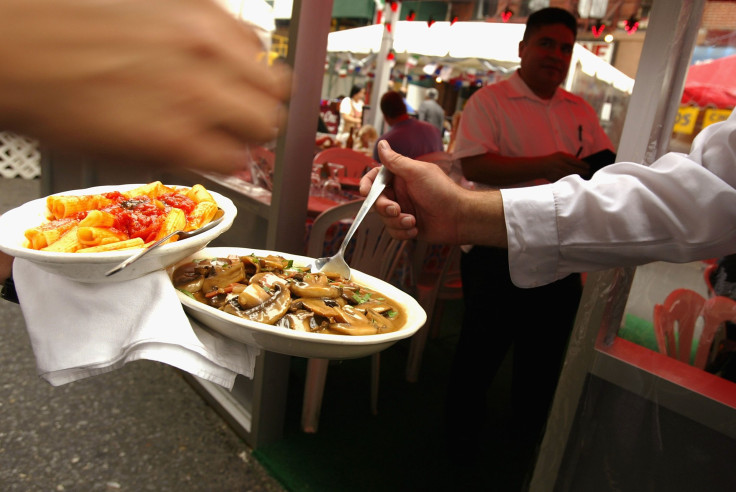 Each September, people gather at festivals in major cities across the United States to celebrate the annual Feast of San Gennaro with music, entertainment, parades and a variety of delicacies. But the celebration's origins can be traced back to the early 20th century in the Little Italy section of Manhattan in New York City, which served as the first home for hundreds of thousands of Italian immigrants in America. Newly arrived immigrants from Naples flocked to Mulberry Street on Sept. 19, 1926, to continue a one-day religious tradition they observed in Italy to celebrate their patron saint, San Gennaro.
Over time, the annual festival centered on Mulberry Street grew into an organized 11-day street fair, which now attracts more than one million revelers. Little Italy's San Gennaro festival, dubbed the "Feast of All Feasts" by organizers, is set for Sept. 10 through Sept. 20, with the feast day itself scheduled to take place Sept. 19.
"This Feast of San Gennaro holds a special place in the place of Italian people everywhere," said Joseph Mattone, president of Figli di San Gennaro, a nonprofit which has organized the festival since 1996. "It is a festive period of faith and redemption, a time for remembrance and reconciliation, and a time for celebration. The delicious food, the free musical entertainment that reflects Italian-American culture and heritage are all there. The feast brings the world to Little Italy and Little Italy to the world."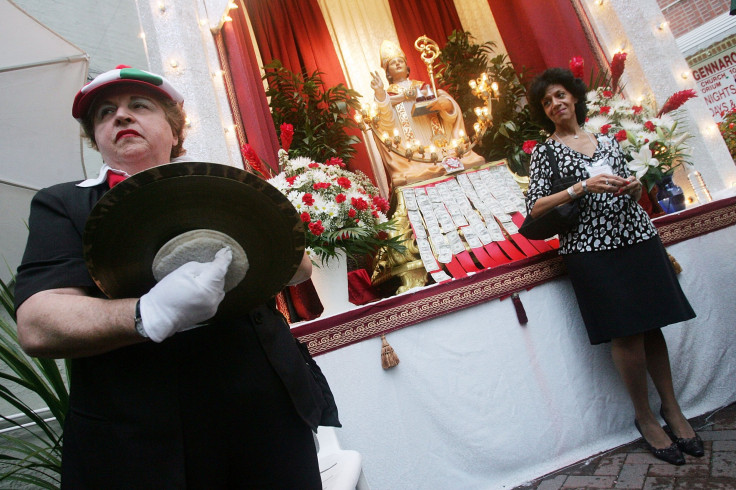 This year, Brooklyn-born actor Tony Danza will be the Grand Marshal of the Grand Procession Sept. 12. The "Honeymoon in Vegas" Broadway musical star will be joined by politicians, community leaders and a stream of parade floats and marching bands. The procession begins at 2 p.m. on the corner of Canal and Mulberry streets and continues along Mulberry to Houston Street.
A celebratory mass on feast day Sept. 19 will be held in Shrine Church of the Most Precious Blood at 109 Mulberry St., followed by a religious procession in which the statue of San Gennaro is carried from the church through the historic streets of Little Italy.
Of course, street vendors and restaurants will offer a variety of special drinks and treats like gelato, cannoli and zeppole along the sidewalks throughout the 11-day festival. There will also be food demonstrations and lectures every afternoon between 2 and 5 p.m., as well as free music entertainment each night from 7 to 9:30 p.m. on the festival performance stage at the corner of Grand and Mott streets.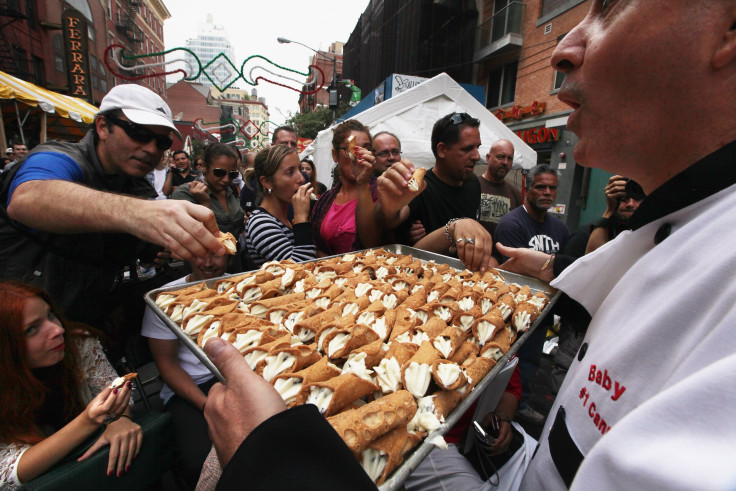 Here are some highlights from the official line-up of events for the 89th annual Feast of San Gennaro in New York City.
Sept. 10 – Opening Day
From 6 to 7 p.m., parish priests from Shrine Church of the Most Precious Blood were scheduled to walk through the streets of the festival blessing all the restaurants, cafes, shops and vendors for a successful feast.
Sept. 11
From 4 to 5 p.m., a musical tribute with Patric Hale and Theresa Sareo was set for the festival performance stage at corner of Grand and Mott Streets takes place to commemorate the Sept. 11, 2001, terror attacks.
Sept. 12
From 2 to 4 p.m., the Grand Procession was scheduled to start at Canal and Mulberry streets with Tony Danza as Grand Marshal plus actor Gianni Russo and Miss Italia New York.
From 4 to 5 p.m., Ferrara Café at 195 Grand St. was set to present a special Frank Sinatra-inspired cake.
Saturday, Sept. 19
From 2 to 3 p.m., high mass in Shrine Church of the Most Precious Blood at 109 Mulberry St. is scheduled, followed by a religious procession with the statue of San Genarro through Little Italy.
At 4 p.m., Ferrara was set to unveil the world's largest gelato, or ice cream, cone at the festival performance stage.
Sunday, Sept. 20 – Last Day
From 11:30 a.m. to 6:30 p.m., the annual Feast of San Gennaro Blood is held at St. Patrick's Basilica Youth Center at 268 Mulberry St., located between Houston and Prince Streets.
From 2 p.m. to 8 p.m., enjoy live entertainment including Sicilian folk music from "Villa Palagonia."
© Copyright IBTimes 2023. All rights reserved.
FOLLOW MORE IBT NEWS ON THE BELOW CHANNELS