Ferguson Live Updates: Residents At Odds Over Justice Department Police Overhaul Proposal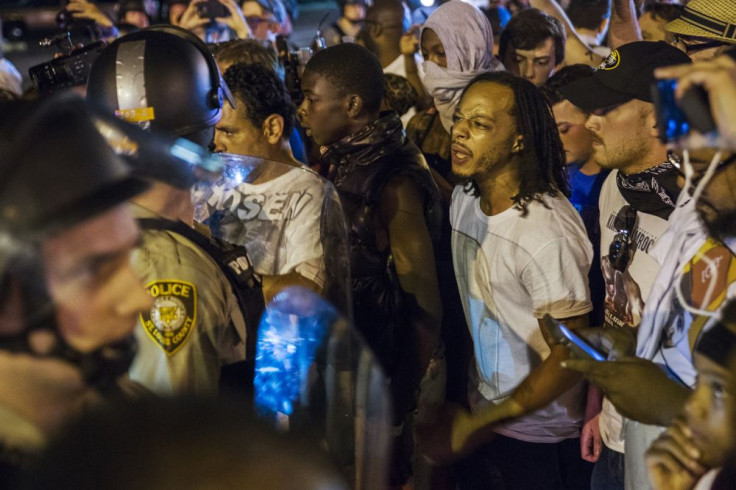 UPDATE: 9:43 p.m. EST -- With a large crowd in attendance at a city council meeting Tuesday, the residents of Ferguson, Missouri, debated whether the city should move forward with a Department of Justice-proposed consent decree that would rebuild Ferguson's police program. While some said the settlement's reform proposals could go further, other raised concerns about the financial burden it would place on the already financially stressed city.
"If Ferguson can't afford to fix its own police force, maybe it should have a contract with St. Louis County," resident Blake Ashby said, adding: "Signing this consent decree is like signing our own death certificate."
But others argued that Ferguson needs to show it can be a leader in law enforcement reform. "If Ferguson is going to thrive in the future, it's not just about budgets," resident John Chasnoff said. "It's about being a progressive city that moves forward."
Original story:
Residents of Ferguson, Missouri, weighed in Tuesday evening on the city's proposed settlement with the U.S. Department of Justice, which was tentatively reached after federal officials determined there was systematic racial bias in the conduct of the city's police force. Residents' frustrations with the city's police program started a nationwide conversation on police brutality after the fatal shooting of Michael Brown by a Ferguson police Officer Darren Wilson in August 2014.
City officials have said that they would not go forward with the consent decree until the public was able to respond through a series of planned city council meetings, the Associated Press reported. Tuesday was the first of three meetings, organized so residents could ask questions and offer suggestions to the proposed overhaul to the police program. The meeting was at capacity, and each resident received two minutes to address city officials. A live stream can be viewed here.
"Entering into the consent decree offers the benefit to work with the Justice Department going forward," said Jared Hasten, an attorney who has represented Ferguson in negotiations with the Justice Department. Hasten said the consent decree would avoid litigation.
Ferguson resident John Knowles said the consent decree unfairly centered in on just the one city, when there is a regional issue at play.
"It just points at Ferguson," Knowles said. "This is a countywide problem. What I think is the Department of Justice should look at doing this on a countywide basis."
But other residents said they were anxious for more reform and were in support of the DOJ's consent decree.
"I read the standard operating procedures that the police officers already have, and I am working through the consent decree," said Ferguson resident Deborah Moore. "I was amazed by things we are doing that are not being done."
The Justice Department launched an investigation and condemned the Ferguson Police Department after the death of 18-year-old Michael Brown, an unarmed black man. Brown's killing ignited protests in Ferguson and across the country, as people called for a review of law enforcement's conduct with minorities.
In the proposed agreement, reforms would include that law enforcement wear body cameras and hire an independent monitor to determine whether the city is acting in compliance with the agreement. The 127-page proposed agreement is available on the city's website.
"We remain hopeful that the City Council will approve the Agreement on that date and that we will not have to resort to contested litigation, given that this would delay implementation of much needed police and court reform and divert substantial resources away from the reform effort," Deputy Assistant Attorney General Vanita Gupta said, as NPR reported.
The next public meetings are planned for Saturday and next Tuesday, when the city council is scheduled to vote on the agreement.
© Copyright IBTimes 2023. All rights reserved.