Fifth Harmony Releases Album Cover, Camila Cabello Tweets 24K Magic Tour Happiness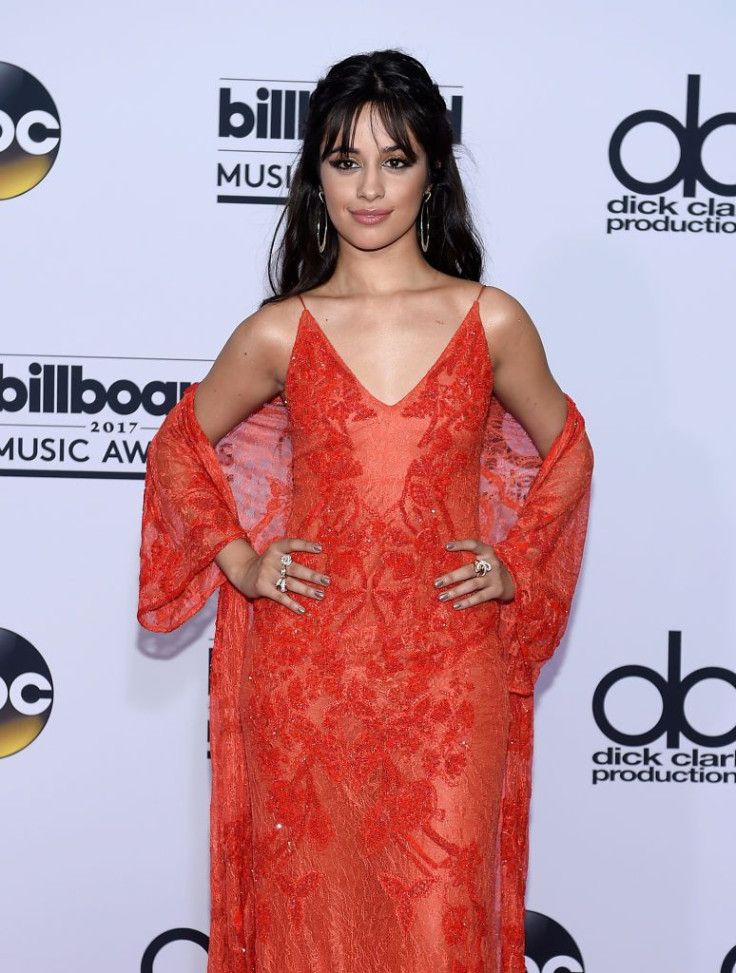 With their latest project expected to drop at the end of the month, Fifth Harmony has released the cover art for their third studio album. The group, which is now a foursome since Camila Cabello left in December, shared the photo on the same day they were announced as performers for the MTV Video Music Awards.
On Monday, 5H members Lauren Jauregui, Normani Kordei, Dinah Jane Hansen and Ally Brooke Hernandez shared the cover art on their individual social media accounts teasing their self-titled album which is scheduled for an Aug. 25 release date.
READ: Camila Cabello Finds Her Voice Without Fifth Harmony
Along with their upcoming MTV VMAs performance, the group's song "Down" is also nominated for best pop video and best choreography.
While Fifth Harmony gears up for their latest performance, their former group member, Cabello, has been on stage entertaining a crowd most nights seeing as she is the opening act for Bruno Mars' 24K Magic Tour.
On Monday, the star tweeted about her excitement before taking the stage at the latest tour stop. "Hitting the stage before @brunomars at 8pm tonight in Lincoln, NE!! see u guys soon," she wrote.
Cabello first announced she would be opening for Mars in late June. "SO EXCITED THAT IM OPENING FOR @BRUNOMARS THIS SUMMER!!!!!! every night I'm gonna be peering out from side stage trying to learn as much as I can because for years I've looked up to Bruno as a vocalist, musician, entertainer and artist, I'm so honored and excited to be able to open up these shows!!" she wrote on Instagram at the time.
Cabello is no stranger to performing on stage and catching the attention of a crowd. The 20-year-old spent almost five years in Fifth Harmony before leaving the group in December 2016 to embark on a solo career.
The "Crying in the Club" singer, who has claimed she reached out to members of the group when she left last year, has since severed ties with Fifth Harmony and has unfollowed every member of the group.
Cabello's social media cleanse came shortly after the group's interview with Billboard where they expressed how great they were since becoming a foursome and seemingly shaded the star's abrupt exit from the group.
"I get to sleep at night knowing we did everything in our power as friends, bandmates and human beings to make it work," Kordei told the publication.
"Let's just say we're in a better place now -- there are no secrets in this circle," Hansen added.
When Cabello left the group, she revealed that the members were well aware of her desire to be a solo artist following the long conversations they had discussing her feelings.
However, the group stated that she never expressed her true feelings because she refused to attend any meetings that were dedicated to working towards a compromise to keep the group together. "These supposed lengthy conversations never happened, although we pleaded," the group stated at the time of the split.
READ: Fifth Harmony 'Happiest' Without Camila Cabello, Dinah Jane Thanks Harmonizers
"We know our truth, we know the hard work we've put in and how we've tried time and time again to make this work for the five of us," Fifth Harmony said in a statement.
Although they are not on the best of terms, it seems like Cabello and Fifth Harmony are working hard to move on from the past.
© Copyright IBTimes 2023. All rights reserved.