'Fifty Shades Of Grey' Book 4 Coming? E.L. James Teases New Installment In Cryptic Instagram Post [PHOTO]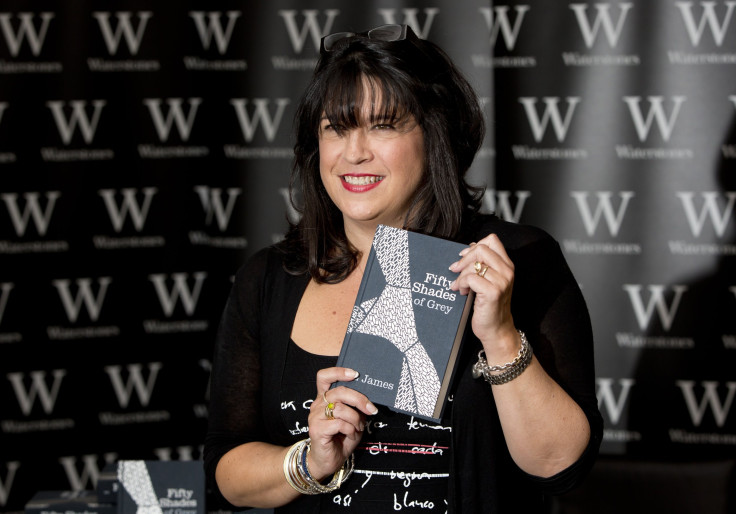 Don't get too excited just yet "Fifty Shades" fans, but readers of E.L. James' popular erotica series are claiming that she's writing a fourth installment to the popular Christian Grey/Anastasia Steele love story.
On Sunday, James, 51, posted a close-up image of her keyboard without a caption or an explanation, which prompted some fans to speculate that she was hinting at a new novel by zooming in on the letters "F-I-F-T-Y." Despite James' lack of confirmation, readers have since swarmed the British author's Instagram page, begging her to confirm or deny whether she will be writing a fourth book to the best-selling "Fifty Shades of Grey" trilogy. Whether James purposefully zoomed in on the letters "F-I-F-T-Y" on her keyboard, many fans are hopefult that another "Fifty Shades" installment could be on the horizon.
"Please tell me you are writing the fourth book of 'Fifty Shades!' I can't get enough of Fifty Shades," one of 3,416 users to "like" the cryptic message said on Instagram Monday. "#hiddenmessage #fifty duh!!!" another fan said. "I hope you're writing the 4th book."
"Fifty Shades of Grey," an adult novel focused on the romance of BDSM-practicing billionaire Christian Grey and his virginal lover Anastasia Steele, was released in 2011. The series second installment, "Fifty Shades Darker," was published the same year, with the series third and reportedly final installment, "Fifty Shades Freed," making its debut in 2012.
James hinted in February at possibly adding a fourth installment to the "Fifty Shades" franchise. When prompted by a fan to address rumors, she reprised the erotica trilogy in order to share Grey's point of view. On Twitter, James gave a coy response to one fan's query: "@E_L_ James Mrs. James, do you plan to write #fiftyshadesofgrey trilogy from #christiangrey face or it's rumors [sic]?" James responded: "Never say never."
The admission followed James' interview with the Hollywood Reporter in November 2012, in which she commented on the odds of her writing another romance novel. "I have to think about it," James said, adding, "I have to really think about Christian's point of view. So it's about what to do next."
The silver screen adaptation of the series' first book, "Fifty Shades of Grey," is expected to hit U.S. theaters on Feb. 13, 2015. The Universal Pictures film, starring "Ben and Kate" actress Dakota Johnson as Anastasia Steele and "The Fall" actor Jamie Dornan as Christian Grey, released its first trailer containing some racy scenes in March at CinemaCon.
© Copyright IBTimes 2022. All rights reserved.
FOLLOW MORE IBT NEWS ON THE BELOW CHANNELS