'Fifty Shades Of Grey' Movie Teaser Trailer: 5 Details We Know About The Footage Shown At CinemaCon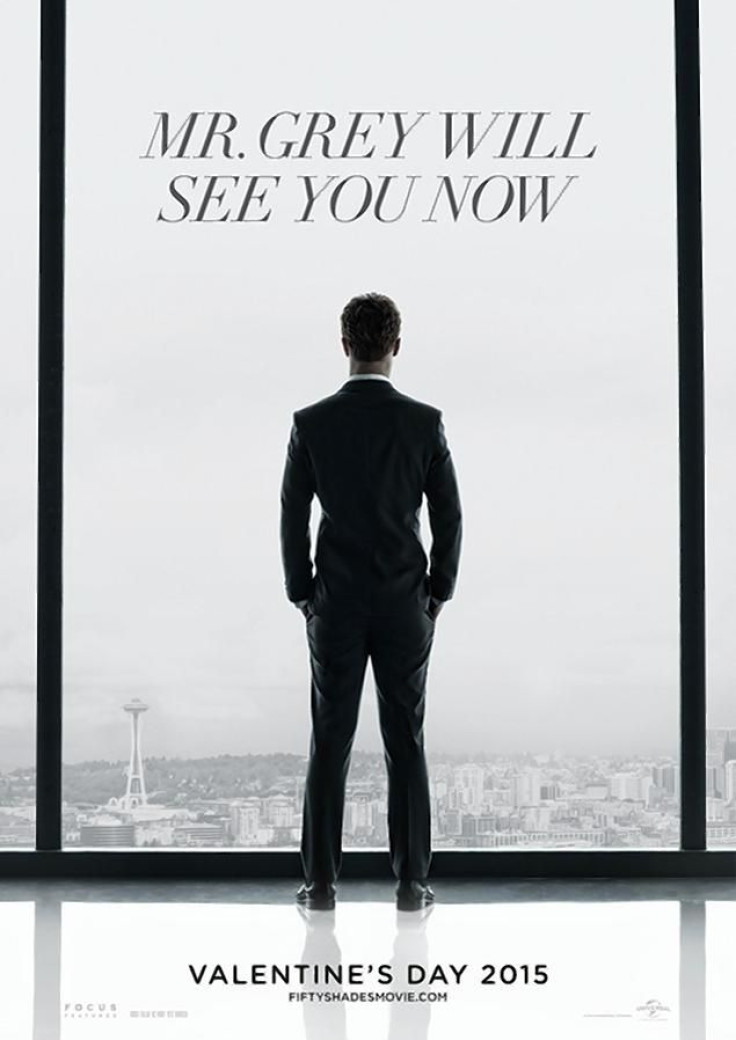 Universal Pictures' presentation at CinemaCon in Las Vegas on Tuesday included everything from a first look at concept art for "Jurassic World" to footage from the newest "Dumb and Dumber" film to an exclusive two-minute, extended teaser trailer for the highly anticipated film adaptation of E.L. James' best-selling book, "Fifty Shades of Grey."
According to reports, Universal Pictures Chairman Donna Langley confirmed that the trailer included footage from the erotica flick, which is set to debut in February 2015, that had never been seen by most Universal executives. "Nobody outside the studio has seen a frame," Langley said on the panel.
While the trailer isn't available for the general public to view to yet, here are five details we know about the secretive "Fifty Shades of Grey" extended trailer:
1. Described as "Twilight-esque"
According to one CinemaCon YouTube review, the "Fifty Shades" film is bound to be a commercial success. "The women are going to go out in droves," said ZBoneMan.com reporter Adam Mast, describing the footage as "slick." "I don't want to use the words 'sappy' and 'cheesy.' It looked like 'Twilight' with S&M in it." "It's not going to be a good movie, but it's going to do very well," reporter Sheldon Demke said.
2. Fan Favorite quotes are used the script
The footage reportedly included several of the iconic quotes from the 2011 best-selling novel. "Mr. Grey will see you now," which will be the tagline for the movie's first official poster, was one of the first lines spoken in the sneak peek. The fan-favorite line was reportedly uttered in a scene in which characters Christian Grey (actor Jamie Dornan) and Anastasia Steele (Dakota Johnson) first meet at Grey Enterprises. Other notable quotes in the script include Grey uttering the phrases, "Hearts and flowers are not who I am," "My tastes are very singular," and at one point telling Anastasia, "It's you that's changing me."
3. Clips don't cross over into X-rated territory
Despite speculation that the film could be released in both R-rated and X-rated versions, those in attendance say the feature comes across as more heartfelt than smutty despite reports of a few flashes of skin. "The film looks to be more romantic than sexual," reads a report from the Hollywood Reporter. "There was a brief glimpse of Johnson wearing a black blindfold in a red room, but most of the focus was on the couple's courting."
4. Jamie and Dakota are winners
When prompted to discuss actors Dakota Johnson and Jamie Dornan's performance in the upcoming film, Langley had nothing but kind remarks to share about the film's leads. According to a report from The Wrap, Langley referred to the on-screen duo's performance as "brave" and "bold," going as far as to call them "the next iconic screen romance."
Others at the screening appear to agree with Langley's review. One Yahoo Movies report has since labeled Johnson's performance in the teaser as "perfectly natural," and it referred to Dornan's studly performance as "simmering."
5. Notable cameos
While multiple reports indicate that Christian Grey's "red room of pain" never actually makes an appearance in the extended trailer (undoubtedly a disappointment for some of the most devout "Fifty Shades" fans), his beloved helicopter, Charlie Tango, does make a cameo. Ana Steele's best friend and roommate Kate Kavanagh (played by Eloise Mumford) also reportedly appears in the teaser, uttering a few short lines.
© Copyright IBTimes 2022. All rights reserved.
FOLLOW MORE IBT NEWS ON THE BELOW CHANNELS