Finding A COVID Vaccine For Children Under 5 May Not Be That Easy: Here's What You Need To Know
Parents with children under 5 years of age looking to vaccinate them with the now-approved COVID-19 shot may have a harder time than anticipated finding a spot to administer the vaccine.
Most states in the U.S. don't allow pharmacies or their technicians to give vaccines to children if they are a certain age, which may make it difficult for parents to readily find a location to dole out the COVID shot, according to the National Alliance of State Pharmacy Associations.
During the pandemic, adults had easy access to the vaccine at a myriad of pharmacies that even allowed walk-ins to get vaccinated. This easy access to the COVID shot allowed more than 259 million Americans to receive at least one dose of the vaccine, according to the Centers for Disease Control and Prevention.
"It's been a process for the past 30 years to get pharmacists immunization administration authority," Allie Jo Shipman, director of state policy at the pharmacy association, told USA Today. "It depends on the state, and a lot of it is political."
Walgreens, for example, said on its website that the COVID vaccine is "available for ages 3 and up," while CVS can provide vaccinations to children aged 5 and up, according to its website. CVS MinuteClincs can administer COVID shots to children as young as 18 months, the company said online.
Florida-based Publix will also not be offering the COVID vaccine to children under 5, Fox News reported.
To help parents locate a site that provides vaccines for young children, a website has been set up by the CDC, Health and Human Services, and VaccineFinder from Boston Children's Hospital.
Vaccines.gov lists over 1,500 locations that are made up of children's hospitals, doctor offices, community places, and pop-up sites that all offer access to the COVID shot for children. The website allows parents to locate a vaccine site near them by zip code, vaccine type, and age group.
Additional assistance is also offered by calling 1-800-232-0233, where appointments can be scheduled in English, Spanish, and other languages.
"Parents have been waiting a long time to get these vaccines," Dr. John Brownstein, an epidemiologist at Boston Children's Hospital, told ABC News. "At some point, the supply will outstrip the demand. Any parent will have access in the coming days. It will take time to get vaccines, but there will be enough to supply."
During a public health emergency, pharmacists are allowed to inoculate children over the age of 3, according to the Public Readiness and Emergency Preparedness (PREP) Act.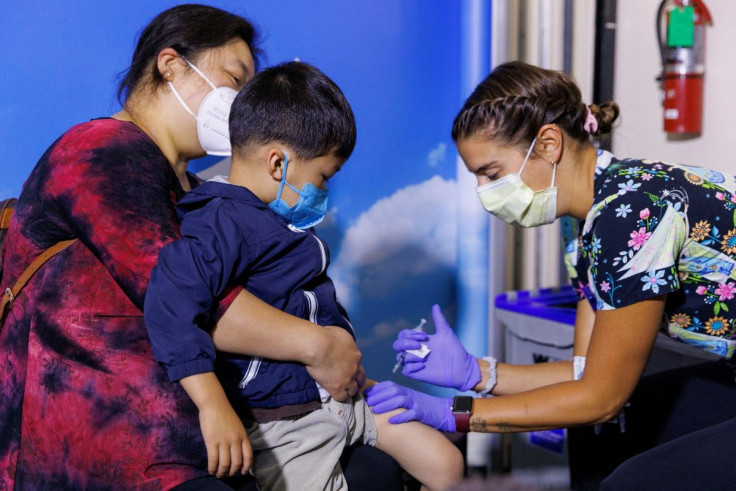 © Copyright IBTimes 2023. All rights reserved.