Fireball 'Brighter Than The Full Moon' Stuns Residents In 4 States [Watch]
KEY POINTS
A fireball brightened the evening skies Monday
Videos show the fireball flashing brightly before fizzling out
One of the videos show how the fireball lit up the surrounding area
A fireball lit up the evening skies over four states. There have been over a hundred reports of the event that was "brighter than the full Moon."
People from Nevada, Arizona, California and Utah witnessed a bright fireball streak across the evening skies on Monday (9.53 p.m. ET). The American Meteor Society (AMS) has so far received 139 reports about the event.
NASA analysis revealed that the event was first seen 48 miles over White Hills in Arizona, according to the AMS. It then moved with a speed of 36,500 miles per hour, managing to travel further before it broke up over Boulder City in Nevada.
"The fireball was brighter than the Full Moon, which means it was caused by an asteroidal fragment weighing at least 70 pounds (31 kilograms) and greater than a foot in diameter," noted the AMS.
Many caught glimpses of the event and some even shared its videos.
In one video captured from Las Vegas, one can see the clear, dark sky above a stunning landscape. The fireball then emerges from the top center and brightens significantly, appearing to erupt a few times before eventually fizzling out.
A similar view was also captured from Santee in California, where the fireball stood out even with the bright lights below.
In another video from Las Vegas, the fireball even appeared to have stunned some people enjoying a quiet evening.
In Nevada, two people headed to their car appeared to be flustered by the sudden flash. The fireball wasn't visible in the video but it lit up the surrounding area in a few bright flashes.
According to the AMS, fireballs happen every day and in any part of the world, though people don't always see them as they also occur in the day, when it's cloudy or in remote places.
While chances of spotting them during meteor showers are more, people sometimes catch a glimpse of them even at random moments. In the case of the Monday event, for instance, the AMS noted that it was not linked to a known meteor shower, thus making it a "sporadic" event.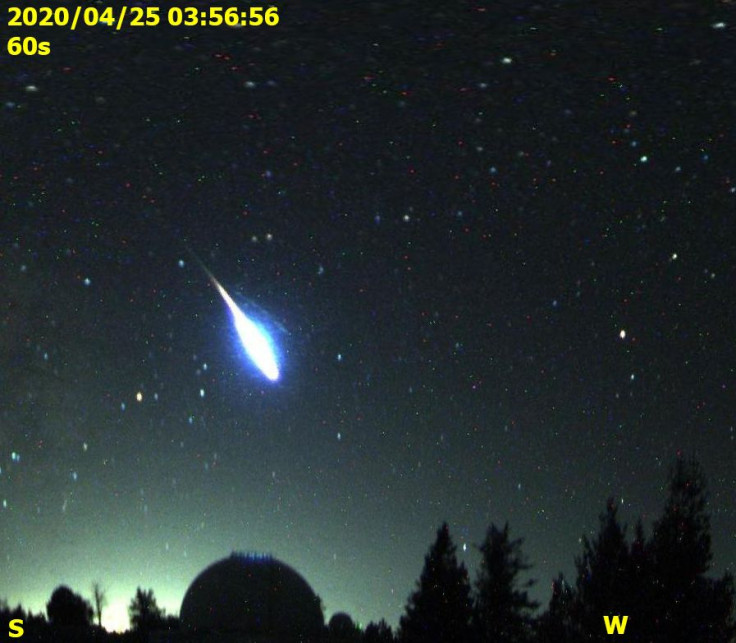 © Copyright IBTimes 2023. All rights reserved.