Fireworks Injuries Flare Up As Some Accused Of Glorifying Illegal Displays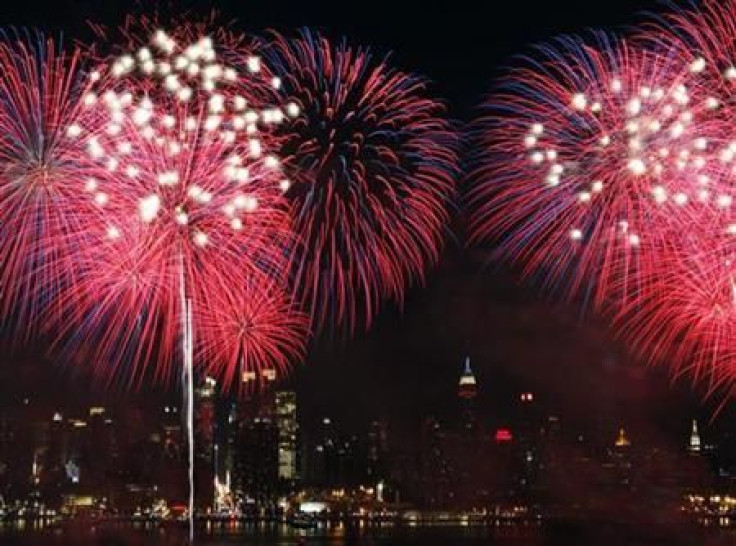 As tradition dictates, Americans will celebrate their independence next week with a lot of loud explosions and flashy displays, but U.S. safety officials are warning them not to crash and burn -- or go down in flames.
Fireworks season is underway, and just in time for the Fourth of July, the Consumer Product Safety Commission (CPSC) on Thursday put out its annual statistics on fireworks-related injuries. The numbers are concerning: Fireworks were involved in eight deaths and some 11,400 injuries treated in U.S. emergency rooms last year. That's a more than 30 percent increase over the 8,700 injuries reported in 2012, and the highest number reported since 1998.
Though the CPSC is stressing that the uptick is "not statistically significant" (the number of injuries has remained relatively consistent over the last decade and a half), last year's increase is likely to galvanize campaigns hoping to strengthen fireworks regulations or impose outright bans.
Through its Alliance to Stop Consumer Fireworks, the National Fire Protection Association has long urged Fourth of July celebrators to only attend fireworks displays put on by trained professionals. "Consumer fireworks are inherently dangerous," Lorraine Carli, NFPA's vice president of outreach and advocacy, told International Business Times. "There's really no safe way to use them."
Looking at the CPSC's latest statistics, it's hard not to agree. The report is a gruesome chronicle of facial burns, grazed eyeballs and wounds to various appendages. Perhaps most alarming is that children younger than 15 account for about 40 percent of the injuries. In one incident, a 7-year-old boy suffered a first-degree burn to his face after his mother lit a stick rocket and it shot sideways.
The commission also expects that the number of deaths -- which includes two people killed in a building fire that was ignited by fireworks powder -- will go up once all of the 2013 data is in. "Reporting of fireworks-related deaths for 2013 is not complete, and the number of deaths in 2013 should be considered a minimum," the report said.
And yet, the American Pyrotechnics Association (APA) -- the trade group that represents the fireworks industry -- insists the situation is not as critical as it sounds. Last year's increase aside, the annual figures released by the CPSC prove that fireworks are actually getting safer, said Julie L. Heckman, APA's executive director. The reason? Fireworks-related injuries have stayed consistent, even as the use of fireworks has (for lack of a better pun) skyrocketed. "There's a lot more product being used than there was back in 1998," Heckman said in a phone interview. "That's where the real difference is."
According to APA, 41 million pounds of fireworks were used in 1980. In 2012, that number was 207.5 million. In other words, the APA says, fireworks-related injuries are on the decline if you measure them on a per-pound basis. Heckman attributed the decline to sensible fireworks legislation that doesn't include outright prohibition of consumer fireworks. Currently four states -- Delaware, Massachusetts, New Jersey and New York -- ban consumer fireworks, but Heckman believes those bans don't make people any safer.
"When people are allowed to use consumer fireworks, they actually take the time to plan that activity," she said. "When fireworks are prohibited -- and we know everyone is going to use them anyway -- people are careless, because they're trying to get away with an activity that they're not allowed to do."
That last part will not surprise residents of many urban areas where dangerous unsanctioned fireworks displays take place each year despite strong bans. Earlier this month, the artists group Uptown Collective released a short documentary chronicling such a display in northern Manhattan where some residents consider it a cultural tradition to shoot fireworks from city streets and rooftops, often for days and weeks leading up to Independence Day.
The documentary in question is called "The Incredibly Spectacular Dyckman Fireworks Co.," named after the crosstown street where much of the displays take place. It's pitched as "a look at how one neighborhood ... celebrates the spirit and tradition of the holiday," but the project touched off a contentious debate when the trailer was posted to neighborhood Facebook forums, with a number of local residents saying the movie glorifies what is essentially anarchy in the streets. "What's next? A film about how much we love our local dealers?" one person wrote.
In a statement to IBTimes, the film's director, Jonathan Ullman, said he was happy to see the movie inspiring debates. "Art is about provoking such discussion and debate," he said, adding that "nothing was left on the cutting-room floor." The film includes numerous shots of police intervening in the displays, and one scene features a local storefront going up in flames.
Even the country's biggest fireworks proponent concedes that "New York City is not appropriate" for fireworks. "I would not advocate that," Heckman said.
Carli, meanwhile, said her group would "love to see" more statewide bans on consumer fireworks, but she notes that prohibition is an uphill climb and prefers to focus on prevention and awareness. And there's no more crucial time than right now. "We still see a significant number of injuries and fires around the Fourth of July," she said. "There are more fires on that day than any other day of the year."
http://cf.datawrapper.de/hQBWQ/3/
Read the full CPSC report here.
Got a news tip? Email me. Follow me on Twitter @christopherzara.
© Copyright IBTimes 2023. All rights reserved.