'The Flash' Season 3 Spoilers: John Wesley Shipp Teases Barry And Earth-3 Jay Garrick's Relationship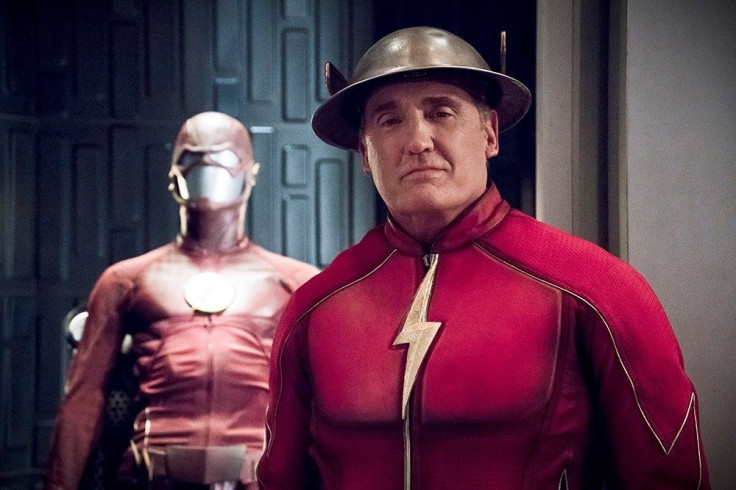 Although Earth-3 Jay Garrick (John Wesley Shipp) has the face of Barry's (Grant Gustin) father Henry (Shipp), the Scarlet Speedster's relationship with his fellow superhero in Season 3 of "The Flash" is very much different from the one he had with his late dad.
In an interview with Comicbook.com, Shipp said that Jay and Barry's relationship is "emotionally cooler" than the warm father and son bond that Barry and Henry had in the past two seasons of the CW series. The 61-year-old actor told the website that since Barry has already changed the past once for his own selfish reason, Jay is not completely confident of Barry's competence as a superhero.
In an interview with Variety after the Season 2 finale, Shipp said that the major challenge for him in playing Jay is making sure that he's different from Henry.
"It's got to be clear to everyone, including Barry, that this is not Henry," Shipp said of Jay. "So the most important thing for me was 'how am I gonna differentiate the man that comes out of the iron mask from Henry Allen? In what ways is he different? In what ways is he the same?'"
"This character … looks exactly like Barry's father but is tonally and attitudinally very different from Henry Allen, who was very available emotionally and much softer; very much a warm blanket for Barry when he was at his most vulnerable," Shipp added of Jay. "That's not gonna be Jay. Jay's a superhero, he's an original superhero, so … my job, at the beginning … is to differentiate between Henry Allen and Jay Garrick
As previously reported, Shipp is reprising his role as Jay in Season 3, episode 2 of "The Flash." In one of the promotional photos for the episode, The Flash and Jay are seen in their full costume as they stand next to each other.
Gustin actually shared the same photo on his Instagram account two days ago. "Can't believe this picture is real and I'm in it. Jay Garrick, man. The Flash. The Shipp, John Wesley Shipp. #TheFlashSeason3," the 26-year-old actor captioned the pic.
"The Flash" Season 3 premieres on Tuesday, Oct. 4, at 8 p.m. on The CW.
© Copyright IBTimes 2023. All rights reserved.