'The Flash,' 'Supergirl' Musical Crossover Update: 'Glee' Alum Darren Criss Shares Photo With Grant Gustin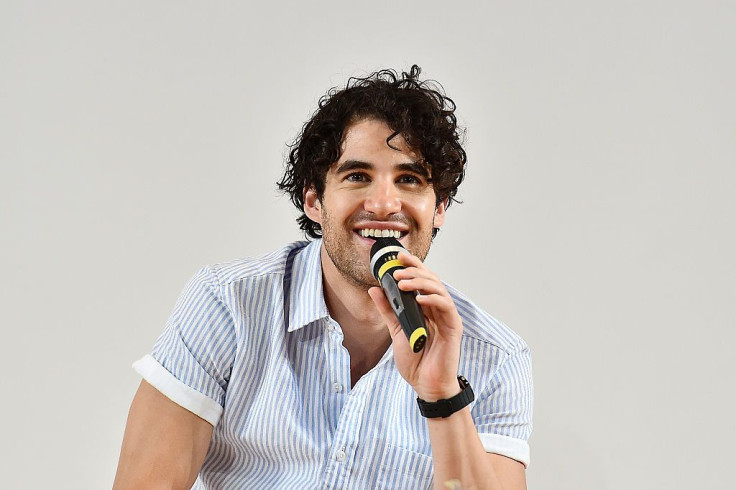 Darren Criss was reunited with his "Glee" co-star Grant Gustin on the set of the much-anticipated musical crossover event between "The Flash" and 'Supergirl."
Criss, who was cast as the villain Music Meister in the special TV event, took to Instagram on Thursday to share a behind-the-scenes photo of him with Gustin in his Scarlet Speedster costume. In the caption, Criss recalled the last time he worked with Gustin on the set of "Glee."
In Season 3 of the FOX musical dramedy series, Gustin was introduced as Sebastian Smythe, a quasi-villain whose flirtation with Criss' Blaine Anderson stoked jealousy in Chris Colfer's Kurt Hummel. "Supergirl" star Melissa Benoist is also a "Glee" alum. She played Marley Rose in Seasons 4 and 5 of the Ryan Murphy-created series.
Apparently, Criss, Gustin and Benoist aren't the only members of the "Glee" family who are involved in the musical crossover event. In a separate Instagram post, Criss revealed that Zachary Woodlee — who worked as a choreographer on "Glee" — is tapped to serve the same role in the upcoming special event.
In related news, "Crazy Ex-Girlfriend" star and creator Rachel Bloom revealed to BuzzFeed News earlier this week that she co-penned a song for the musical crossover event. "I immediately offered them my services," Bloom wrote in a statement to the website. "As soon as they picked one of my song ideas, I hopped on the phone with my old 'Robot Chicken' boss Tom Root and we brainstormed and, based on that brainstorm, I wrote up the song 'Super Friend.' I am so excited to contribute more to the upward trend that is musicals in television and film. Music can be one of the most amazing and efficient forms of storytelling and character development. Also, it was really fun to write a comedy song for two superheroes."
"Super Friend" will be performed by Gustin and Benoist in the musical, which will kick off at the end of "Supergirl's" March 20 episode and will continue the next night in "The Flash's" March 21 episode. The second part of the crossover, titled "Duet," is directed by Dermott Downs.
© Copyright IBTimes 2022. All rights reserved.
FOLLOW MORE IBT NEWS ON THE BELOW CHANNELS