Florida School Selling Bulletproof Backpacks For Students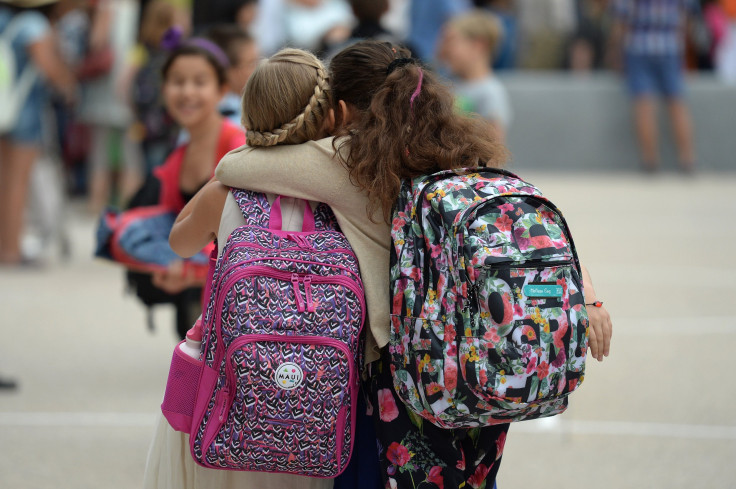 An all-grades private school in Olympia Heights, Florida, will sell bulletproof panels to insert into students' backpacks, according to reports. Florida Christian School (FCS) officials have said that the bulletproof panels will give children an extra layer of protection in the event of a mass shooting.
FCS's announcement comes on the heels of deadly mass shootings that have occurred across the nation. FSC, a non-denominational private school, is selling the insertable panels online to parents at $120 each.
"It's just a tool," George Gulla, dean of students and head of security for FCS, told the Miami Herald in a Nov. 3 report. "I'd rather be prepared for the worst than be stuck after saying 'Wow, I wish we would've done that.' We want to protect our students' center mass."
"We thought, yeah, let's offer it to anyone who wants it. It's not required. But it gives you extra peace of mind. It's out of the norm, but what is the norm?" Gulla added.
The demand for bulletproof products has increased, according to reports. The University of Maryland-Eastern Shore (UMES) purchased 200 bulletproof whiteboards in 2013 from Hardwire for $60,000. UMES, which bought the whiteboards in response to the Sandy Hook shooting that left 20 children dead, was the first university to use Hardwire's protective technology.
There is a booming industry catered towards the production of bulletproof protective gear. Bullet Blocker has sold a variety of protective notebooks, backpacks, clothing and iPad cases for school-aged students. Miguel Caballero produces high-end bulletproof clothing, which was previously worn by former President Barack Obama during his 2009 inauguration.
"I see more growth in your average consumer that probably would never even think that I have any relation to someone who might own a gun or come shooting up my place," Shalini Solomon, an eCommerce manager at body armor company Security Pro USA, told Marketplace in 2015. "Those are now the people that are thinking: 'Am I safe at work?' Or, 'Am I safe in my own church?'"
There are critics of the in-school bulletproof technology. Kenneth Trump, a school safety expert who works for the National School Safety and Security Services (NSSSS), has argued that these products would be ineffective in the event of a mass shooting setting.
"I look at some of these bulletproof backpacks and wipe boards ... how would this really work in the real world?" Trump said in 2014, according to the Huffington Post. "If you have a bulletproof backpack, would you need a bulletproof front-pack, and bulletproof helmet, and a Captain America shield to go with it?"
Representatives of the Florida Christian School did not immediately return International Business Times' request for comment.
© Copyright IBTimes 2023. All rights reserved.