'Fly Away With Me' Hallmark Movie Premiere: Trailer, Synopsis, Cast
Hallmark Channel is continuing its lineup of Fall movies with the newest premiere, "Fly Away With Me." The film, starring Natalie Hall and Peter Mooney, debuts Saturday night.
The movie will be a treat for fans, as it not only introduces them to a new face but also lets them get reacquainted with one they have seen before. Hall has previously starred in the network's films "A Winter Princess," "You're Bacon Me Crazy," "Fit For A Prince" and "Road Trip Romance." She's also known for her roles in the Lifetime film "A Very Charming Christmas Town" and the Netflix project "Midnight at the Magnolia."
As for Mooney, he has yet to star in a Hallmark title, but fans may know him from "Burden of Truth," where he starred as Billy Crawford.
Melinda Michael ("Fit For a Prince") also stars.
What can fans expect from the film? Let's find out.
"Angie (Hall) is an overworked aspiring writer who finally lands her own condo. On the first day in her new place, a parrot flies in through her balcony door," a synopsis reads. "Although she has no idea who the bird's owner is, she knows pets are not allowed in the building. While at the local pet shop she meets Ted (Mooney), an air traffic controller who not only lives in her building but is in the unit right next door. Angie soon finds out Ted is hiding a pet of his own, his sister's dog Zoe."
The two are quickly caught up in their attempts to both hide the bird and the dog, and realize they need to work together if they don't want to get caught.
"Angie and Ted make a pact to have each other's back as they work to duck and dodge Gineen (Michael), their condo manager," the synopsis states. "Unfortunately, one day Angie's hopes fly right out the window as the parrot escapes and lands on Gineen, who promptly evicts her. Believing Ted never really had her back, Angie is left feeling heartbroken until she receives exciting and unexpected news."
"Fly Away With Me" airs Saturday, Sept. 24 at 8 p.m. EDT on Hallmark Channel.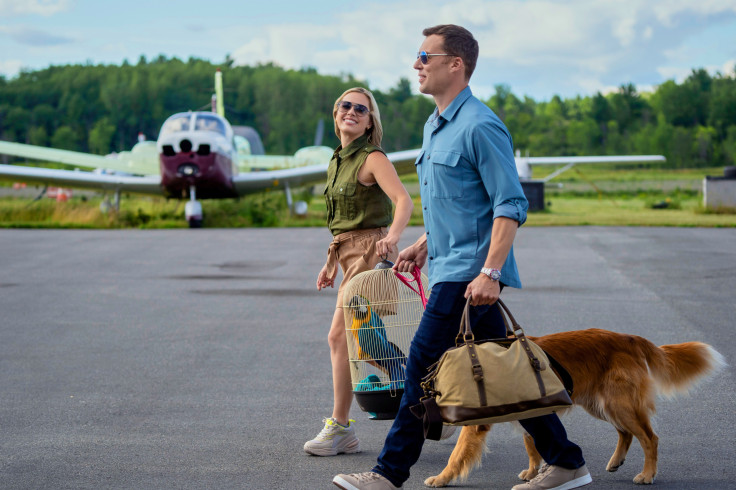 © Copyright IBTimes 2023. All rights reserved.