'Fool Me Once' Singer Jess Godwin Talks Journey Into The 'Dance Moms' World, Working With Chloe Lukasiak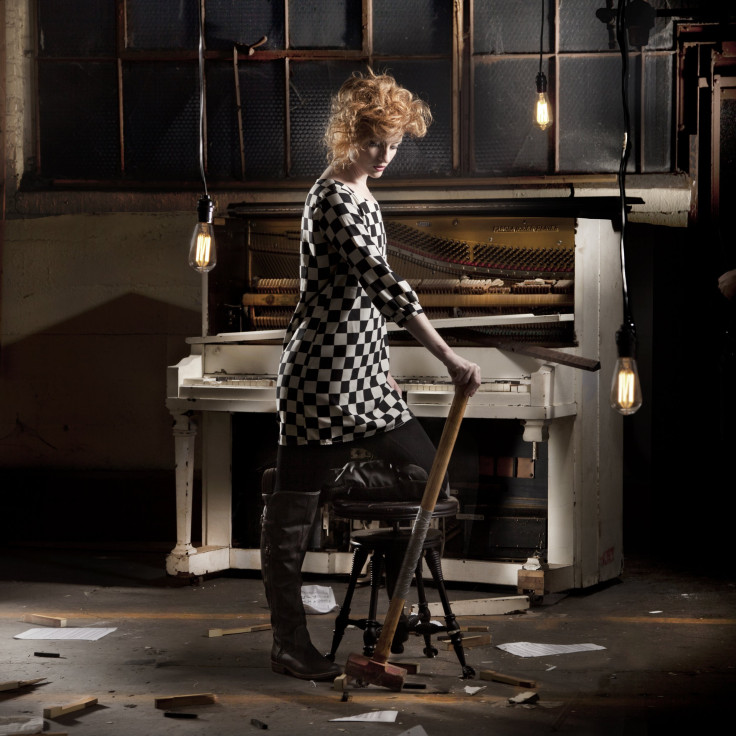 Jess Godwin never knew her music career would land her a place in the "Dance Moms" world and that her single, "Fool Me Once," would get her there. Almost six months after the Chicago-based actress and musician's emotional single premiered on the reality-TV series, Godwin has released a music video starring a familiar face from the Lifetime show — 13-year-old Chloe Lukasiak— and since then, her fame has only continued to soar.
After years of working various jobs in the music industry, and her unique single "Fool Me Once" being continually pegged as unmarketable by executives, Godwin received an email from Jingle Punks, a music database, in the summer of 2014, asking to license an instrumental version of the piece. With no context to the licensing agreement with Lifetime and a lackluster appearance by one her songs on E!'s "Keeping up with the Kardashians" — it was used as background music during a fight scene -- Godwin said she didn't have high hopes that "Fool Me Once" would make it big, only satisfied that it would give her some "street cred" with her voice lesson students.
It wasn't until weeks later that she discovered that her song, inspired by her relationship with a boy eight years prior, was performed by "Dance Moms" star Maddie Ziegler on Season 4 of the show. One week later, lead coach Abby Lee Miller had another rising student, Kendall Vertes, compete to the same single.
"I saw Maddie dancing to it and I seriously sat in the parking lot of my gym and I cried, I sobbed. I kept watching it. I found Kendall's and kept crying," Godwin recently told the International Business Times. "Just to see something that I had lived for so long, not even just the song, but the story and the pain, to see that be made visual by such beautiful dancers. I'll never forget that moment."
While Godwin is convinced that the "Dance Moms" music supervisor only found her song by searching for "sad piano music," she is still elated with the success the show has gifted her. Even more so, the chance to work with former "Dance Moms" lead Chloe Lukasiak.
As most "Dance Moms" viewers will remember, Abby taught Chloe the same "Fool Me Once" dance as Maddie and Kendall in Season 4, only to disallow her the chance to perform. Because of Abby's actions, Godwin said she was motivated to reach out to Chloe. But what started as a friendly conversation — an offer for her to come out to Chicago, possible do a live performance and get a hug — turned into something much more.
"I reached out to Chloe and Chloe's manager and said it broke my heart. and I felt like I really connected with her… We started talking and we were like we should do a video and tell this story," Godwin said.
After assembling Chloe, director Brazil and choreographer Kyle Hanagami, Godwin said the stars aligned and the "Fool Me Once" team was born. After announcing the music video in December 2014, the entire crew flew out to Los Angeles and Chloe was given one day to learn the routine before filming the following day in San Diego.
"I never imagined any of this would have happened," Godwin said to IBTimes of the project. "It was just went so quickly and at the end of the day, I was so sad to say goodbye to everyone. I really felt like family at the end of the day after everything. I wish it was a longer experience."
Despite the short amount of time alotted to film "Fool Me Once," Godwin was pleased she got to the chance to spend time with Chloe and her family, 5-year-old sister Clara and mom Christi Lukasiak. "They're really lovely people," Godwin dished. As grateful as the performer was for her music video shoot, she said there was no one more thankful than Chloe.
"What was so great about Chloe, that whole day of the shoot, she never stopped saying thank you. She said thank you constantly to everybody. I was like, 'Chloe, no. Don't you realize what this means to me? Thank you! Because of you I have all these wonderful people connecting with me now.'"
Chloe's humility and kindness, Godwin claims, is what drove her to pick her over her former ALDC teammates to star in the project. "At that moment in time, it just felt right," she said of her choice amid some controversy that Maddie — who is also pop singer Sia's music video protégé — and Kendall were not gifted the role.
"This is not about hurting, this is not about anyone being the best, this is about helping a girl who seemed like she needed to be helped at the time," Godwin revealed. "At the end of the day, this is a song that I wrote and these are struggles that I have and am still going through. I saw Chloe and she was living 'Fool Me Once.' She was living that pain. I'm so grateful to her that she came to be apart of it."
As for the backlash -- the rising star said her experiences with most "Dance Moms" fans has been positive — she said she understands. "Everyone is just defending the girls that they love. That's really what it comes down to. They love these kids so much and they don't want anybody to be hurt and I think that is admirable."
One year after the television debut of her song which she once considered her "weird encorce" piece, Godwin is now in a great place creatively. "I can't even tell you how wonderful the past year of creating has been for me. I feel so completely free," she said.
With the future already looking bright — her song "Be A Light" will premiere on a future Season 5 episode of "Dance Moms" — there is not only musical success in Godwin's future. She is scheduled to star in "Shining Lives: A Musical" at Chicago's Northlight Theater this spring. (Find out more about her future performances here.) And with one foot already in the "Dance Moms" world, Godwin said she is willing to involve more of the show stars in her future projects.
"If I ever got a chance with Maddie, or Nia, or Kendall or Mackenzie, or any of the girls… I would jump at that opportunity," Godwin said.
As for right now, she is simply just riding the wave. "I'm so happy. It boggles my mind that every day I find people quoting the lyrics on Twitter. I just can't. I never thought this would happen ever. I never thought it would be that song. I'm so grateful. And I'm just like, 'Really, guys? Really?'"
FOR FREE to continue reading
✔️ Unlock the full content of International Business Times UK for free
offer available for a limited time only
✔️ Easily manage your Newsletters subscriptions and save your favourite articles
✔️ No payment method required
Already have an account?
Log in
© Copyright IBTimes 2023. All rights reserved.