Former 'Real Housewives Of Beverly Hills' Star Kim Richards Speaks Out On Sobriety After Leaving Rehab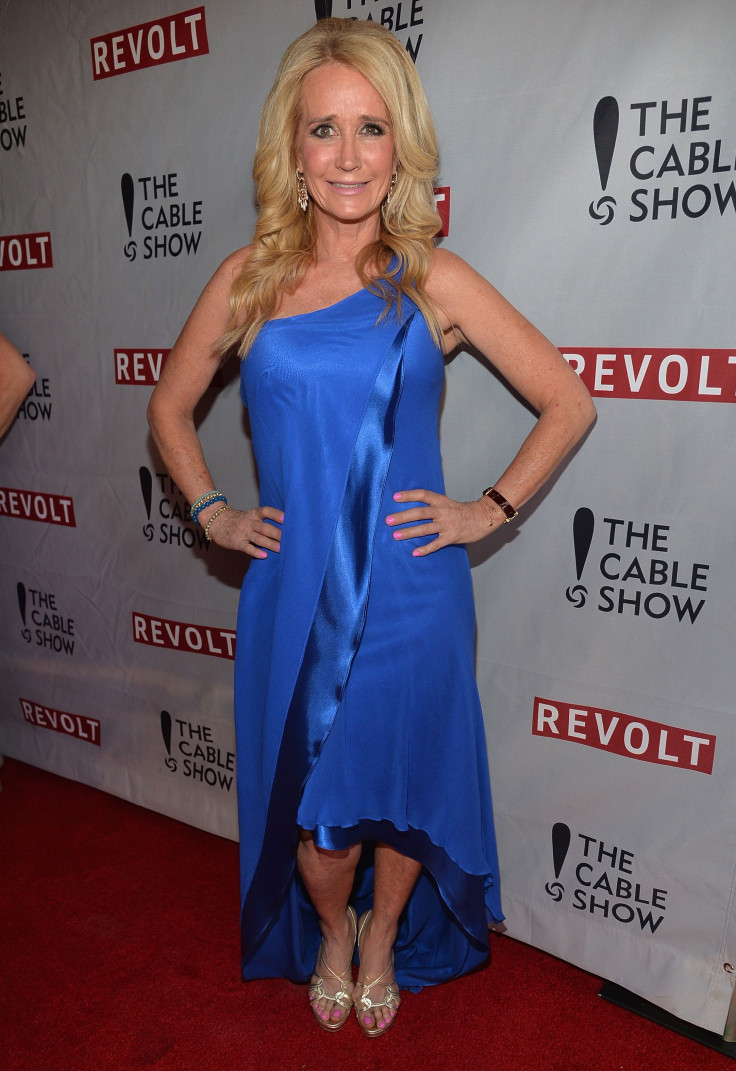 The journey to sobriety hasn't been an easy one for Kim Richards. The former star of "The Real Housewives of Beverly Hills" entered rehab for a second time in April following a relapse that lead to her arrest. After spending the last few months in and out of different facilities, Richards says she is sober and has a positive outlook about staying that way.
During a recent interview the 51-year-old spoke openly about both her relapse and current sobriety. She told Entertainment Tonight she has always loved being sober, so relapsing was especially hard for her to deal with. Although her situation was difficult, she told the site she felt treatment gave her "a break" from her chaotic home life. Richards attributed much of her struggle to coping with her sick ex-husband Monty Brinson, who continues to battle with cancer. She added that, on top of Brinson's illness, her son Chad Davis also fell ill.
"I've always loved sobriety, and relapsing was very hard for me," she said. "It was not easy. I have to say, don't take this wrong, but I really wanted to go to treatment because I needed a break from what I was going through at home."
While her home life was certainly a contributing factor, Richards said her arrest served as an "aha-moment." The reality star said after being taken into police custody she realized she now had the chance to escape briefly. Richards said at the time she thought, "I get to go away now and rest" adding that she "needed" a respite from hospital visits, her family and the pressures of her daily life.
This is the second time Richards has publicly commented on her sobriety. She was spotted out and about in Beverly Hills on July 20 at which time she encountered TMZ's cameras. She told the site she was "doing well" and "loving" her sobriety. When asked to give a piece of advice to the cast of "RHOBH," which she will no longer appear on, she simply wished them all the best of luck.
Richards was arrested April 15 after an incident that occurred at the Beverly Hills Hotel. As was previously reported, Beverly Hills Police received a call from the swanky hotel claiming there was a disturbance going on at the Polo Lounge, located inside the facility. Upon arrival BHPD are said to have had to forcibly remove Richards from the hotel. She was taken to the station where she reportedly kicked an officer. She has since been criminally charged with trespassing, resisting arrest and battery on an officer.
Days later, on April 26, Richards checked into a Malibu rehabilitation facility. She stayed in the treatment center until the days leading up to daughter Brooke Brinson's wedding, at which time she was given a pass to leave temporarily. Richards agreed to report back by May 25, but failed to do so. She left the facility and checked into another shortly after. She stayed at the second treatment center for one month before checking herself out on July 14 due to disagreements with staff.
Check out Richards' full interview with ET below:
© Copyright IBTimes 2022. All rights reserved.
FOLLOW MORE IBT NEWS ON THE BELOW CHANNELS