Fox News Republican Debate: Carly Fiorina Shines On Second-Billing Stage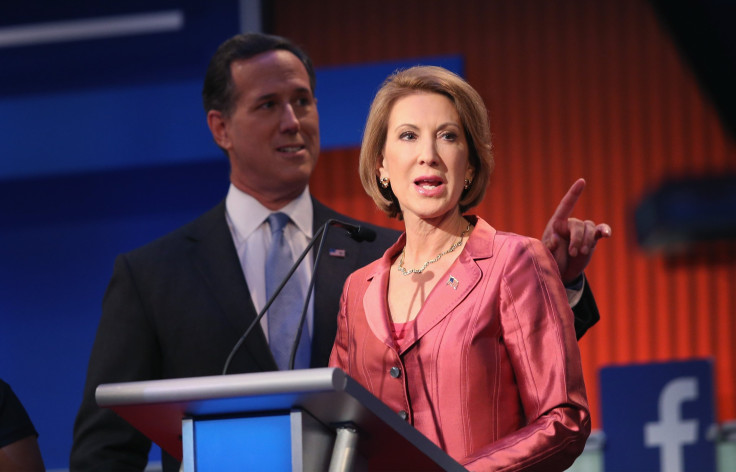 WASHINGTON -- If Donald Trump was "the elephant not in the room," as the moderators conceded, then Carly Fiorina was the big-game hunter who fired the best shots.
Asked about Trump's popularity, the former Hewlett-Packard CEO found a way to explain his strong polling and to associate herself with his base.
"Whatever the issue, whatever the cause, whatever festering problem you hoped would be resolved, the political class has failed you," Fiorina said. "That's just a fact and that's what Donald Trump taps into." She noted that she herself is not a career pol.
But she also highlighted his political inconsistency, pointing out that Trump had donated to Hillary Clinton's Senate campaign and to the Clintons' foundation, and that he has changed his positions "on amnesty, on health care and on abortion," so that she questioned his conservative credentials.
The 5 p.m. debate on Fox News was billed as the second-rate debate, the kids' table, the consolation prize for seven candidates who didn't poll well enough to make the prime-time stage. But for Fiorina, the debate may have served as a springboard to catapult her into the front half of the field.
"We need a nominee who is going to throw every punch, not pull punches, and someone who cannot stumble before he even gets in the ring," Fiorina said. "I am not a member of the political class. I am a conservative. I can win this job. I can do this job. I need your help and your support. I will, with your help and support, lead the resurgence of this great nation."
Fiorina has struggled to rise in the polls, failing to break above 2 percent in the polls conducted to determine who made the main debate. But she's long been considered a strong speaker and one of the candidates who could most benefit from the attention the debate stage brings. She's positioned herself as a go-to critic of Hillary Clinton.
And on the stage, Fiorina kept up her attack. She said she knows almost as many foreign heads of state as the former secretary of state (and name-checked quite a few of them).
Former Texas Gov. Rick Perry described Trump as "an individual who was using his celebrity rather than his conservatism."
"How can you run for the Republican nomination and be for single payer health care?" Perry said. "We need a president who doesn't just talk a game but gets real results."
Much of the debate centered on foreign policy and national security.
Former New York Gov. George Pataki, who repeatedly reminded the audience that he was in office on Sept. 11, 2001, said that he wouldn't stop investigating mosques where he thinks terrorism is being encouraged because of a religious freedom argument.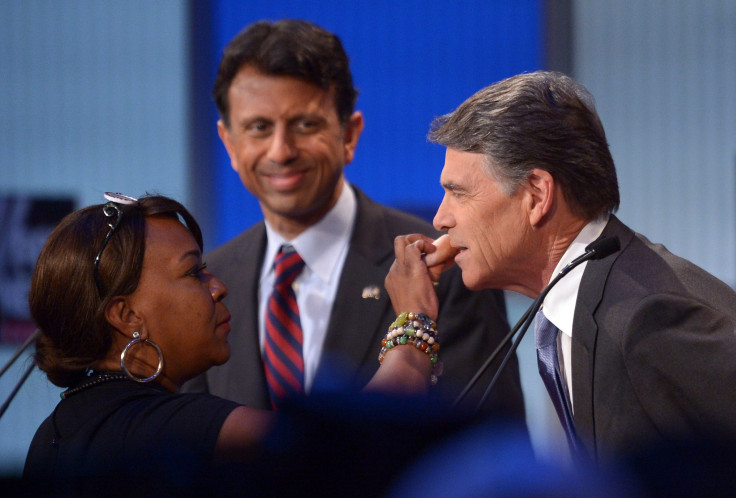 "Religiously liberty doesn't include in encouraging a fellow American in jihad," Pataki said. "That is like shouting fire in a crowded theater."
Former Virginia Gov. Jim Gilmore, who ran his state during the Sept. 11, 2001 attacks, argued that the nation isn't prepared for another attack -- which he said is a guarantee.
"It's going to happen in this country, there are going to be further attacks," Gilmore said. "We need to be able to prepare the American people, prepare them for a long war."
Sen. Lindsey Graham focused the most heavily on foreign affairs -- and was the most hawkish, promising to fight the Islamic State group over there, in order to keep them from coming to America. He expressed a willingness to put boots on the ground and to stay engaged as long as it takes to defeat the militants. That's an argument that his friend and colleague Sen. John McCain made unsuccessfully in his own run for president.
Many of the opening questions were a variation of, "How come your campaign is going so poorly?" Some of those on stage -- like Gilmore and Pataki -- probably didn't make enough of an impact to change that perception. But analysts will be watching the next round of polls to see if Fiorina did indeed move herself up to the first tier.
© Copyright IBTimes 2023. All rights reserved.
FOLLOW MORE IBT NEWS ON THE BELOW CHANNELS