France vs Germany 2015: Start Time, TV Channel, Live Stream Info, Prediction For Women's World Cup Game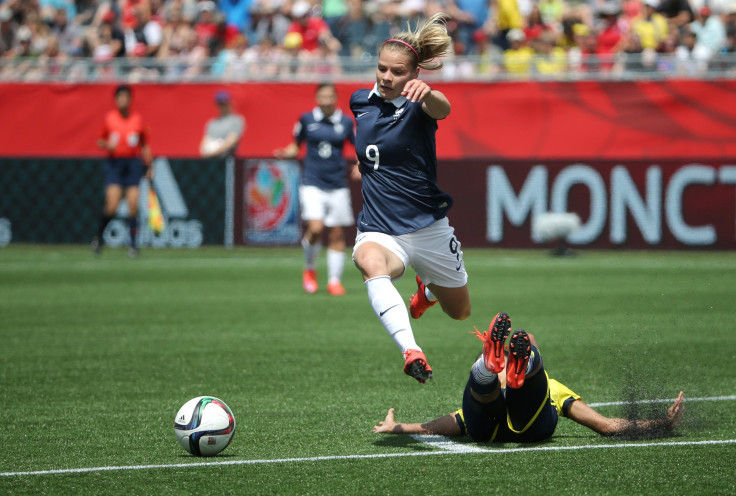 With all the mood, flair, and stakes of a final, Germany and France weren't expected to meet this early in the Women's World Cup but it's likely the victor in Friday's quarterfinal matchup in Montreal who will vie for the championship.
The top-ranked Germans lead the entire tournament with 19 goals scored, powered by five goals apiece from forwards Celia Sasic and Anja Mittag, but the No. 3 French certainly have the attacking prowess to hang with their European neighbors.
Forwards Marie Laure Delie and Eugenie Le Sommer are behind the high-scoring German tandem with three goals each, and France finished 2-1 to lead Group F by overcoming a 2-0 letdown to Colombia in to blast Mexico and South Korea by a comined score of 8-0 to reach the Cup quarters for the second straight time.
France coach Philippe Bergeroo said he's anticipated facing an elite squad like Germany.
"We don't think to the final or the semifinal. We are thinking about tomorrow's game, which is very important for our team," Bergeroo told reporters Thursday. "We know their strengths. We also know their weaknesses. We've been observing them for some time."
Germany began the tournament with a dominating 10-0 performance over Ivory Coast, further cementing its foothold as the favorites. The scoring is complemented by an impenetrable defense, with keeper Nadine Angerer needing only six saves because her backline and midfield have allowed only 13 total shots and have always maintained the possession advantage through four matches.
France's Sarah Bouhaddi, who will earn her 100th cap in net, can say the same about her backline. The 28-year-old's totaled five saves off 19 total shots from opponents.
Typically such one-sided play allows for an easier road to the championship, but German coach Silvia Neid foretold a matchup with the French well before her team's arrival in Canada.
"When in December the teams were drawn, we could see what would happen if we were first, what would happen if France was first," Neid said. "You could predict what might happen.
"Yes, we will have a strong opponent tomorrow. This was all predictable after the draw. That is what you have to live with."
History certainly suggests the two-time champion Germans will prevail, with France's victory over South Korea just its second in the knockout stages in Cup history.
The winner moves on to face either the United States or China in the semifinals on June 30.
Kickoff Time: 4 p.m. ET
TV Channel: FOX
Live stream: Fox Sports Go
Prediction: Germany over France, 2-1
© Copyright IBTimes 2023. All rights reserved.