Freddie Gray Officer Verdict: Baltimore Judge Rules Officer Edward Nero Not Guilty On All Charges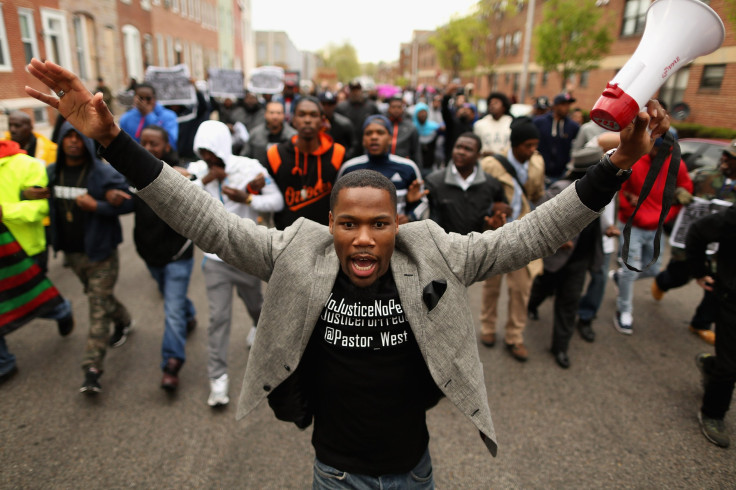 UPDATE: 11:50 a.m. EDT — The Baltimore Police Department issued a statement Monday saying that while Officer Edward Nero's trial is over, the department's internal investigation into the situation around Freddie Gray's death will continue.
"With that, Officer Nero's status will remain unchanged. He will remain in an administrative capacity while this investigation continues," T.J. Smith, director of media relations for the police department, said in a statement. "The internal investigation is being handled by other police departments. The internal investigation will not be completed until all of the criminal cases against the other five officers are completed because they will likely be witnesses in each case."
The Baltimore City Fraternal Order of Police, the organization that represents active and retired officers, also issued a statement Monday defending Nero. "Officer Nero is relieved that, for him, this nightmare is nearing an end. Being falsely charged with a crime and being prosecuted for reasons that have nothing to do with justice is a horror that no person should ever have to endure," the statement said. "Unfortunately, however, his relief is tempered by the fact that five other police officers, outstanding men and women, and good friends, must continue to fight these baseless prosecutions. None of these officers did anything wrong. The State Attorney's office responded to the riots and violence in Baltimore by rushing to charge these officers rashly and without any meaningful investigation."
The statement added that the police officers are "good people" and said that "while Mr. Gray's death is no doubt tragic on many levels, maintaining these prosecutions only propels the tragedy to another level."
Original story:
A Baltimore judge has acquitted local police officer Edward Nero of all charges in connection with the April 2015 death of Freddie Gray, a 25-year-old black man, the Baltimore Sun reported Monday. Nero faced charges of assault, misconduct in office and reckless endangerment.
Baltimore Judge Barry Williams said the state failed to prove Nero acted unreasonably, according to Baltimore Sun reporter Kevin Rector. Nero had pleaded not guilty to the charges. The assault charge carried a maximum sentence of 10 years in prison and the other charges had five-year maximums.
Nero is one of six officers who were charged with crimes after Gray died from spinal cord injuries he sustained when he was handcuffed and shackled in the back of a police van. Prosecutors said Nero unlawfully arrested Gray without probably cause and was negligent in not putting Gray in a seatbelt, ABC News reported.
Gray's death sparked widespread protests and rioting in Baltimore and has become one of several flashpoints for the national debate over police violence and how law enforcement officers treat black men across the country.
Baltimore Mayor Stephanie Rawlings-Blake called Monday for people in her city to be patient and "allow the entire process to come to a conclusion." She added that in case of any disturbance in the city, she is prepared to respond. "We will protect our neighborhoods, our businesses and the people of our city," she said in a statement.
As for those involved in the case, reporters in Baltimore tweeted that Nero appeared emotional after the verdict, and Gray's sister, Fredericka, appeared "visibly upset." Protestors also followed Nero's family to a parking garage after the verdict, one reporter tweeted.
DeRay McKesson, a Black Lives Matter activist who unsuccessfully ran for mayor of Baltimore this year, told the Baltimore Sun: "The Nero verdict is a reminder that we must continue to push for policies and laws related to the police department that explicitly call for the preservation of life and that have clear lines of accountability."
"I am reminded that this is one of six trials as we seek accountability for the death of Freddie Gray," McKesson added.
Nero chose a bench trial rather than a trial by jury. His attorneys argued that he did not arrest Gray and it was the police van driver's responsibility — not Nero's — to ensure prisoners are buckled in, the Wall Street Journal reported. The defense also argued that the Baltimore Police Department's policy regarding seatbelts is more of a suggestion than a policy mandate, and that the officers involved in arresting Gray acted responsibly.
This was the second trial for an officer involved in Gray's arrest and separate trials for the other officers are set for the coming months. Officer William Porter was the first to be tried, in December, but after the jury could not come to an agreement about the charges against him, a judge declared a mistrial, the Baltimore Sun reported at the time. His retrial is set for Sept. 6.
Officer Caesar Goodson, the van driver, is expected to stand trial on June 6.
© Copyright IBTimes 2023. All rights reserved.