French Court Rules Tuesday On Kate Middleton Bid To Suppress Topless Photos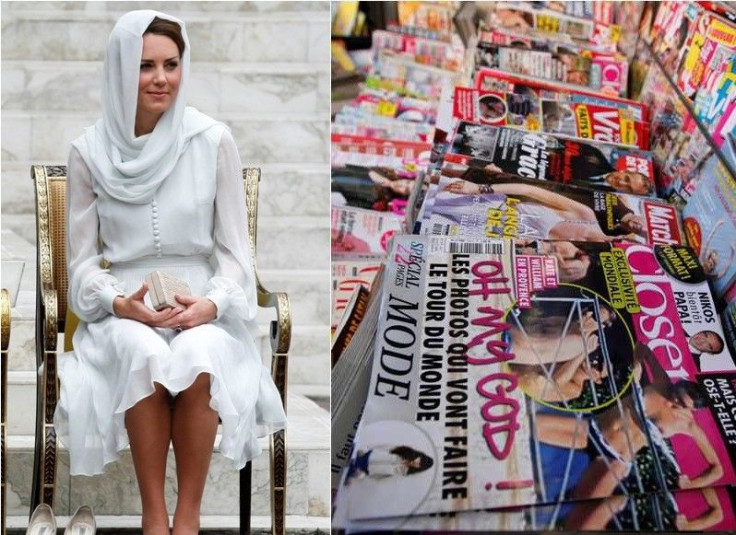 A Paris court is to rule Tuesday on efforts by Prince William and Kate Middleton's lawyers to stop further publication of topless photos taken of her in France.
The ruling is expected around noon from a court in Nanterre, Paris, according to the Associated Press.
The pictures went viral on the Internet after they were published Friday in the French celebrity tabloid Closer. The photos also were published by the Italian gossip magazine Chi; both magazines are owned by the infamous former Italian Premier and media tycoon Silvio Berlusconi.
Closer published 14 images of the topless Duchess and Chi published a 26-page spread of Kate Middleton.
The Irish tabloid, Irish Daily Star, also published the images, but its editor-in-chief Michael O'Kane has since been suspended.
"It is clear that some sections of the print media are either unable or unwilling in their reportage to distinguish between prurient interest and the public interest," said Irish Justice Minister Alan Shatter, who plans to introduce tougher privacy laws. "Sections of the print media believe that public figures are fair game and have no right to privacy in respect of any aspect of their lives."
The Duke and Duchess of Cambridge were sharing a "healthy and profoundly intimate" moment at his cousin's Provence estate when the pictures were snapped, their lawyer, Aurelien Hamelle, told the court. The situation was "deeply personal."
Hamelle is requesting €5,000 ($6,550) in damages from Closer and for the pictures to not be published anywhere else, including the Internet. He's also seeking for the court to fine Closer €10,000 ($13,100) every day the pictures are reproduced, and €100,000 ($131,000) if the images are sold anywhere.
In some of the photos, Middleton didn't have her top -- which is hardly scandalous in France -- and she occasionally partially pulled down her bottoms to apply sunscreen.
As a result, their attorneys will be addressing whether or not Middleton was "flaunting" herself, the AP said.
"It's not an accessible (view) from the exterior," Hamelle said of the location site, contrary to Closer's lawyer, Delphine Pando, who said the royals were easily seen from the road.
"What is certain for her close family as for herself is that it's something extremely troubling," Hamelle said.
But Pando, Closer's lawyer, believes the images belong to an agency.
"We are not the owners of these photos," she said. "The photos are out there. If a TV show wants to show an image of this (magazine) edition, it's got nothing to do with us."
© Copyright IBTimes 2023. All rights reserved.