French Open 2014: Will Rafael Nadal Hold Off Novak Djokovic For A 9th Roland Garros Title?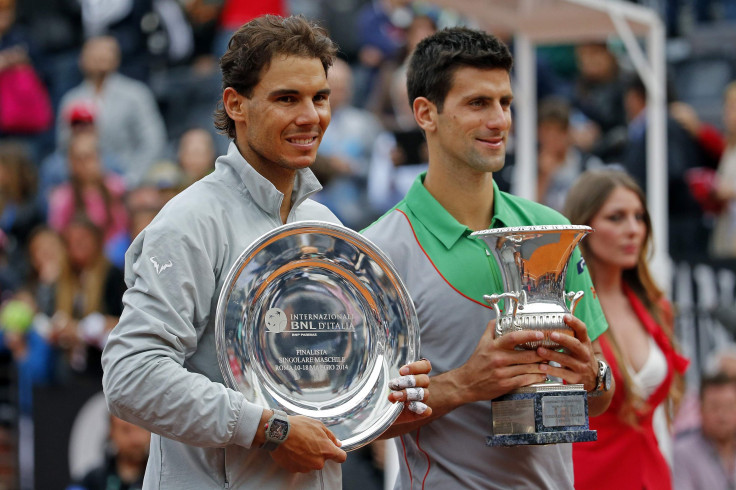 It has been an uncustomary clay-court season for Rafael Nadal. Leading into the French Open, the "King of Clay" has had an unfamiliar feeling of vulnerability.
In Monte Carlo and Barcelona, two tournaments which he has won an unprecedented eight times, he was ousted in the quarterfinals. In Rome last week, Novak Djokovic got the better of him in the final. It is the first time that Nadal has won fewer than two tournaments heading into Roland Garros. He may well not have won any had Kei Nishikori not suffered a back injury in the final in Madrid and gone onto retire. Yet, having won eight of the nine French Opens in which he has competed, the Spaniard rightly remains the favorite heading into his 10th.
He is not, though, a prohibitive favorite. Not only does Djokovic pose perhaps the biggest threat to Nadal heading into Paris that he has perhaps ever faced, but some of tennis's rising stars may well feel that they now have a chance going up against the best clay-court player of all time. That simply wasn't the case before. In 64 matches en route to the final in his eight French Open wins, Nadal has won 56 of them in straight sets. Most players were already beaten before going onto the court.
That is unlikely to be the case this time. In Rome, Nadal was forced to a third set in three successive matches and he could well face similar challenges along the way in the year's second Grand Slam.
It is not just Nadal's form on clay that makes him more vulnerable; the long established top four at the sport's summit has received a real shake up this year. Stan Wawrinka proved the catalyst when beating Djokovic and Nadal to take his maiden Grand Slam title at the Australian Open. While not as spectacularly, Nishikori, Milos Raonic and Grigor Dimitrov have shown that they are ready to make a big splash at a major and pose a regular threat to the established order. Meanwhile, Andy Murray, never at his most comfortable on clay and following a post-Wimbledon-winning slump, showed that he too could be a factor when pushing Nadal all the way in Rome with one of his best ever displays on clay.
For Nadal, Friday's draw could be more important than it has been in some time. Still, despite all those factors, it would take an extremely brave person to bet against Nadal at least being involved when the title is decided on the final Sunday. While Nadal has been beaten and challenged more often in the lead up to Paris, there is a big difference between the best of three sets and best of five sets. That is especially true on the grueling terre battue surface and especially true against the most intense competitor tennis has ever seen.
"I never like the easy matches," Nadal said in a recent interview with Time magazine. "I think that good sportsmen don't like the easy wins … At the end, if you are winning with a little more drama, it stays in your mind a lot longer than when you are winning easy, no?"
And of his love for clay: "It needs suffering."
It may take more suffering than usual, but a place in the final should still be his. Once there, he is likely to come up against the man who has been the strongest challenger to his French-Open dominance for the past two years. Last year looked to be Djokovic's big chance to dethrone his rival. Nadal had recently returned to the tour after seven months out with a knee injury and Djokovic had won in straight sets when the pair met at Monte Carlo six weeks before. But, chasing the one Grand Slam needed to complete his collection, the Serbian relinquished a break advantage in the final set to lose an epic semifinal 9-7 in the fifth set. Should they meet again, this time in the final, it is likely to be a similarly punishing and riveting encounter.
While there are question marks over Nadal, the same is true regarding Djokovic. The six-time Grand Slam winner lost to Roger Federer at Monte Carlo while suffering with a wrist injury and was forced to pull out of the following tournament in Madrid. While he looked pain free in Rome, the demanding schedule of a Grand Slam will test what was something of a mystery injury further.
There is arguably no more arduous test in tennis than having to deal with Nadal's barrage of topspin forehands rising ludicrously high off the clay surface. And until Djokovic proves he can negate that over five sets at Roland Garros, Nadal remains the man to beat.
© Copyright IBTimes 2022. All rights reserved.
FOLLOW MORE IBT NEWS ON THE BELOW CHANNELS