'Fuller House' Season 2 Spoilers: 9 Things We Know About The New Season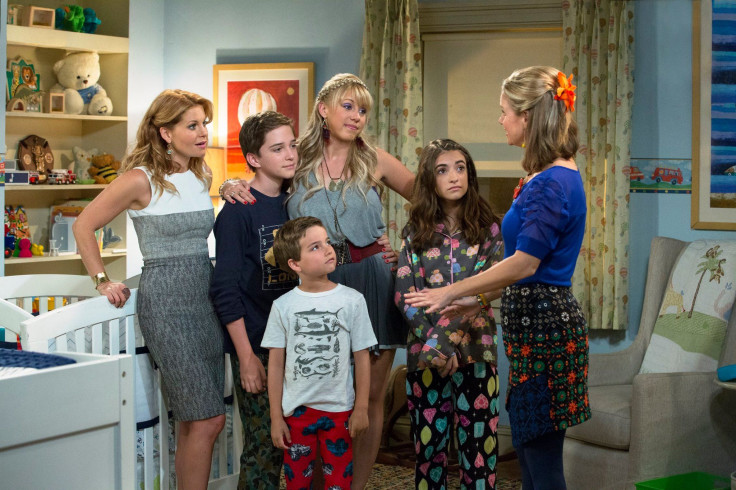 With only two days left until the release of "Fuller House" Season 2 on Netflix, many fans are getting ready to binge-watch the new episodes. Before you find out what the Tanners, Fullers and Gibblers have been up to, check out nine things you should know about the new season.
1. The Olsen Twins Won't Appear
Once again, Mary-Kate and Ashley Olsen will not be reprising their "Full House" role as Michelle Tanner on "Fuller House" Season 2.The sisters have moved on from acting and just like Season 1, they won't be there.
2. There Will Be Holiday Episodes
Images from the second season reveal that the Fuller household will be celebrating Halloween, Thanksgiving and Christmas.
3. Nelson Will Return
D.J.'s (Candace Cameron Bure) ex-boyfriend Nelson will make a return to the series in Season 2 but he will be played by someone else. Originally portrayed by Jason Marsden, Nelson will now be played by Hal Sparks.
4. D.J. Will Choose Steve Or Matt
During an interview with Hollywood Life, Bure said, "There's still a lot of relationship issues with Steve and Matt, but [D.J.] does choose someone this season."
5. We'll Meet Kimmy's Brother
Nelson isn't the only new character for Season 2. Kimmy Gibbler's (Andrea Barber) brother Jimmy (Adam Hagenbuch) will make an appearance. While we don't much about Jimmy's story, it appears he will be getting close to Stephanie (Jodie Sweetin).
6. Joey's Family Will Be Introduced
He may be known as Uncle Joey (Dave Coulier), but Joey actually has his own family and viewers will finally get a chance to see them. During the Thanksgiving episode, Joey will introduce his wife, Ginger.
7. Girl Talk And Gia Return
Casual "Full House" fans may not remember Girl Talk but the diehard fans surely will. Stephanie, Kimmy and old friend Gia (Marlo Sokoloff) will reunite as their band, Girl Talk. D.J. will also join in as a drummer.
8. New Kids On The Block Cameo
Just like the first season had some celebrity guests, the second season of "Fuller House" will have its own. In August, Sweetin shared a photo of NKOTB with the cast.
9. There Will Be 13 Episodes
Just like the first season, Season 2 of "Fuller House" will feature 13 episodes that will all be available on Dec. 9 on Netflix.
© Copyright IBTimes 2023. All rights reserved.