'Game Of Thrones': The Best Scenes To Come In Season 7 Based On Set Photos, Stills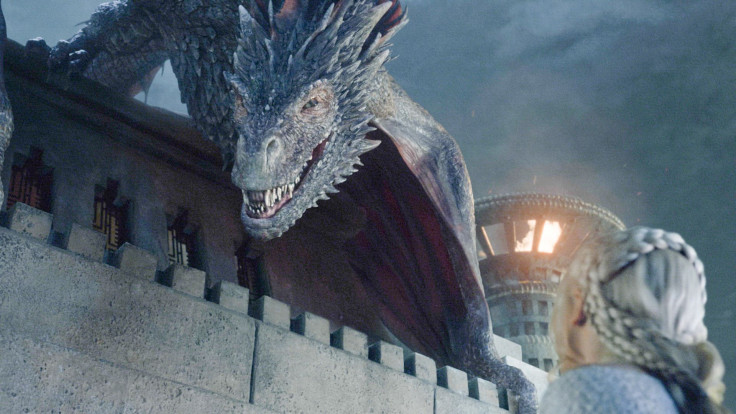 A Great War is coming to the Seven Kingdoms and it's sure to make for good television. While it's likely this bloody battle and the preparations leading up to it will be the central focus of "Game of Thrones," there's so much more to look forward to.
In April, HBO released still images that left fans more fired up than ever for the Season 7 premiere. Arya Stark (Maisie Williams), Jon Snow (Kit Harington), Sansa Stark (Sophie Turner), Daenerys Targaryen (Emilia Clarke), the Lannisters (Lena Headey and Nikolaj Coster-Waldau), Gilly (Hannah Murray) and more were all featured in the pictures. Many of the photos provided little context, at least until the trailer's release weeks later, but others spoke a thousand words.
Read: Everything We Know About Season 7 Of 'Game Of Thrones' Following The Trailer's Release
One of the most important and interesting photos in the set was of Gilly, Sam's (John Bradley West) wildling girlfriend. In previous seasons her role was subdued as she largely served as a support system for Sam. It appears, however, that in Season 7 of "Game of Thrones" she'll play a key role in uncovering something major about Jon.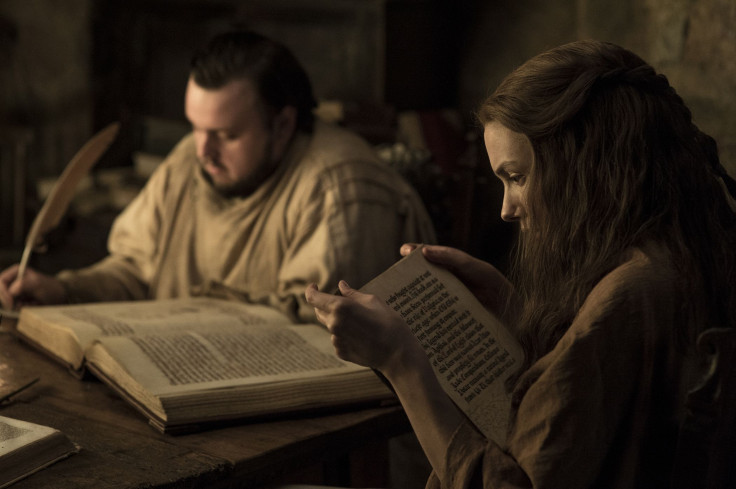 In addition to images sanctioned by the network, several set photos have surfaced on the web throughout production on "Game of Thrones." Eager fans camped out near filming locations, snapping photos and video that reveal what's to come in Season 7. The frequency of photo and video leaks online early in filming forced those working on the show to tighten security and up the veil of secrecy, though some things still managed to slip through the cracks.
Fans were able to snag photos of Jon and Daenerys, Theon Greyjoy (Alfie Allen), Ser Davos (Liam Cunningham) and Arya and Bran. Each leak brought fans that much closer to understanding where "Game of Thrones" is heading in Season 7.
Here are the "Game of Thrones" scenes we're most looking forward when the show returns to HBO this July:
Arya Stark's Return To Winterfell
In September 2016, fans snapped photos of Williams on the "Game of Thrones" set. She appeared to be wearing a brown leather outfit similar to that worn by Bran in Season 6 flashbacks to Winterfell. Watchers on the Wall reported that Williams was on the set the same day as Harington and Wright, which further fueled belief she was heading home.
Jon And Daenerys' Meeting
"Game of Thrones" fans have been hoping to see Jon and Daenerys come together since the show began. Their wish will finally be granted in Season 7, according to a video taken by a fan in Basque Country, Spain. Harington and Clarke can be seen in character, having a stern chat while looking out over a cliffside.
The video provides no context about the nature of their relationship, but months later another clue arrived. In the "Game of Thrones" Season 7 trailer, Davos and Daenerys are shown talking about the war ahead. He seemingly urges her to keep her eyes on the prize, reminding her that if they aren't ready for the battle coming their way it won't matter who's seated on the Iron Throne.
Jon And Theon's Face-Off
Jon and Theon haven't seen one another since Season 2, when the Iron Islands native betrayed the Starks and took over Winterfell, forcing Bran and Rickon (Art Parkinson) to flee their home. Set photos posted on Celebuzz in October 2016 suggest they'll finally face one another in Season 7. Their reunion won't be pleasant — pictures show Jon grabbing his former family friend by the collar while standing on a shoreline.
Gendry's Return
The site also had photos of Gendry (Joe Dempsie), the last living son of King Robert Baratheon (Mark Addy). The pictures suggest he'll encounter Jon, Daenerys, Theon and the gang at some point in Season 7 of "Game of Thrones." Fans have been waiting for him to return to the show since Davos sent him off in a rowboat in Season 3.
Theon And Euron Greyjoy's Bloody Showdown
TMZ obtained set photos of Allen's character in what appeared to be a bloody confrontation with his uncle, Euron Greyjoy (Pilou Asbæk), on the beach. At first, it seems Theon's losing the fight, but he recovers and gives his uncle a beatdown. The final images in the set show Theon being pulled away from Euron's body, which is lying on the ground surrounded by "Game of Thrones" cast members believed to play soldiers.
An Ambush On The Lannisters
El Periodica Extremadura reported in November 2016 that Season 7 would contain a surprise attack on the Lannisters. The spoiler came after a photo was obtained of the Dothraki army charging caravans carrying the Lannisters and other supplies. Only the Dothraki were visible in the photo as the Lannister's army was expected to be added in later.
Jaime and Bronn (Jerome Flynn) were spotted on the same set, which lead Los Siete Reinos, a Spanish-language "Game of Thrones" spoiler site, to speculate that they'd be joining the caravans on their journey. Daenerys wasn't photographed on the set, meaning she may not be joining her troops as they carry out their mission. She was in Belfast, Ireland, at the time, though Los Siete Reinos noted that there was still plenty of time for her to be added in at a later date.
Gilly's Moment In The Spotlight
As mentioned before, one particular "Game of Thrones" photo, released by HBO in May, shows Gilly reading in the Citadel library with Sam. Fans struggled to make out what she's reading. One Thronie with a keen eye was able to figure it out and transcribe it, posting the text on Reddit for all to enjoy.
Read: Will Arya Stark Kill Littlefinger In Season 7 Of 'Game Of Thrones'
If they're right, she'll be a key figure in revealing the truth about Jon's lineage. The text she's reading appears to be about the Azor Ahai prophecy, which promises an unstoppable prince will be reborn to protect that Seven Kingdoms against the Lord of Light's adversary. Many believe Jon's that person and Gilly will reveal it to him in Season 7 of "Game of Thrones."
Tormund And Brienne Getting Together
"Game of Thrones" fans have been shipping Brienne of Tarth (Gwendoline Christie) and Tormund (Kristofer Hivju) since Season 6. Photos released by the network suggest that they'll finally get together in Season 7 and we can't wait.
© Copyright IBTimes 2022. All rights reserved.
FOLLOW MORE IBT NEWS ON THE BELOW CHANNELS