'Game Of Thrones' Spoilers & Theories: Everything We Know About Season 7 After The Trailer Release
"Game of Thrones" fans got their first glimpse of what's to come in Season 7 of the HBO original series on Wednesday, after an action-packed trailer teasing a "Great War" ahead was released. Now, viewers are more than ready for the show to return to HBO.
The "Game of Thrones" Season 7 preview centered on the Seven Kingdoms' preparations for what's sure to be a bloody battle ahead. Cersei (Lena Headey) and Jaime Lannister (Nikolaj Coster-Waldau), Daenerys Targaryen (Emilia Clarke), Jon Snow (Kit Harrington), Sansa Stark (Sophie Turner) and more share their differing strategies for facing off against each other and their shared adversary. While some plan to focus on protecting themselves and their people, others, namely Ser Davos (Liam Cunningham), think unity's the only answer.
Read: The Best 'Game Of Thrones' Deaths Throughout The Series
In one poignant scene, Jon's right-hand man urges Daenerys to think beyond her dreams of the Iron Throne. Davos reminds her that if she and everyone else are killed, no one will get to rule the Seven Kingdoms. Her reply isn't featured, which has left "Game of Thrones" fans curious how she'll receive his advice.
The trailer also further explored some stills and imagery shown in the Long Walk teaser, which HBO released back in March. Below is everything we know about "Game of Thrones" Season 7 after the full-length trailer release:
Winter's Here
Thronies get caught up with Arya Stark (Maisie Williams) in the latest trailer for "Game of Thrones." While it's not clear exactly where she is, it's obvious she's close to her home. The youngest living Stark child takes a deep breath out, which produces a smoke-like cloud, illustrating to viewers that inclement weather — and the Night King (Vladimir Furdik) and his army — are on their way.
Daenerys Is Heading For Westeros
In April, HBO released a number of still images from Season 7 which showed Daenerys and her confidants in formation. In the trailer, "Game of Thrones" fans get a new perspective on that moment, revealing that they're arriving at what appears to be King's Landing. The gates open as the Mother of Dragons and her inner-circle beam.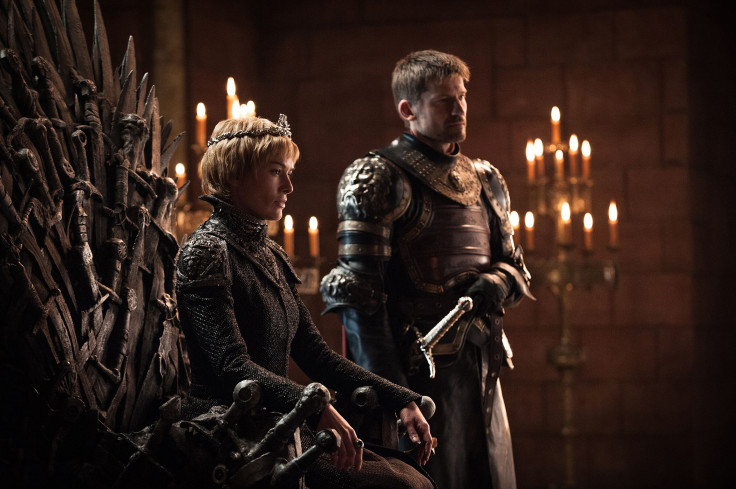 There Will Be Bloodshed
It also appears that Daenerys' army, made up of Dothraki and Unsullied forces, will launch an attack on the Lannisters. The trailer shows Daenerys' army storming through an archway that appears to lead to Casterly Rock, the Lannister's homeland. They're joined by a dragon, which will make them a force to be reckoned with.
Daenerys Will Find A New Home, Possibly In A Familiar Place
The Long Walk "Game of Thrones" teaser showed Daenerys walking to a throne not previously featured in the show before. Fans speculated that she'd be returning to Dragonstone, a city previously ruled by Targaryens. The throne, as well as other areas of her new kingdom, appear in the Season 7 trailer, further fueling that speculation.
Littlefinger's Behind Sansa's Rumored Powertrip
Stills from Season 7 showed Littlefinger (Aiden Gillen) and Sansa chatting on an outdoor bridge above Winterfell. The photo provided no context for the situation, but "Game of Thrones" fans were certain he was up to no good. In the trailer, viewers learn that Littlefinger's pushing Sansa to take the reigns and control of her family's kingdom from her bastard brother, Jon.
Gilly Will Play A Major Role In Uncovering Information About The Azor Ahai Prophecy
Stills from Season 7 of "Game of Thrones" show Gilly (Hannah Murray) reading in the Citadel library with Sam (John Bradley West). At first glance, it's hard to make out exactly what it is that she's reading. One "Game of Thrones" fan with a keen eye was able to transcribe it and share it on Reddit.
The page she's reading appears to contain information about the Azor Ahai prophecy. "Game of Thrones" hasn't previously delved into the theory, which promises a fearless and unstoppable prince will be reborn to save the Seven Kingdoms. It's unclear from the photo what she'll piece together about it, but fans are excited.
Bran Will Finally Get To Winterfell — Or Close, Anyway
The "Game of Thrones" Season 7 photoset shows Bran (Isaac Hempstead Wright) and Meera (Ellie Kendrick) travelling through the snow together. The snow is either a sign that winter's arrived wherever they wound up, or that they'll finally complete their long journey to Winterfell.
Thronies are hopeful that latter's the case, as that would give way to a reveal about Jon's true lineage. Bran learned the truth about the R + L = J theory in Season 6, when he traveled back in time as the Three-Eyed Raven.
Cersei May Be Killed
The current ruler of the Seven Kingdoms may get what's coming to her in Season 7 of "Game of Thrones." Fans have taken to a theory, based off a prophecy from Maggy the Frog (Jodhi May) in Season 5 that foretold a number of things in Cersei's life, including the nature of her relationship with Robert Baratheon (Mark Addy) and how many kids they'd respectively have.
Another part of the prophecy, not featured in "Game of Thrones," predicted that a "valonqar" — little brother in High Valyrian — would come along and kill her. Maggy doesn't say who the little brother is, which has lead to some speculation. Some fans think it's Jon Snow, while others think The Hound (Rory McCann) will kill her.
Jaime Lannister Will Turn On His Sister/Lover
Jaime Lannister is one of few people who has had Cersei's back through it all. At the end of Season 6, it seemed his allegiance was wavering, which has fans hopeful he may finally switch teams in Season 7 of "Game of Thrones." Many fans believe he may even kill her.
Coster-Waldau hasn't confirmed that theory, though he has entertained the idea. During an interview with the Daily Beast, he was asked what he thought about Jaime being the one to kill Cersei. The Danish actor called it, "a great theory."
Jon And Daenerys Will Build A Bond That May Even Get Romantic
"Game of Thrones" fans snagged photos and videos from one of many filming locations while Season 7 was in production. One particular shot showed Jon and Daenerys having a chat on a cliffside in an undisclosed location. Whatever they're discussing, it looks serious and may even be related to joining forces ahead of the Great War.
Some "Game of Thrones" fans seem to think Jon and Daenerys' relationship will go beyond being allies. There is a wildly popular theory that the two will get romantic with one another, which will lead to an epic end for the show as a whole. The in-depth theory can be explained further HERE.
The Seven Kingdoms Will Stop Running From Their White Walker Problem
In Season 7 of "Game of Thrones," the people of the Seven Kingdoms will finally have to face what Jon's been trying to tell them all along — "Winter is coming." He'll take a more hands-on approach in Season 7, reportedly bringing a waight (a member of the Night King's army) into the Dragonpit fighting arena. This move will force leadership to wake up and pay attention.
Read: What Does The 'Game Of Thrones' Cast Look Like Off The Set?
Dying to know more about what's to come on "Game of Thrones"? Check out more HERE. Those looking for information about the spinoffs being developed need look no further than HERE.
Be sure to tune in to "Game of Thrones" when it returns to HBO Sunday, July 16, at 9 p.m. EDT.
FOR FREE to continue reading
✔️ Unlock the full content of International Business Times UK for free
offer available for a limited time only
✔️ Easily manage your Newsletters subscriptions and save your favourite articles
✔️ No payment method required
Already have an account?
Log in
© Copyright IBTimes 2023. All rights reserved.