'Game Of Thrones' Season 6 Spoilers: 5 Things To Know About Kinvara, The New Red Woman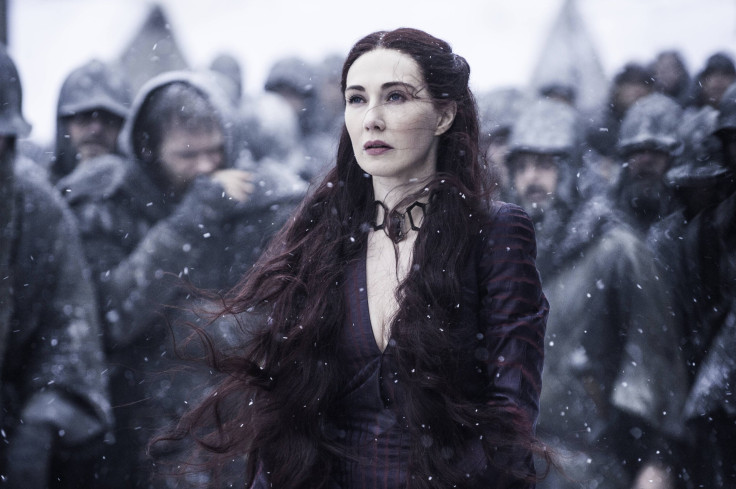 Move over, Melisandre (Carice van Houten) — there's a new red woman in town. At least, that's what the latest trailer for Season 6, episode 5 of the HBO series would have fans believe.
[WARNING: Spoilers ahead]
The clip introduces viewers to a woman named Kinvara (Ania Bukstein), who appears to be taking some cues from Jon Snow's savior. She is shown draped in similar red robes and jewels (note the necklace — an exact replica of the one Melisandre often wears). Leaked scripts from the series, depicting a scene between Kinvara and Tyrian Lannister (Peter Dinklage), also reveal a peaked interest in the "chosen one," though it seems she and Melisandre differ on who that person may be.
Here are five things to know about Kinvara ahead of episode 5:
1. It's Possible That More Than One Red Priestess Exists.
R'hllor, the religion followed by Melisandre, Thoros of Myr and more in "Game of Thrones," is thriving. Kinvara, however, would be the first female follower of the faith introduced to viewers aside from the original red woman.
2. Kinvara Is Referred To As "The First Servant Of The Lord Of Light."
Although her introduction to "Game of Thrones" comes several seasons after Melisandre's, a leaked script snippet featured on Screen Crush shows her being introduced as the Lord of Light's first follower.
3. She And Tyrian May Form An Alliance.
While Tyrian has not yet had the pleasure (or displeasure, depending which of the characters you ask!) of coming face-to-face with Melisandre, he may be joining forces with the newest scarlet sorceress. In the script, he looks to Kinvara for help adjusting the Meereenese public's perception of Daenarys Targaryen (Emilia Clarke).
4. Kinvara And Melisandre Differ On Who Azor Ahai May Be.
The Azor Ahai prophecy is an important one to the red priestesses. The prophecy suggests that whoever has taken on the spirit of the great warrior will be reborn in smoke and fire, carrying a flaming sword. Upon her initial introduction, Melisandre believed that Stannis Baratheon (Stephen Dillane) — may he rest in peace — was the reincarnation of the warrior of fire. Other theories speculate that it may be Jon Snow (Kit Harington) or Victarion Greyjoy. As is revealed in the scripts, Kinvara believes the chosen one is none other than the mother of dragons.
5. Kinvara Does Not Appear To Exist In The "A Song of Ice and Fire" Series.
According to Bustle, Kinvara's name does not appear in any of the pre-existing novels in the series. It is possible, however, that she will be introduced in the latest book, titled "Winds of Winter," which author George R. R. Martin is in the process of writing, though he has not spoken about adding new characters.
"Game of Thrones airs Sundays at 9 p.m. EDT on HBO.
© Copyright IBTimes 2022. All rights reserved.
FOLLOW MORE IBT NEWS ON THE BELOW CHANNELS