'Game Of Thrones' Season 6 Spoilers: Everything We Know About The Mountain's Transformation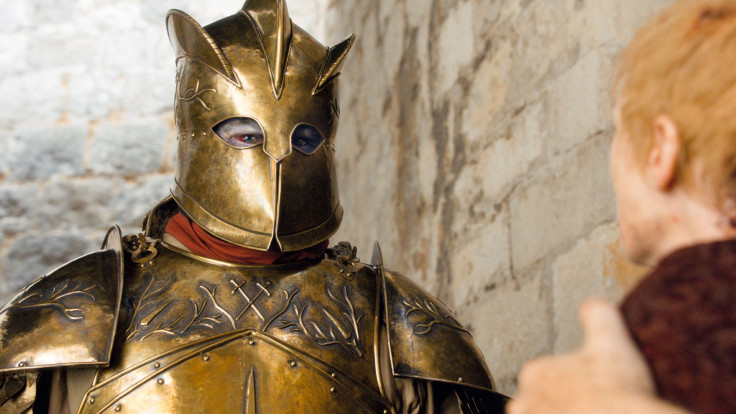 Cersei Lannister may have ended "Game of Thrones" Season 5 at an all-time low, but she will be back for revenge in Season 6. Helping her in this quest will be the murderous reincarnation of the Mountain, who is now known as Ser Robert Strong. While it looked like the Mountain was a goner, his new transformation could be bad news for enemies of the king and Cersei.
The last time Gregor Clegane a.k.a. the Mountain (Hafthór Júlíus Björnsson) was seen was during his epic, bloody battle with Oberyn Martell (Pedro Pascal) in Season 4. The two characters squared off in a trial by combat and the Mountain was able to defeat Oberyn by crushing his head with his bare hands. Oberyn poisoned his spears and caused wounds that appeared would cause the Mountain to die along with him. However, Cersei (Lena Headey) allowed Qyburn (Anton Lesser) to experiment on the Mountain, which would "change" him, but wouldn't take away his strength.
In the Season 5 finale, Qyburn presented Cersei with the new Mountain, who is now known as Ser Robert Strong, a member of the Kingsguard. Ser Strong was covered with armor and the only thing you can see is his red eyes through his helmet. Strong carried Cersei after her long walk of shame and Qyburn said he has taken an oath of silence until all of Tommen's enemies are dead, which could be bad news for Cersei's enemies as well.
Björnsson told UK's Metro that he's going to be on screen more in Season 6. He added that fans can probably expect some brutality from his character.
"I can't really tell any spoilers, but if you were watching season five then you'd realize Cersei Lannister is not very happy at the moment, and it's going to be bloody, that's all I can say," Björnsson dished.
In George R.R. Martin's "A Dance with Dragons" from his "A Song of Ice and Fire" novels, Ser Strong is described as being eight feet tall with "with legs as thick as trees, a chest worthy of a plow horse, and shoulders that would not disgrace an ox." Many characters question if he is even alive because he never eats or drinks. Strong was selected to be Cersei's champion in a trial by combat against the Faith. On the show, Cersei earned her freedom back by her long torturous walk back to the Red Keep in Season 5.
Ser Strong is present in one of the Season 6 trailers and the Faith may never know what hit it. Cersei is shown talking to Lancel Lannister (Eugene Simon) and he asks her to make her men stand down or there will be "violence." Cersei coldly replies "I choose violence," which could prompt Strong to attack.
Watch a clip of the introduction of Ser Robert Strong in the clip below:
"Game of Thrones" Season 6 premieres Sunday, April 24, on HBO at 9 p.m. EDT.
© Copyright IBTimes 2022. All rights reserved.
FOLLOW MORE IBT NEWS ON THE BELOW CHANNELS