'Game Of Thrones' Spoilers: What Season 7 Trailer Teases About Jon Snow's Fate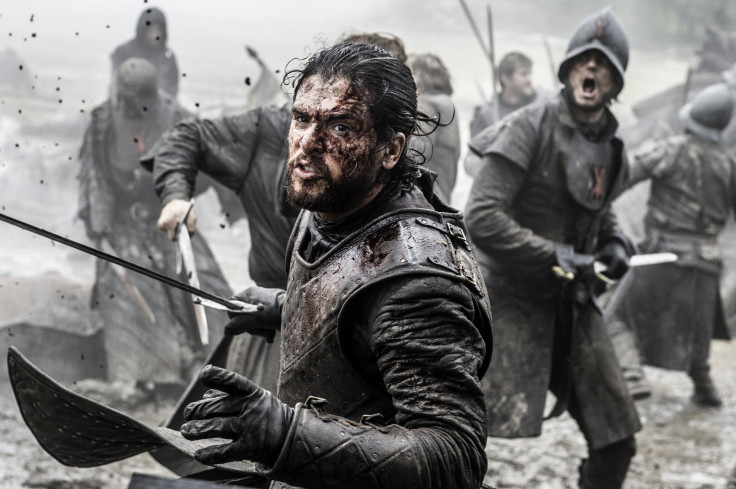 Winter is here and the Seven Kingdoms are in trouble— at least, that's what we gather from the latest "Game of Thrones" Season 7 trailer.
The suspense-filled nearly two minute preview features everyone's favorite, and least favorite, characters. First we're reunited with Sansa Stark (Sophie Turner) and Littlefinger (Aidan Gillen), who appears to be hard at work trying to get the eldest living daughter of the late Ned Stark (Sean Bean) to stage a power switch. Before long we see Jon Snow (Kit Harrington), Tormund (Kristofer Hivju), Cersei Lannister (Lena Headey), Daenerys Targaryen (Emilia Clarke), Arya Stark (Maisie Williams) and more.
Read: New 'Game Of Thrones' Trailer Teases Jon Snow's Fate
The trailer is telling of what's to come when the penultimate season of "Game of Thrones" premieres on HBO. It confirms numerous rumors suggesting that the Night King (Vladimir Furdik) and his army are closing in on the Seven Kingdoms, which will likely put a new sense of urgency on Jon's quest to enlighten other leaders about the threat against them. It also gave way to a number of new theories and speculation from Thronies about what exactly will go down.
Viewers hear Jon call for unity among the Seven Kingdoms as Daenerys and her men partake in a brutal attack. We also see Bran Stark (Isaac Hempstead Wright) sitting with the Night King, utilizing his powers as the Three Eyed Raven. In the final moments of the trailer, "Game of Thrones" fans see what may be the infamous Lightbringer, as well as a scene between Jon and a hoard of white walkers that could mean any number of things.
The latter has caused a lot of buzz among fans of the series, which kicked off in 2011. Some fear that fateful scene is a clue about Jon's fate on the show. A number of theories about the moment in question are circulating, most of which don't feature good outcomes for the Warden of the North or his people.
Here are a few theories about what will happen to Jon in Season 7 of "Game of Thrones":
Jon And Sansa Will Feud
In 2016, Turner shared a major spoiler about Sansa. She suggested that her character, now free from any and all oppressors, will go on a bit of a power trip. She teased struggles with insecurity as threats to her newfound power arose as well.
Some think Jon, whom she helped take back control of Winterfell, will be among those threats after seeing the Season 7 trailer. According to "Game of Thrones" spoiler site WinterIsComing.Net, Sansa will realize that her half brother's got more power than her when the show returns. This fact won't sit well with her and will cause a rift between them.
Jon Will Be Killed, Becoming A White Walker
According to Nerdist, the final scene in the latest "Game of Thrones" Season 7 trailer may depict the moments after Jon's death. He's shown standing before the Night King and an army of wights. The site speculates the scene could be a depiction of the moment he's recruited to join the undead army.
This theory's futhered by the ominous poem Sansa can be heard reciting during those final moments. She speaks of a "lone wolf" dying in winter, which Thronies believe may be a nod to Jon. Other theories, shared on Reddit by user D-Stark, theorize that the poem hints at a reunion between Arya and her siblings.
Jon's death is not out of the realm of possibility. The trailer features another moment that has fans thinking maybe, just maybe, it could happen again. The back of a seemingly slumped over figure wearing clothes similar to Jon's appears to be trotting on horseback slumped over, very possibly dead.
Jon Will Take On The Night King And Wights In A Battle
Jon's faced the Night King before and, if Nerdist is right, he may face him again in Season 7. This time, Jon Snow, whom some believe is the Prince who was Promised from the Azor Ahai theory, will have to take on his entire army as well. According to the site, Jon's stand off with his longtime adversary may be a sign of a brutal battle to come when "Game of Thrones" returns.
The Azor Ahai Prophecy Will Be Proven Once And For All
"Game of Thrones" fans have been waiting ages for the Azor Ahai prophecy to make it's way from the books to the show. Some speculated that it will finally happen in Season 7, especially after seeing the trailer. In the "Game of Thrones" preview fans see a flaming sword, which could potentially be Lightbringer based on descriptions, as well as Jon facing the Night King alone (or so it appears).
Read: 'Game Of Thrones' Footage Teases Lannister Takedown
There's significant speculation among Thronies that this all means Jon will prove his status as the chosen one, saving humanity from the Night King. If that's true, the moment between Jon and the white walkers may not be as grim as it appears. Then again, it's "Game of Thrones" — always expect the worst.
"Game of Thrones" Season 7 premieres July 16 at 9 p.m. EDT on HBO. Check out more theories HERE.
© Copyright IBTimes 2023. All rights reserved.