GE Rolls Out Proficy Vision Software To Handle 'Big Data' In Manufacturing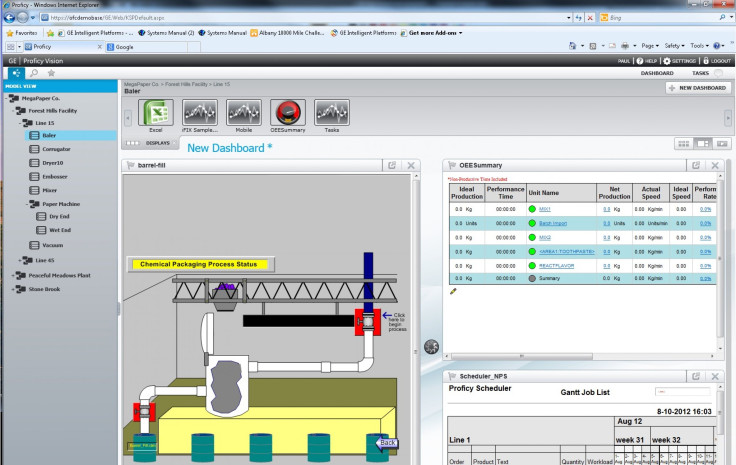 General Electric Co. (NYSE:GE), the No. 1 U.S. conglomerate, has rolled out the latest tool in its Proficy software platform, Proficy Vision, which manages so-called "big data" with structured data used in design, manufacturing and automation.
Going forward, there's no reason why Proficy Vision's capabilities can't also be used for dealing with unstructured data like news feeds, market quotes and social media in financial applications, media and other activities, GE executives said.
The Fairfield, Conn.-based company, whose operations span from building jet engines to handling credit cards for Apple Inc. (NASDAQ:AAPL), the most valuable technology company, has been using the software internally since 2009.
Prices for Proficy Vision weren't announced, but Don Busiek, general manager, manufacturing software, for GE Intelligent Platforms, said it would be "competitively priced" against products already available from leaders in the enterprise resource planning (ERP) and manufacturing sector like Oracle Corp. (NASDAQ:ORCL), the No. 1 database company; Germany's SAP (NYSE:SAP) and International Business Machines Corp. (NYSE:IBM), the No. 2 computer company.
This week, Oracle released an upgrade of its competing Agile Product Lifecycle Management software. Oracle, of Redwood Shores, Calif., acquired Agile Software Corp. for $495 million in 2007.
GE developed Proficy Vision in-house, said Busiek, who has a degree in software engineering from Hamilton College and previously worked for Electronic Data Systems, now a unit of Hewlett-Packard Co. (NYSE:HPQ), the No. 1 computer company, as well as IBM.
The company needs to manage a vast network of factories making thousands of complex products worldwide, he said. GE already relies on various brands of design and manufacturing software that traditionally had been tweaked by managers for each installation and were not necessarily applicable on a global basis.
By adding the unstructured, or "big data," aspect, Busiek said, GE software engineers were able to add new required content and display it any way they wanted, while still allowing external access to others on the GE network.
"It doesn't matter whether the plant is using software from Oracle, IBM, Microsoft (NASDAQ:MSFT) or GE," Busiek said. "We take an agnostic approach but allow one spot to be used for various businesses."
Proficy Vision can also be adapted throughout GE's other businesses, including finance, health care and energy management, because all rely upon structured as well as unstructured data, he added.
GE has been making a big push into automation and software. It's building a large global software center in San Ramon, Calif., intended to employ as many as 400 software engineers. The $1 billion center is part of what CEO Jeffrey Immelt terms "an industrial Internet."
GE doesn't report software revenue on either a quarterly or annual basis. But total fourth-quarter operating income rose 13 percent to $4.7 billion, or 44 cents a share, as revenue gained 4 percent, to $39.3 billion.
Shares of GE closed Thursday at $22.48, up 4 cents. With dividends, they've gained 22 percent over the past 52 weeks.
© Copyright IBTimes 2023. All rights reserved.