Is The Gender Pay Gap Real? 5 Facts About The Lilly Ledbetter Fair Pay Act On Its Anniversary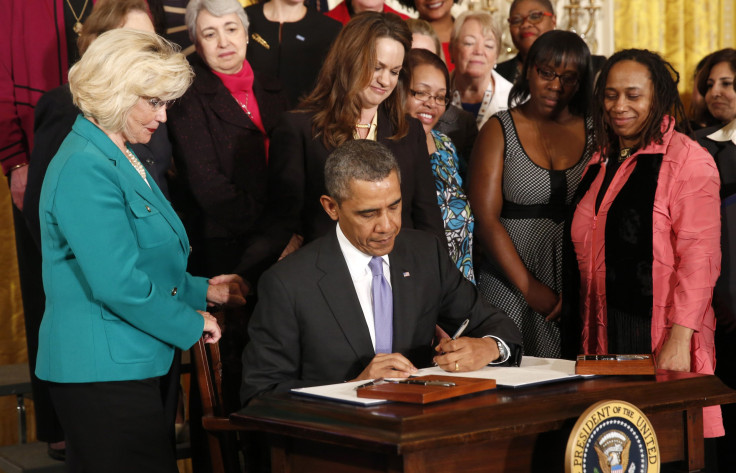 Equal pay for equal work has been a rallying cry for decades, but it wasn't until Jan. 29, 2009, that it became federal law when former President Barack Obama signed the Lilly Ledbetter Fair Pay Act into law, amending the Civil Rights Act of 1964 and the Age Discrimination in Employment Act of 1967, making pay discrimination officially unlawful at the federal level.
The White House webpage on Equal Pay has been deleted by the administration of new President Donald Trump, but the Pew Research Center provides a nuanced look at the disparity, taking race into account. For every dollar earned by white men, Asian women earn 87 cents, white women 82 cents, black women 69 cents and Hispanic women 58 cents. Asian men, by contrast, earned $1.17, while black men earned 73 cents and Hispanic men earned 69 cents. Controlling for education, researchers at Pew saw about the same results.
Researchers at Cornell University controlled for just about everything they could think of, and discovered a still-existent 8 percent wage gap between men and women in their March 2016 paper.
Read on to wind the clock back eight to 10 years and learn about the law that sought to level the playing field.
It started as a court case.
Lilly Ledbetter worked at a Goodyear Tire and Rubber plant in Gadsen, Alabama, for 20 years, and accused her employer of sex discrimination — she was paid 40 percent less than the lowest paid man in her position — winning $360,000 in damages in the trial court.
And then she lost …
Goodyear appealed, and an appellate court reversed the lower court's decision. The Supreme Court upheld the appellate ruling in a 5-4 decision, penned by Justice Samuel Alito. Justice Ruth Bader Ginsberg wrote the dissenting opinion.
… on a technicality.
Both courts decided that because she had waited "180 days after the alleged unlawful employment practice occurred," and the checks she offered in her complaint, therefore, didn't "provide a basis for overcoming" the company's past discrimination, Alito noted in his opinion, quoting the appeals court's ruling.
It played a (small) role in the 2008 presidential race.
On the campaign trail in 2008, Obama used the issue as a means of criticizing Republican opponents Sarah Palin and John McCain, the Wall Street Journal reported at the time.
Palin, McCain's pick for a running mate, Obama said, seemed "like a very nice person," but was "opposed, like John McCain is, to equal pay for equal work."
"That doesn't make sense to me," Obama said, pointing to McCain's opposition on a previous iteration of the Lilly Ledbetter Act, which sought to overturn the Supreme Court loss.
It was the first act he signed as president.
The law was Obama's first piece of signed legislation as president, just nine days after his inauguration, according to the White House website.
© Copyright IBTimes 2023. All rights reserved.