'General Hospital' Spoilers: Are Nina, Ava The Key To Saving Carly, Sonny's Marriage?
Once Nina realized Sonny was off his medication, she became eager to help, but on the Wednesday, Jan. 26 episode of "General Hospital," her decision could push Carly and Sonny closer together.
In the ABC promo video, Nina (Cynthia Watros) tells someone on the phone that is exactly where they are at. "GH" spoilers suggest Nina will reach out for help.
In the previous episode, Nina witnessed Sonny (Maurice Benard) get into an argument with Curtis (Donnell L. Turner) and Drew (Cameron Mathison). She then realized Sonny was having a manic episode.
Nina took Sonny home, but she refused to leave because she was worried his behavior would scare his daughters. From the looks of the promo, Nina will reach out to someone for help with Sonny's current state.
Will the news of Sonny's condition get back to Carly (Laura Wright) and send her running back to her husband to work on their marriage?
Elsewhere in the promo video of the ABC soap opera, Carly tells Ava (Maura West) maybe she can think about someone other than herself. "General Hospital" spoilers reveal Carly's quest for inner peace is disrupted by Ava's arrival.
Carly has continuously asked for time alone to work past her feelings about the romance Sonny and Nina developed in Nixon Falls. However, it appears her time to reflect will be interrupted by a visit from Ava.
Although Carly is not aware Sonny has gone off his medication, she and several people around Port Charles have noticed his behavior has changed.
While Ava and Carly are typically at odds, they occasionally will come together if it has something to do with the kids or Sonny. Ava will have a suggestion for Carly, but will Carly's temper cause her to miss an opportunity, or will she calm herself long enough to hear what Ava has to say?
Other "GH" spoilers tease Josslyn (Eden McCoy), Cam (William Lipton), Trina (Sydney Mikayla), Esme Prince (Avery Kristen Pohl), and Spencer Cassadine (Nicholas Alexander Chavez) arrive at Sonny's cabin for their long-awaited get-away, Britt (Kelly Thiebaud) gives Peter (Wes Ramsey) some news, Victor (Charles Shaughnessy) makes an inquiry at GH, and Valentin (James Patrick Stuart) meets with Martin (Michael E. Knight).
"General Hospital" airs weekdays at 3 p.m. EST on ABC.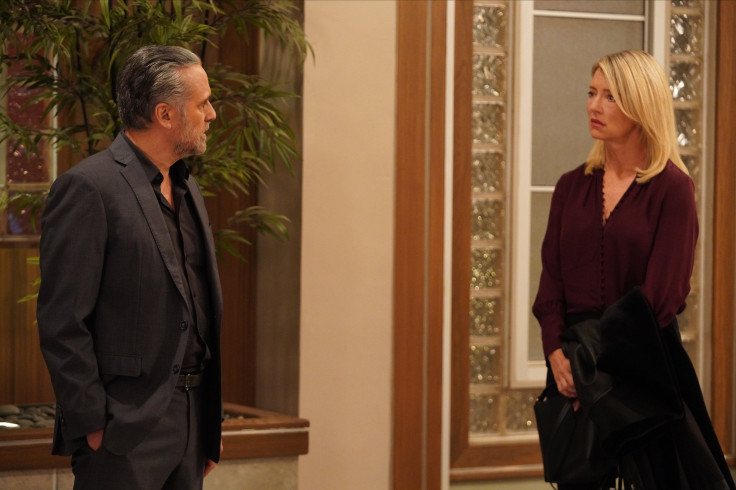 © Copyright IBTimes 2023. All rights reserved.