'General Hospital' Spoilers: Will Esme's Return Help Ryan Get Closer To Ava?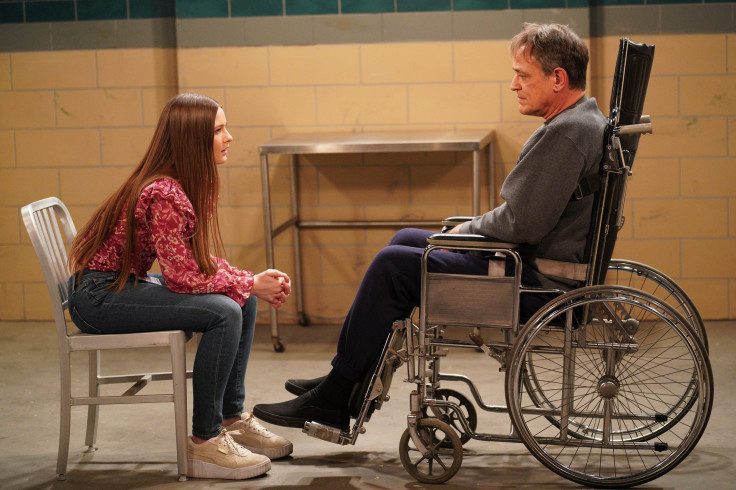 After Ava was released from the hospital following an attack from the hook killer, she went to Shadybrook Sanitarium to visit Ryan. On the Wednesday episode of "General Hospital," Esme's return may put Ryan one step closer to his plan to get closer to Ava.
In the ABC promo video, Ava (Maura West) tells Ryan (Jon Lindstrom) she knew it was too good to be true. "GH" spoilers reveal Ava puts in a good word.
In the previous episode, Ava reminded Ryan that he attacked one of his victims with a hook but appeared to dismiss the idea that he was the hook killer since he has remained unresponsive for the past few months.
However, when she began to speak about Esme (Avery Kristen Pohl), Ryan slipped up and showed some emotion.
Ava assumed Ryan made a connection with Esme but informed him that the young woman disappeared and would most likely never be seen again. The comment resulted in Ryan clenching his fist in a rage.
Viewers are aware that Ryan is obsessed with Ava and has been faking his condition. He and Esme were secretly plotting to break up Ava's marriage to Nikolas (Marcus Coloma).
Will Ava's comments about Esme's disappearance provoke Ryan and prove he has been faking his condition?
Elsewhere in the ABC promo video, Ryan appears to be frustrated. "General Hospital" spoilers reveal Ryan can't believe his eyes.
Ryan won't be happy about Esme's disappearance, but his anger may not last for long. In the previous episode, Esme was seen eavesdropping on Nikolas' conversation, which means she survived her fall off the Wyndemere Parapet.
It appears Esme may visit her father and have a new plan in mind. Will Esme's return help Ryan get closer to Ava, or will Esme and Ryan seek revenge?
Other "GH" spoilers tease Carly (Laura Wright) expresses her regrets, Joss (Eden McCoy) and Michael (Chad Duell) confront Sonny (Maurice Benard), and Curtis (Donnell Turner) and Nina (Cynthia Watros) catch up.
"General Hospital" airs on weekdays at 3 p.m. ET on ABC.
© Copyright IBTimes 2023. All rights reserved.