'General Hospital' Spoilers: Will Nina Save Willow After Carly Shares The Truth?
The residents of Port Charles are notorious for keeping secrets, and on the Friday, Jan. 13 episode of "General Hospital," some of those hidden truths will come to light.
In the ABC promo video, Carly (Laura Wright) reveals that Nina (Cynthia Watros) may be the only person on Earth who can help Willow (Katelyn MacMullen). "GH" spoilers say Nina is in for a shock.
After months of hiding the truth, it appears Carly will finally tell Nina that she is Willow's biological mother. Viewers are aware that Carly secretly ran a DNA test on Nina and Willow and learned they were mother and daughter.
However, Carly kept the news hidden until she learned Willow needed a bone marrow transplant and that a relative would likely be a match.
Nina and Willow have been at odds for quite some time, so Nina will be in disbelief when Carly pleads for Nina's help.
Will Nina agree to become Willow's bone marrow donor, or will Nina want more proof before she attempts to save Willow's life?
Elsewhere in the promo video for the ABC soap opera, Portia (Brook Kerr) questions why Trina (Tabyana Ali) has let Spencer (Nicholas Chavez) back into her life. "General Hospital" spoilers reveal Portia is alarmed by Trina's news.
Viewers know that Trina and Spencer secretly agreed to pretend they were dating to lure out the hook killer. However, it appears news of their fake romance will get back to Portia, who won't be happy.
Portia partially blames Spencer for bringing Esme (Avery Kristen Pohl) to town since Esme framed Trina for leaking Josslyn (Eden McCoy) and Cameron's (William Lipton) sex tape.
Portia won't approve of what she believes is a blossoming romance between Trina and Spencer and will try to dissuade her daughter from continuing the relationship.
Will Trina convince Portia to give Spencer another chance, or will she tell her mother about the plan to lure out the hook killer?
Other "GH" spoilers tease Sonny (Maurice Benard) voices his regret, Spencer shares intel with Alexis (Nancy Lee Grahn), and Diane (Carolyn Hennesy) works her magic at the PCPD.
"General Hospital" airs on weekdays at 3 p.m. ET on ABC.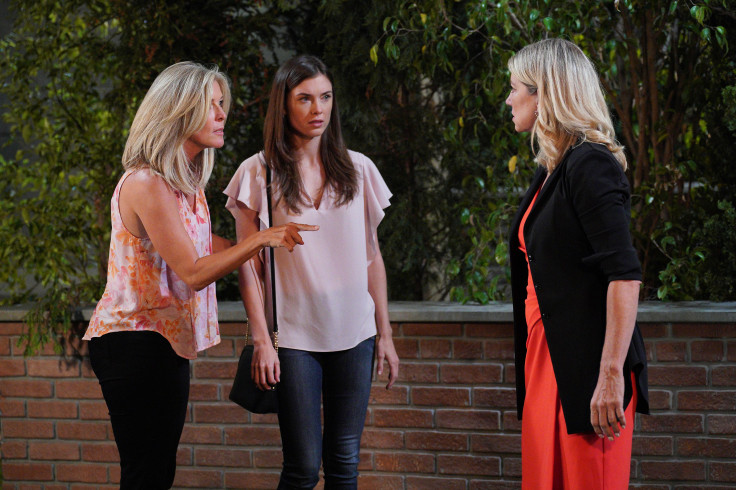 © Copyright IBTimes 2023. All rights reserved.