Giant Tortoises In Galapagos Islands: Ecuador Releases 201 Large Turtles To Repopulate Island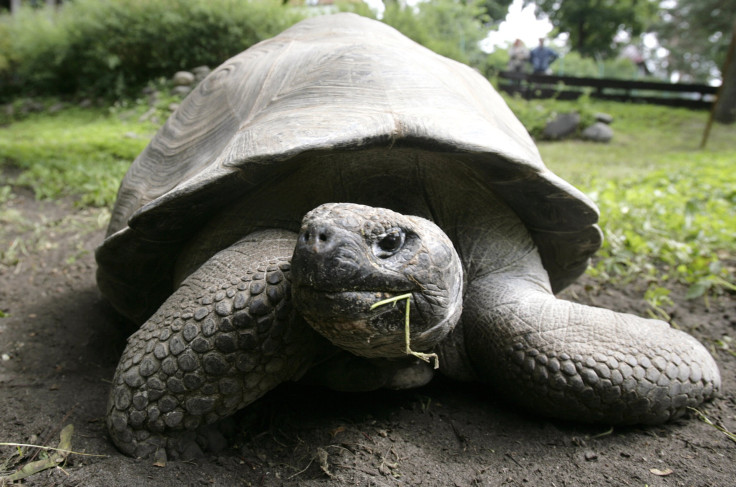 Ecuador has released hundreds of giant tortoises on Sante Fe Island in the Galapagos archipelago in an effort to repopulate the island with the oversized turtles after a similar tortoise went extinct more than 150 years ago, reported Agence France-Presse. The tortoises, released on Saturday, were raised in captivity and are between 4 and 10 years old.
The giant tortoises of Santa Fe died out after humans adversely affected the island's ecosystem beginning in the 18th century when pirates and buccaneers decimated the population.
"We released in Santa Fe 201 tortoises from the Chelonoidis hoodensis subspecies, which are from Española Island, and which have morphological and genetic similarities to the extinct subspecies on the [Santa Fe] island," rangers from Galapagos National Park said.
The park service hailed the repopulation as a "conservation milestone" and called the release a "new methodology for ecological restoration of the archipelago." The Galapagos archipelago is located about 620 miles off the Ecuadoran coast, and Santa Fe -- which has an area of about 9.5 square miles -- lies at the center of it.
In order to allow park rangers to track the movement of the animals in the wild, 30 of the tortoises were outfitted with radio transmitters. The release project is expected to study changes in the ecosystem and how the turtles coexist with about 6,500 land iguanas on the island, Danny Rueda, director of Galapagos National Park, said.
Three of the tortoise subspecies that experts believe once lived on the Galapagos Islands have become extinct. The final member of the Chelonoidis abigdoni subspecies, a century-old tortoise nicknamed Lonesome George, died in his corral at Galapagos National Park in June 2012.
Recently, the famous Galapagos tortoise at the San Diego Zoo -- cheekily known as Speed -- died after more than eight decades at the zoo. Speed lived to be about 150 years old, but was euthanized after suffering serious medical problems for which treatment was no longer effective.
The Galapagos Islands were made famous by Charles Darwin's studies on the archipelago resulting in his theory of evolution. The archipelago has wide-ranging biodiversity and its isolation was a major factor in allowing the tortoises to become so gigantic. Male Galapagos tortoises can weigh up to 500 pounds, with females weighing up to 250 pounds, according to the San Diego Zoo's website.
© Copyright IBTimes 2023. All rights reserved.