'Gilmore Girls' Revival Trailer: 6 Things You May Have Missed In The 'Year In The Life' Promo Video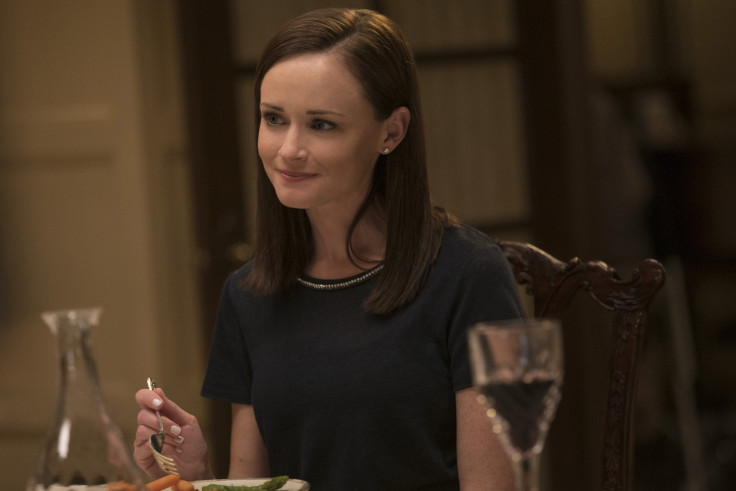 "Gilmore Girls: A Year in the Life" unveiled their new trailer, and it is packed with fresh scenes. The promo video, seen above, gives audiences a whole new look at the Netflix dramedy, which picks up about eight years after the original series left off. If you were too busy obsessing over the appearances of Rory's exes or Luke and Lorelai's kiss, you may have missed a few details in the "Gilmore Girls" trailer.
Stars Hollow Events — The trailer opens with a flash of the town square set up for an event, the Stars Hollow Spring International Food Festival. Towards the end of the trailer, Miss Patty (Liz Torres) and Babette (Sally Struthers) are shown standing in front of a "Stars Hollow: The Musical" sign.
The Gilmore Guys — The popular podcast hosts, Kevin T. Porter and Demi Adejuyigbe, are seen in the Dragonfly dining room at the 1:06 mark.
Stars Hollow Gazette — This cannot be confirmed, but it sure seems like Rory was at the newpaper. In the scene with Rory (Alexis Bledel) and Jess (Milo Ventimiglia), the sign on the window behind Rory mentions "publishing since," and although the word Gazette seems to be blocked, it looks like an outdated newspaper office. Did Rory get a temporary gig at her hometown paper?
Chilton — Rory is briefly seen at her high school at the 1:48 mark, and Paris (Liza Weil) is also there at the 2:02 mark. Will the women make the trip together in "Gilmore Girls: A Year in the Life"?
Guest Stars — Broadway veterans Christian Borle and Sutton Foster are seen very briefly at the 2:04 mark. It looks like they're in Pilgrim outfits. It seems "Stars Hollow: The Musical" is going to take audiences back to the beginning of the town's history. Borle and Foster can add themselves to a long list of notable guest stars.
A New Kitchen — The chrome fridge seems like Lorelai's (Lauren Graham) style, but the new stove has six burners. Considering Lorelai only used her oven for heating up tater tots, it would seem as though Luke (Scott Patterson) — who can actually cook — was taken into consideration when the room was updated. That has to be a good sign for their relationship, right?
Not spotted in this trailer was a baby bump. Though there has been much speculation that either Lorelai or Rory could be expecting the newest Gilmore girl, nothing in the trailer hints at that. However, with four 90-minute episodes coming to Netflix next month, there is plenty that wasn't revealed in the two and a half minute trailer.
"Gilmore Girls: A Year in the Life" hits Netflix on Friday, Nov. 25.
© Copyright IBTimes 2022. All rights reserved.
FOLLOW MORE IBT NEWS ON THE BELOW CHANNELS