16 Things You Didn't Know About 'Gilmore Girls' On Its 16th Anniversary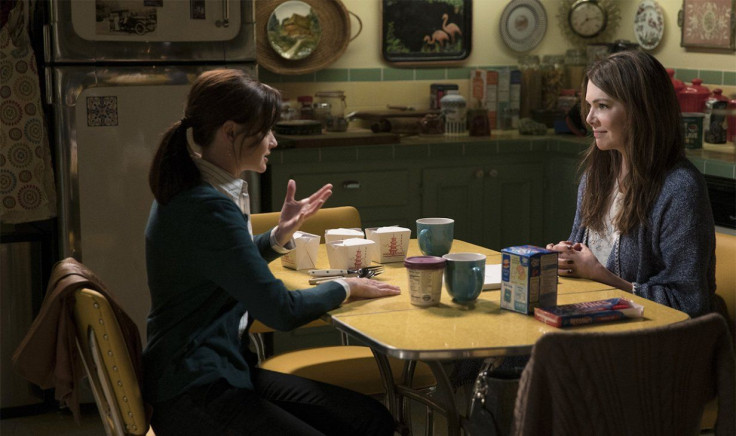 On Oct. 5, 2000, The WB network premiered Amy Sherman-Palladino's "Gilmore Girls." Starring Lauren Graham and Alexis Bledel as Lorelai and Rory Gilmore, the show ran for seven seasons and became a pop culture classic. To celebrate the series' 16th anniversary, here are 16 things you may not have known about the show:
1. Stars Hollow Is Based On Washington Depot, Connecticut
Unfortunately, Stars Hollow is a fictional town but the closest thing to it is Washington Depot, Connecticut. That's the town show creator Amy Sherman-Palladino based Stars Hollow on after spending some time in the real town.
2. A Spin-Off Featuring Jess Mariano Was Planned
In 2003, WB planned on doing a spin-off called "Windward Circle" featuring the character Jess Mariano (Milo Ventimiglia). The series would have followed Jess getting to know his estranged father Jimmy (Rob Estes) but was cancelled before it could air.
3. Liza Weil Was Originally Considered For The Rory Gilmore Role
By now, it's hard to imagine anyone besides Alexis Bledel as Rory Gilmore but Liza Weil originally had the role before Bledel won it. Weil went on to play Paris Geller in the series.
4. Bledel And Ventimiglia Actually Dated
While Rory ended up with no one when the series ended, in real life, Bledel and Ventimiglia dated for three years.
5. Alexis Bledel Is Fluent In Spanish
Although the character of Rory could be seen in the series speaking moderately-fluent Spanish with Esperanza, Bledel is actually fluent in the language thanks to her Hispanic background.
6. Lane Had A Father
Even though only Lane Kim's (Keiko Agena) mother was shown in the series, Lane — Rory's best friend — did have a father who lived with her and her mother. The father was never seen in the show but was referenced.
7. Keiko Agena Was 27 When Filming Started
Although Lane was supposed to 15 or 16 years old when the series started, Agena was actually 27 years old at the time. Bledel was 19.
8. Luke Was Originally A Woman
Scott Patterson's Luke character has become iconic but it was originally written as a women until the producers realized the show didn't have "enough testosterone."
9. Alex Borstein Was Originally Cast As Sookie
Borstein, best known as the voice of Lois Griffin on "Family Guy," was originally cast as Sookie St. James and even filmed the pilot episode. Unfortunately for Borstein, she couldn't get out of a previous contract. Borstein did appear in other episodes as harpist Drella and stylist Miss Celine.
10. Seth MacFarlane Also Appeared In The Series
Borstein wasn't the only "Family Guy" alum to appear in "Gilmore Girls." "Family Guy" creator Seth MacFarlane also had two roles on the show. MacFarlane played Zach in Lorelai's graduation episode, as well as Bob Merriam.
11. Alexis Bledel Hates Coffee
Lorelai and Rory love coffee. In fact, they were obsessed with coffee but in real life, Bledel hates the drink and would have her cup filled with soda instead.
12. Lauren Graham Had To Help Bledel In The First Season
During the series' first season, Lorelai could be seen with her arm around Rory a lot. This was because "Gilmore Girls" was Bledel's first big role and Graham would help lead her to her correct spots for the scenes.
13. Scott Patterson Played Professional Baseball
Luke's baseball cap was a mainstay in his wardrobe but for six years of Patterson's real life, the baseball cap was also a big part. From 1980 to 1986, Patterson was a pitcher in minor league baseball.
14. Actors On The Show Couldn't Improvise Or Adlib
Due to the length of the show's scripts - usually 70 to 80 pages long - actors had no room for improv or adlibs.
15. Sean Gunn Played Two Characters
He ended up being known as Kirk on the show but actor Sean Gunn originally appeared as Mick in the second episode of the show.
16. The Final Four Words Have Never Been Revealed
After leaving the show in 2006, Sherman-Palladino revealed that she had the final four words of the series planned but never revealed what the words were. Luckily, those words will finally be revealed in the Netflix revival, "Gilmore Girls: A Year In The Life" when it premieres on Nov. 25.
© Copyright IBTimes 2023. All rights reserved.