Giorgio Chiellini Defends Luis Suárez, Calls FIFA's Four-Month Ban 'Excessive'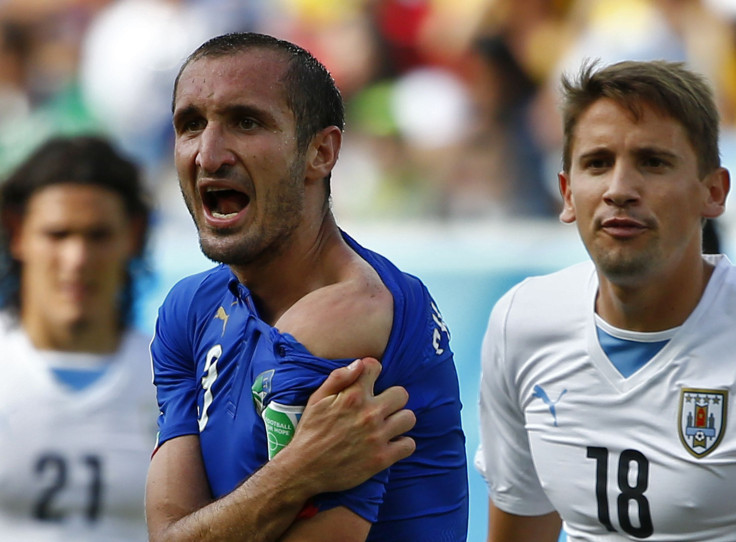 Uruguay's Luis Suárez has found an unlikely supporter in Italian defender Giorgio Chiellini, the man he bit during a World Cup match on Tuesday.
On Thursday, FIFA's Disciplinary Committee announced that Suárez would be banned from all soccer-related activity for four months and suspended for nine international matches. As a result, the 27-year-old will miss the rest of the 2014 World Cup.
In a statement posted to his website, Chiellini, who bears Suárez's bite marks on his shoulder, referred to FIFA's four-month ban as "excessive" and said that he isn't angry with his assailant. "Now inside me there's no feelings of joy, revenge or anger against Suárez for an incident that happened on the pitch and that's done," Chiellini wrote, according to Reuters.
Chiellini's bite incident with Suárez occurred during the 78th minute of Uruguay's match against Italy. When the defender attempted to mark Suárez near Italy's goal, the Uruguayan responded with a bite to his shoulder. Chiellini displayed the prominent bite marks to the match's referees, but Suárez wasn't penalized at the time.
Uruguay won the match 1-0 and advanced to the World Cup's knockout round, where they'll face Colombia. Meanwhile, Italy's loss to Uruguay resulted in their elimination.
"There only remains the anger and disappointment about the match," Chiellini added. "At the moment my only thought is for Luis and his family, because they will face a very difficult period. I have always considered unequivocal the disciplinary interventions by the competent bodies, but at the same time I believe that the proposed formula is excessive."
Suárez's ban will also apply to games played by Liverpool, his club team in the English Premier League. In addition to his suspension, he'll have to pay a fine of 100,000 Swiss francs ($112,000) to FIFA.
© Copyright IBTimes 2023. All rights reserved.