Glenn Danzig's Lawsuit Against Former Misfits Bandmate Digs Up Bones Of Decades Old Trademark Dispute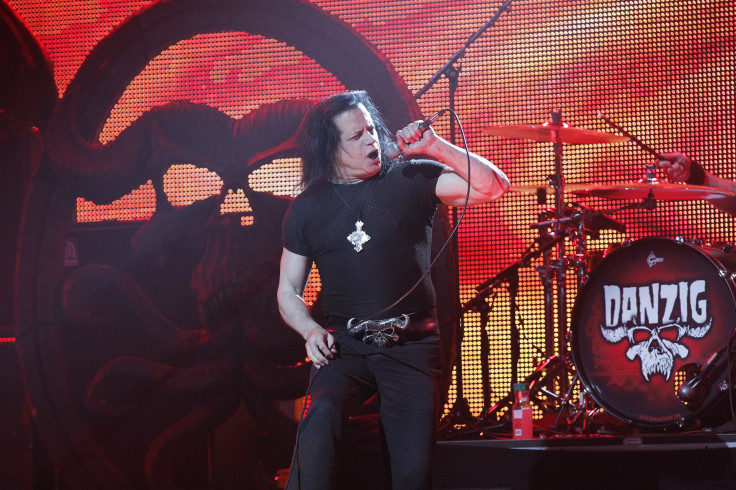 Glenn Danzig doesn't just want your skulls, he wants the merchandising rights to them, too. Decades after distancing himself from the band he founded, the onetime Misfits frontman is suing his former bandmate Jerry Only for violating a 1994 agreement that guaranteed him to a cut of the band's merchandising profits -- terms that Only once publicly agreed to.
According to Danzig's complaint, which was filed April 3, current Misfits leader and co-founder Jerry Only (born Gerald Caiafa) cut him out of a number of a merchandising deals with retailers like Hot Topic that are potentially worth millions of dollars. The suit, which names Only and the Misfits' record label Cyclopian Music, is seeking an undisclosed portion of profits from the Misfits' lucrative merchandising efforts.
The Misfits have never been the most famous name in punk rock, but the band has nonetheless built something of a marketing empire. Taking a cue from glam-rock band Kiss, and their extensive library of mouthy merchandise, the Misfits have branded everything from T-shirts to shower curtains to knockoff Uggs boots with their trademark "Crimson Ghost" mascot.
Danzig's claim hinges on an out-of-court settlement regarding the band's ownership that was reached between Only and Danzig in 1994. According to Danzig, the terms of the 1994 agreement -- which were not publicly disclosed -- granted Danzig and Only shared ownership of the band's trademarks, with each entitled to merchandising revenue. Only has, in the past, expressed similar statements about the band's ownership.
"We are the exclusive owners of the name on a performing level. We share the joint rights to the name with Glenn for merchandising," Only told Metal Maniacs magazine in 1996 after the settlement took effect according to a fansite.
Now Danzig is claiming that agreement was not honored. He alleges that Only secretly re-registered said trademarks under his name exclusively in 2000, cutting Danzig out altogether. Only allegedly went on to negotiate merchandising deals with various retailers without Danzig's knowledge or consent and reportedly threatened to cancel the deals if the retailers attempted to include Danzig.
Danzig's recent lawsuit also takes a swipe at Only's talent and artistic integrity, stating that "after forming the band, Danzig replaced the original bass player with Caiafa, whose primary qualification was that he had recently received a bass guitar for Christmas." Much to Danzig's likely chagrin, however, Only is generally regarded as a founding member of the group.
The seeds of this conflict date back to a number of lawsuits filed between Only and Danzig in the 1980s that were finally resolved in 1994. The Misfits were only minimally popular when they were first active beginning in 1977, and when Danzig left the Misfits in 1983, the band called it quits. After Danzig found success with a new band named simply Danzig, the Misfits retroactively shared the spotlight; the group became more popular broken up than they ever had been together. Presumably to cash in on the Misfits newfound popularity, Danzig released "Collection I," a compilation of the band's best material, in 1986. The wildly popular album was the band's first introduction to a wider audience, and some casual fans still mistake it for the Misfits' first album.
Hoping to receive royalties from the newly-popular songs, Only sued Danzig to gain songwriter credits on the album, though he eventually stopped pursuing writing credits and aimed for the rights to perform live under the Misfits name. The legal debate went on for years, while Only continued to record music with his brother and fellow Misfits member Paul Caiafa (known as Doyle) under the name Kryst the Conqueror. The battle was finally settled out of court in 1994, and effective January 1, 1995, Only received the right to re-form the Misfits without Danzig, leading to the current incarnation of the band. It is unknown if or how that settlement addressed how to split the merchandising profits of one band between its two incarnations.
It is clear, however, that Only believes his right to the Misfits name entitle him to sole profits from merchandise sales. In a statement sent to Alternative Press, Only slammed Danzig's complaint as a cash grab and claimed that he received merchandising rights when the 1994 settlement took effect.
"Misfits founding member Jerry Only secured the exclusive legal right to tour and record as the Misfits, and, in accordance with those legal rights, launched a licensing program through Cyclopian Music," the statement reads. "Danzig's lawsuit can only be described as a sour-grapes tantrum based on outrageous allegations, the majority of which are completely false, while others are ill-conceived and grossly misguided—and will be proven false in court.
"Glenn Danzig has no legal right to, and no interest in, Cyclopian's Misfits licenses or business ventures period," the statement continues. "Danzig's lawsuit is nothing more than a calculated attempt to unfairly and improperly enrich himself from revenue streams to which he is not entitled."
But Only's current stance is undercut by his previous statements to the contrary. Assuming Danzig can dig up a copy of Metal Maniacs for the court, it looks like he might have a pretty strong case.
© Copyright IBTimes 2023. All rights reserved.