Global Climate Change Action Could Push Down Coal And Oil Prices In 2015, Analysts Say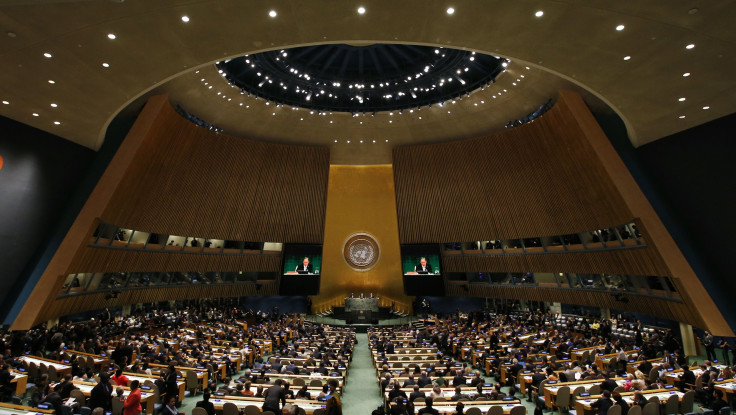 Coal and oil prices could drop next year as countries adopt ambitious plans to slash their greenhouse gas emissions, analysts said Wednesday. The forecast comes a day after more than a hundred country leaders pledged to tackle climate change at a United Nations summit in New York.
"The issue of climate change is being taken more seriously again," analysts at Capital Economics, a London economic research firm, said. The authors of the report cited Tuesday's summit and massive climate protests on Sunday that drew some 600,000 participants worldwide.
As nations increasingly switch to lower-carbon natural gas and renewable-energy technologies, and as vehicles become more efficient and guzzle less fuel -- or run on alternative supplies -- the declining demand for both coal and oil "will put downward pressures on the prices of these commodities," the analysts wrote.
The price of coal could fall from $75 per metric ton to $65 per unit by the end of 2015, while a barrel of Brent crude oil will fall from $96 today to $90 over the same period, according to the commodities update.
Some 125 presidents and prime ministers met at the United Nations headquarters on Tuesday to express their commitment to a global climate change agreement. While Tuesday's summit isn't part of the formal U.N. negotiating process, organizers said they hoped the special session could build momentum and restore countries' confidence ahead of next year's talks in Paris.
The Capital Economics analysts said they are doubtful that the Paris conference will yield an international climate treaty. U.N. negotiations have dragged on for more than two decades, and the one agreement that was reached -- the now-expired Kyoto Protocol -- excluded the United States, the world's second-largest emitter.
However, "in the absence of a global deal, many of the largest polluting nations have taken action to reduce their emissions unilaterally," and that alone can have a tangible effect on the fossil fuel market, the commodities experts wrote.
China, the world's largest coal consumer and biggest climate polluter, made its boldest statement yet on climate policy during the summit. Vice Premier Zhang Gaoli said his country will try to reduce carbon dioxide emissions across its economy; previously, China had only sought to reduce its "carbon intensity," the amount of carbon emitted for every unit of energy consumed.
The country recently banned imports of poor quality coal and has set targets for reducing coal burning. China is also the biggest global investor in clean-energy technologies, and renewables now supply nearly 10 percent of the country's total energy use, the Capital Economics note said.
U.S. President Barack Obama signaled his administration would announce new emissions-reduction targets next year that will go beyond America's current goal of cutting greenhouse gases to 17 percent below 2005 levels by 2020. New and proposed regulations under Obama's Climate Action Plan will also make it costlier to build new coal plants and to operate existing facilities.
"There should be no question that the United States of America is stepping up to the plate," Obama said Tuesday in remarks at the U.N. climate summit. "We recognize our role in creating this problem. We embrace our responsibility to combat it."
© Copyright IBTimes 2023. All rights reserved.
FOLLOW MORE IBT NEWS ON THE BELOW CHANNELS