'Glow' Star Sydelle Noel On Losing Herself In The Ring, Women In Hollywood & 'Black Panther' Role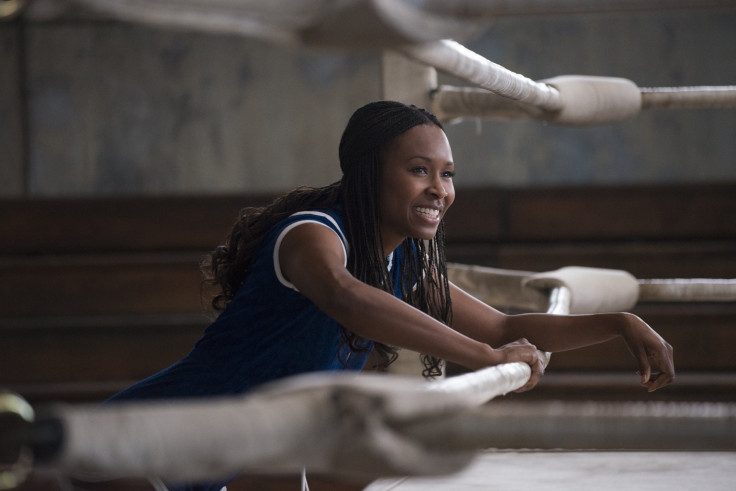 The Gorgeous Ladies of Wrestling (also known as GLOW) took the world by storm in the 1980s. They forced the male dominated sport to make way for women in the ring, paving the way for future generations of spandex-clad tough gals ready to kick butt and take names.
Just over two decades later, Sydelle Noel and her co-stars are here to carry on that legacy on the small screen in "Glow." The show, created by Jenji Kohan with a major assist from executive producers Liz Flahive and Carly Mensch, follows a group of women who go from zeros to sheroes in record time. Like the real women of GLOW, the cast of Netflix's "Glow" is bringing women to the forefront of an industry in which they're often secondary to men.
For Noel, who plays Cherry Bomb on the streaming series, it's about time. Before launching her career as an actress, the Los Angeles native had dreams of playing "physically demanding roles," typically reserved for men. Cast as a wrestler in "Glow" and a mystery role in Marvel's highly anticipated "Black Panther," she's done just that.
"We're showing empowerment, we're showing a friendship. ['Glow'] is basically you're losing yourself and you're finding yourself at the same time. You're in a world you never thought you'd be in and dominating that — taking a struggle, flipping it and owning it," she told International Business Times. "We definitely need to see that [on TV and in movies]."
Read: Netflix Steps Outside Of The Box With 'Atypical'
Like Noel, her character Cherry is on a quest to make her dreams a reality. The former blaxploitation film stunt woman, described as "'the coolest chick you ever want to meet in the 1970s'" and "'Pam Grier as Foxy Brown'," is on a quest to stardom and she'll do whatever it takes to get there — including faking it 'til she makes it. Despite her lack of experience in the industry, Cherry finds herself using her knowledge as a stuntwoman to teach the ladies of GLOW to wrestle.
"She comes and auditions for this wrestling show that she doesn't even know what it's all about, but it intrigues her," Noel revealed. "She ultimately starts teaching the girls how to wrestle even though she doesn't really know wrestling. It's almost like she's the madam for the girls."
After years of using her unique skill set to make others look good, Cherry's determined to do something for herself. Joining GLOW provides her that opportunity and she's not going to let anything stand in her way. Cherry never dreamed the wrestling ring would be the platform on which she skyrockets to fame, but she's embracing it fully in "Glow."
"Cherry has worked her whole life for someone else, making someone else look good. She sees this opportunity as her time to shine and have people cheering for her and not other people," Noel said of her character's moment in the limelight. "It's something she's never felt before. Everything that's going on with these women is very new."
Her struggle to get the moves down pat is one Noel can relate to. Before joining the cast of "Glow," she had absolutely no wrestling experience — "I never even thought about wrestling," she told IBTimes with a laugh. Noel was, as she always is, up for the challenge however.
"Anything physical I always take head on," she said. "I'm totally a tomboy. I'm totally that girl that will go after it."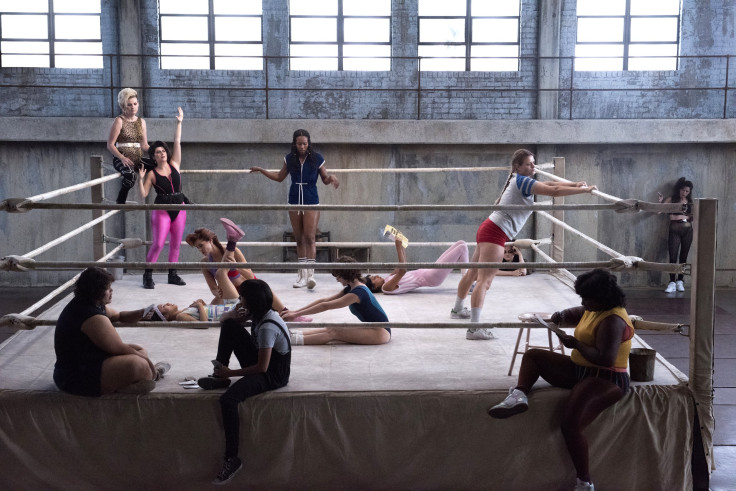 Once she got the hang of it, Noel truly transformed into Cherry. One specific moment, with extras cheering from all sides of the ring, felt especially real for the "Glow" actress and her co-stars. Noel described shooting the scene as "a natural high," adding that it was "unlike anything ever."
"The entire area was filled with extras cheering us on, it wasn't even fake. We were wrestling, so all the moves I was doing they were like, 'Whoa! Oh my gosh,' and I really got to feel that rush of people enjoying what I'm doing," she recalled to IBTimes. "I was in this gold leotard, my hair had sparkles in it. I just was on a natural high."
Noel and Cherry's shared go-getter attitude is one that "Glow" fans will undoubtedly hail as empowering, and rightfully so. The Netflix original series centers on a group of women doing the unthinkable — making their mark on an industry once thought to be a boys club. The concept is not unfamiliar to Noel, who's been trailblazing in the male-dominated world of acting for years.
"I want to play role that are very empowering for women. I wanna show people that women can do things just as good as men," she said. "I see the men's role and I'm like, 'I could do that! I can' definitely do that!' I think as women, there should be more roles out there for us."
She continued, "Look what happened with 'Wonder Woman.' They didn't even think that was going to do good and it's dominating! We need more films like that, we need more TV like that. We need to show that women can do anything."
With that in mind, the "Glow" star urges young viewers — male and female — to set goals and be distinct. Set out on the path to achieve your dreams and don't give up because, as Noel pointed out during her interview with IBTimes, there's always going to be someone not far behind who'll gladly sneak up from behind and snatch it from you. This philosophy has helped push her career to reach new heights.
"Whatever your goals are be specific, know what it is. Go after it and don't stop. As soon as you stop there's somebody behind you that's going to get it," she warned. "When I said I was going to be an actress, I told myself I wanted to book roles that were physically demanding. I booked ['Glow']. Weeks later I had an audition for 'Black Panther,' and that's physically demanding, and I booked that."
Read: 'Glow' Star Britney Young On How The Show Empowers Women
"Glow," with its feminist themes and smashing of gender norms, met all Noel's expectations for any role. It forced her outside her comfort zone, pushed her body to the limits and is set to delight fans. Her only remaining hope is that the show is something the original GLOW women can be proud of.
"There is kind of pressure that the women who did it back then, of all [viewers], I want them to love the show," Noel said. "There was a little pressure where I was hoping those women would be like, 'This is unbelievable.'"
"Glow" is now available for streaming on Netflix.
FOR FREE to continue reading
✔️ Unlock the full content of International Business Times UK for free
offer available for a limited time only
✔️ Easily manage your Newsletters subscriptions and save your favourite articles
✔️ No payment method required
Already have an account? Log in
© Copyright IBTimes 2023. All rights reserved.