Gold Prices Ease on Rising Dollar, Slowing Chinese Economy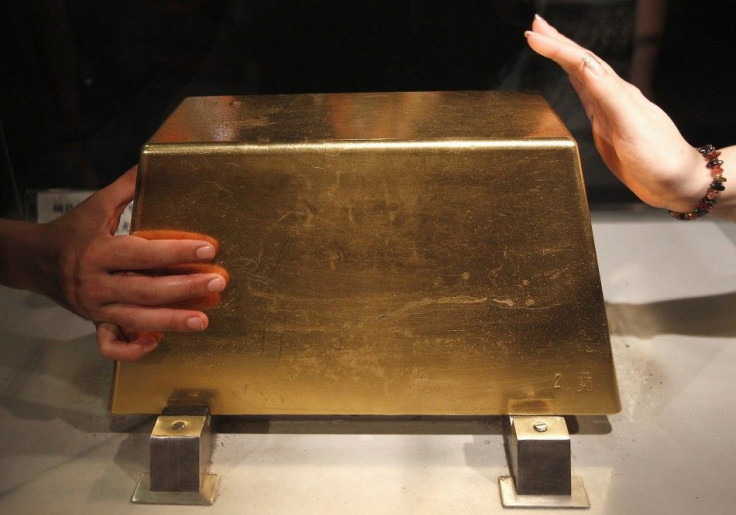 Gold prices eased Thursday as a rising dollar, boosted by signs the world's No. 2 economy is slowing, offset steady Asian and central bank demand for the yellow metal as well as safe-haven buying by Euro-wary investors.
Chinese customs data showed export growth falling last month more than expected, while import growth also slowed.
That lifted the dollar, which also got a boost from a European Central Bank report warning about the possibility that the region's bond holders should brace for losses as banks tally the damage from a Greek default.
That hammered the euro, already burdened by a host of other related factors that currency buyers are closely monitoring.
We need to see recognition that France and Germany are on the same page, and the recognition that officials are looking for a pan-European solution, rather than national ones. Also, the rescue fund has to be large enough to be able cope with the scale of the problem, Jeremy Stretch, currency strategist at CIBC.
A weakening euro has recently meant a rising dollar, which competes against gold as a safe-haven investment.
Other forces were putting a floor on gold prices. Besides strong buying of gold jewelry by Indians ahead of their Diwali festival and continuing purchases of bullion by Chinese, the yellow metal's price also rose on central bank buying.
We fully expect that official sector foreign exchange reserves updates will show quite sizeable gold additions for September and October, UBS strategist Edel Tully said.
That the bulk of the buying has come from countries at the lower end of the range in terms of gold holdings as a percentage of overall reserves suggests that reserve managers are now trying to catch up, in an effort to further diversify their foreign reserve holdings.
Gold for December delivery slipped $11.30 to $1,671.30, while gold for immediate delivery fell $7.26 to $1,671.81.
Silver for December delivery declined 74 cents to $32.05 , while silver for immediate delivery was off 45 cents to $32.15.
© Copyright IBTimes 2023. All rights reserved.