Golden Globes 2016: Mel Gibson Buries The Hatchet With Host Ricky Gervais [VIDEO]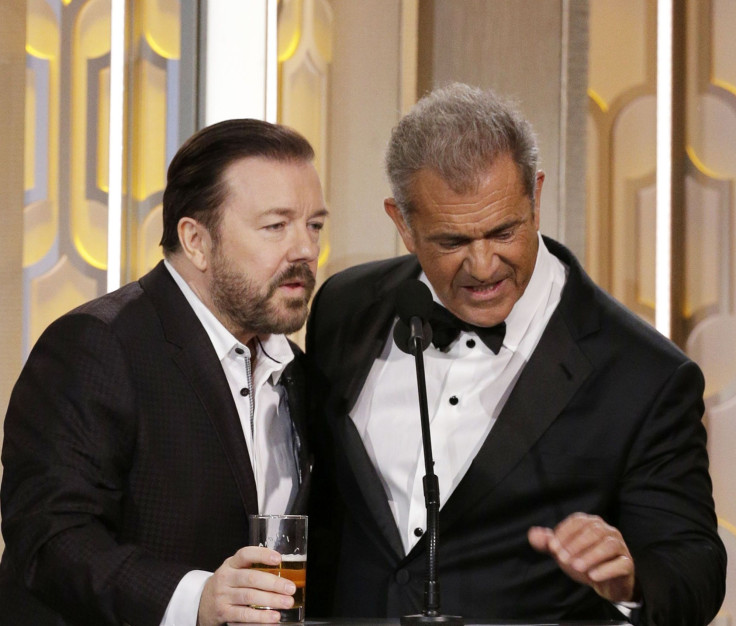 Have Ricky Gervais and Mel Gibson finally buried the hatchet? It doesn't seem like the two men will ever be best friends, but during Sunday's 73rd annual Golden Globe Awards they were able it to hug it out and put on a smile.
In 2010, while hosting the Golden Globes, Gervais found himself on Gibson's bad side when he took a jab at the actor's drinking. Not one to bite his tongue, Gervais poked fun at Gibson again during Sunday's broadcast.
Before the "Mad Max" star came out on stage, the 54-year-old comedian jokingly noted how awkward it was to be introducing Gibson.
"I'm sure it's embarrassing for both of us," he said. "And I blame NBC for this situation. Mel blames… we know who Mel blames."
Gervais was referring to the actor's comments in 2006 during a DUI arrest in which he ranted about Jewish people to a police officer.
"F----ing Jews ... The Jews are responsible for all the wars in the world ... Are you a Jew?" Gibson said at the time.
Gervais continued to poke fun of Gibson, telling the crowd: "Mel's forgotten all about it, apparently. That's what drinking does. I want to say something nice about Mel before he comes out. ... I'd rather have a drink with him in his hotel room tonight than Bill Cosby."
As the audience roared with laughter, Gibson fired back with a jab of his own.
"I love seeing Ricky once every three years because it reminds me to get a colonoscopy," he quipped.
In the end, the two were able to laugh about it and even hug.
© Copyright IBTimes 2023. All rights reserved.