'The Good Place' Season 2, Episode 7: Michael Tries To Fix Janet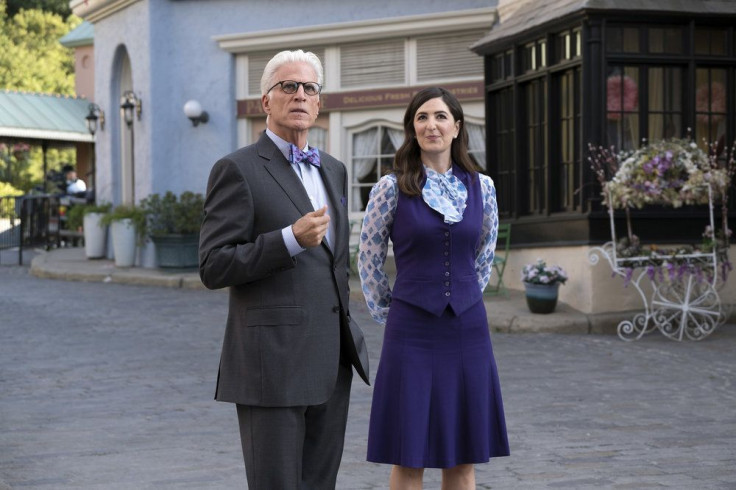 Michael attempts to figure out what's wrong with Janet in next week's episode of "The Good Place."
According to the synopsis for Season 2, episode 7 of "The Good Place," Michael (Ted Danson) has to resolve the issue with Janet (D'Arcy Carden) before it gets out of control.
Janet has begun to experience some weird stuff since she started to help Tahani (Jameela Jamil) and Jason (Manny Jacinto) work on their relationship in Season 2, episode 6. When Janet said that she would "feel great" about giving the two couples therapy, her right thumb detached from her hand and flew into the air like a balloon. When Tahani asked what was happening, Janet said that she wasn't sure. "My guess is I'm operating in a way I'm not designed for, and it's creating a small glitch," Janet said.
Later in the episode, Janet strangely threw up a frog when she told Tahani and Jason that she's happy for them. And after telling the couple the same thing a month later, the whole neighborhood was shaken by an earthquake.
At the end of the episode, Janet took the problem to Michael. "I am wrong," Janet told the afterlife architect. "I can't stop glitching. I don't know why, and it's getting worse. I fear this neighborhood is in danger of total collapse."
While the real reason behind Janet's issue remains unclear, a popular fan theory suggests that Janet can't stop glitching because she's pretending to be happy for Tahani and Jason. As fans know, Janet was once married to Jason, and even though she has already been rebooted 802 times, series creator Michael Schur teased to Variety that Janet might have memories of previous events.
"When Jason's wiped clean, that's it, he doesn't remember having any emotional feelings for Janet," Schur said. "The question remains what is it like for Janet, obviously, because she's not exactly a human being. Janet ostensibly has been rebooted again, and she shouldn't have any memory of him either. But that is something that we'll get into later in the season."
What do you think is the cause of Janet's glitching? Share your theories in the comments section below!
"The Good Place" Season 2, episode 7, titled "Janet and Michael," airs on Thursday, Oct. 26 at 8:30 p.m. EDT on NBC.
© Copyright IBTimes 2023. All rights reserved.
FOLLOW MORE IBT NEWS ON THE BELOW CHANNELS