Google Transparency Report: Governments Intensify Efforts To Censor Internet Content
Latest Transparency Report Shows Rise In Government Efforts To Censor Content
According to Google's latest transparency report that was released on Thursday, the government is putting more effort toward controlling content online than ever before.
"From July to December 2012, we received 2,285 government requests to remove 24,179 pieces of content — an increase from the 1,811 requests to remove 18,070 pieces of content that we received during the first half of 2012," Susan Infantino, Google's legal director, said on the company's official blog.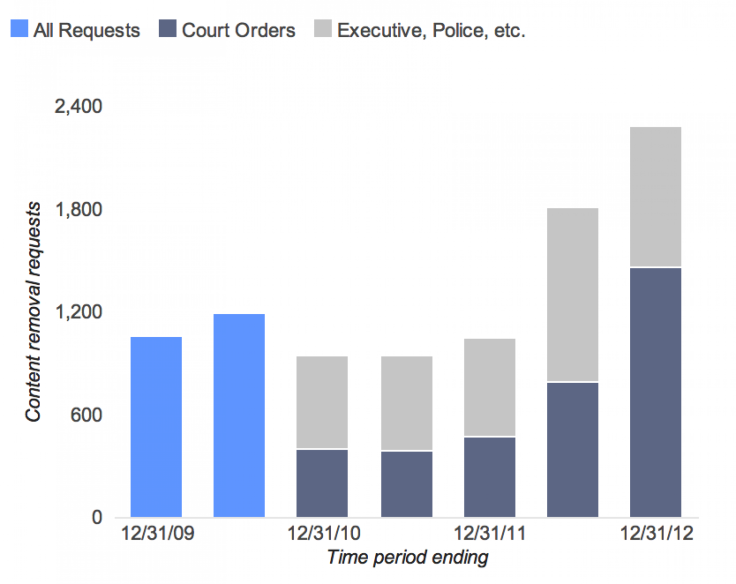 The requests aren't limited to the U.S. government, however. Infantino wrote that Google has received court orders from several countries to remove blog posts that are critical of governments and officials.
Google saw a drastic increase from Brazil – from 191 requests to 697, an average of 3.5 court orders per day. Half of these requests were to remove defamatory blog posts on candidates in municipal elections. Commentary that offends candidates is forbidden by the Brazilian Electoral Code.
Requests from Russia also increased from six to 114, thanks to a new law aimed at protecting children from "harmful Internet content." The report said 107 of the requests cited this law.
Twenty different countries submitted requests to remove videos featuring the "Innocence of Muslims," video, which was blamed earlier this year for inciting violence in the Middle East.
Google launched the transparency report three years ago in an attempt to reveal the efforts that governments take to censor information.
"The information we share on the Transparency Report is just a sliver of what happens on the Internet," Infantino wrote. "But as we disclose more data and continue to expand it over time, we hope it helps draw attention to the laws around the world that govern the free flow of information online."
You can find more specific data on removal requests from specific countries in the footnotes.
© Copyright IBTimes 2023. All rights reserved.