Google's Homepage Getting A Makeover? 'Google Now' May Be Coming To Search Engine's Main Page
The Search Engine Tests Adding Google Now To Its Primary Search Page
The minimalist design of Google's homepage may have helped make the search engine an international icon, but it will be getting a big update very soon. The Google Operating System blog noticed test codes showing some of the main features of Google Now -- a central feature of the Android operating system -- and these codes indicate that Google plans an even wider rollout of the predictive personal assistant.
No one is certain how it will look, but the codes show that users will be able to edit different locations -- such as home, work and current -- to get customized information like weather, traffic conditions, nearby places and stock updates. A screenshot of a "new tab page" extension from Google gives a preview of how the implementation of Google Now may look.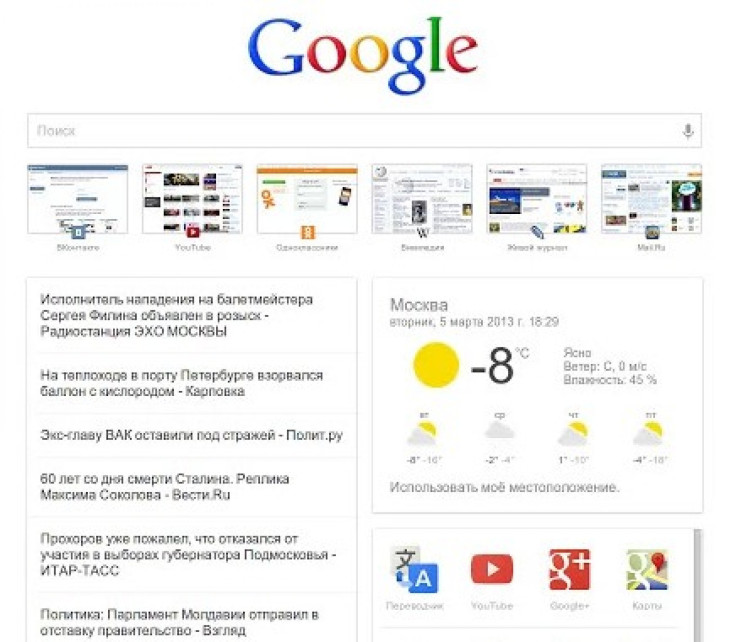 These Google Now "cards" could replace the functionality of iGoogle, which allowed users to add custom boxes to their Google homepage. Google announced last July that it will retire iGoogle in November, stating that modern Chrome and Android apps have replaced the need for it.
Google Now has been considered one of Android's "killer apps," providing a competitor to Apple's Siri and Passbook functionality on iOS. With a remarkable ability to learn, predict and display information based on data like location and time of day, many see it as far superior to Apple's apps. Google Now uses a system of 25 cards that provide customized information on things like birthdays, restaurants and boarding passes.
This isn't the first time rumors have circulated about an expansion of Google Now. Versions for Chrome and Chome OS have been spotted, and a video indicating a version for iOS appeared on YouTube in March before it was quickly pulled.
With Google's I/O conference coming in May, a massive rollout of Google Now could be a main attraction alongside Google Babel and new Nexus devices. Updating the iconic homepage would be a big statement by the company about Google's overall investment in it, and could help bring a lot more users to it.
© Copyright IBTimes 2023. All rights reserved.