GOP Debate Lineup: Rand Paul Sounds Off About Undercard Invite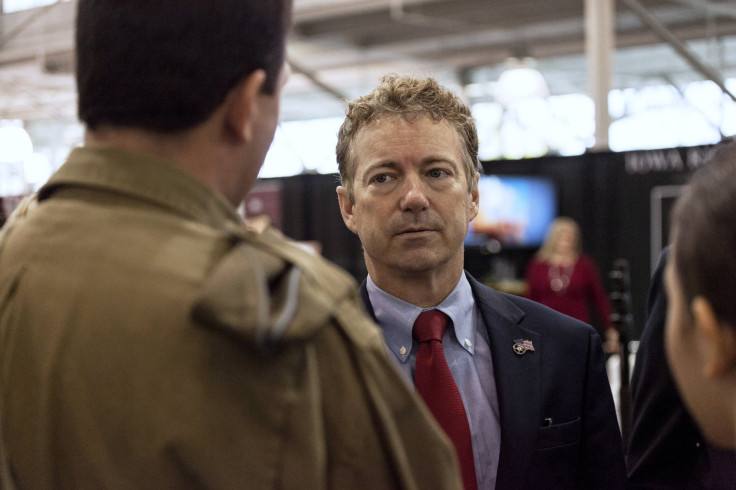 A bitter Rand Paul declined Fox Business Network's invitation Monday to the Republican Party's so-called undercard debate. The Kentucky senator let supporters know Monday that he was less than thrilled about not making the cut for Thursday's prime-time event in North Charleston, South Carolina.
"By any reasonable criteria Senator Paul has a top tier campaign," Paul's campaign said in a statement on his official site. "He will not let the media decide the tiers of this race and will instead take his message directly to the voters of New Hampshire and Iowa."
Paul said he does not seriously regard the undercard debate. "An artificial designation as being in the second tier is something we can't accept," he told CNN. "I won't participate in anything that's not the first tier."
If he were to attend, Paul would join former Hewlett-Packard CEO Carly Fiorina, former Arkansas Gov. Mike Huckabee and former Pennsylvania Sen. Rick Santorum in the evening's earlier debate. In a statement, Paul slammed the Fox Business Network debate criteria as "faulty."
"Even the pollsters are concerned that the media is using their polls incorrectly," Paul said. "Polls are at best an estimation, and include a standard of error that the media and the RNC [Republican National Committee] are ignoring. A poll number of 5 is no different than a poll number of 8 if the standard of error is +/- 3. To exclude candidates on faulty analysis is to disenfranchise the voter. Creating 'tiers' based on electoral results of real votes might make sense but creating 'tiers' on bad science is irresponsible."
Real estate mogul Donald Trump will claim center stage at the prime-time debate as the leader in the polls. He will be joined by Texas Sen. Ted Cruz, Florida Sen. Marco Rubio, retired neurosurgeon Ben Carson, former Florida Gov. Jeb Bush, New Jersey Gov. Chris Christie and Ohio Gov. John Kasich.
© Copyright IBTimes 2022. All rights reserved.
FOLLOW MORE IBT NEWS ON THE BELOW CHANNELS