Video: Trump Says Wants To Be 'Unpredictable', Bush Challenges Trump To Debate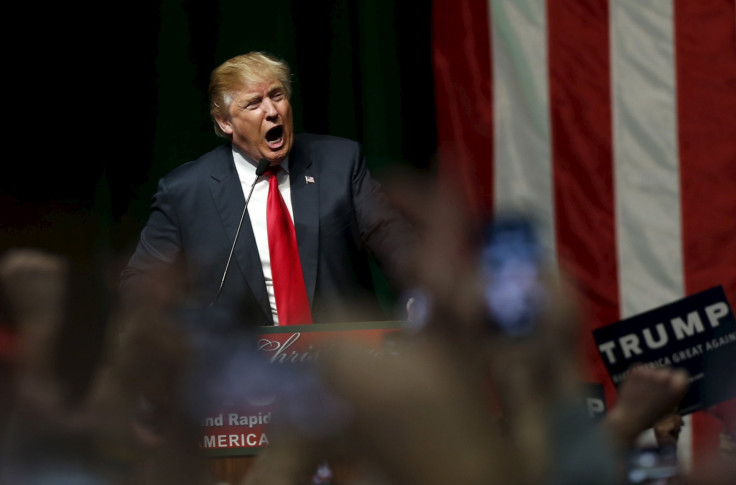 U.S. Republican presidential hopeful Donald Trump on Monday told supporters he wanted to be "unpredictable" in a speech for supporters in New Hampshire, while competitor Jeb Bush said he wanted a chance to debate Trump one-on-one.
Before a boisterous crowd in Nashua, Trump lambasted the local paper, calling its publisher a "lowlife", dug into his fellow candidates and criticized U.S. President Barack Obama to the boos and calls of supporters.
Trump said he believed Obama would try to use an executive order to repeal Americans' right to bear arms.
"I think he's going to try and do a second, some kind of an executive order on the Second Amendment, just based on what I'm feeling and what I'm seeing. And I'll tell you what - that's going to be a rough one because there's nobody more impassioned than the people thatbelieve strongly in the Second Amendment," Trump said.
In the wide-ranging speech, Trump bounced briskly from internal to international affairs and interspersed campaign ideas as he read from poll results.
The businessman said he tired of seeing administration officials lay out plans in interviews.
"I want to be unpredictable. I want to be General Patton. I want to be General Douglas MacArthur We want to go in, we don't want them to know what the hell we're doing. We have to go in, and a lot of people love it when I say that," Trump said.
At an event in Florida earlier in the day, Bush called out Trump for his divisiveness.
"You can't insult your way to the presidency. That's never happened in the past, and it won't happen now. And so,
look it's been a little bumpy ride since in the post-12 era. People are deeply anxious and angry about Washington D.C. not working, and so I respect that, and I understand that but I want to win. And the only way you win is to recognize that to get to a win you have to get to 50. To get to 50, you have to draw people towards your cause rather than push them away. And so we've got work to do in that regard. One particular candidate comes to mind," Bush told supporters at the Forum Club of the Palm Beaches.
Bush challenged Trump to debate him on the issues.
"So Donald, I'll take you on one-on-one in a debate - any time any place you name it and I'll do it," Trump said.
In a national rolling five-day Reuters/Ipsos survey issued on Dec. 24, Trump polled at 39.3 percent among Republicans, followed by Senator Ted Cruz at 12.8 percent, retired neurosurgeon Ben Carson at 9.6 percent and Senator Marco Rubio at 8.5 percent.
In that survey, Bush polled at 6.1 percent, behind "wouldn't vote" at 7.4 percent.
© Copyright IBTimes 2023. All rights reserved.
FOLLOW MORE IBT NEWS ON THE BELOW CHANNELS