'Gotham' Season 2 Spoilers: Robin Lord Taylor Teases Penguin's Return To Crime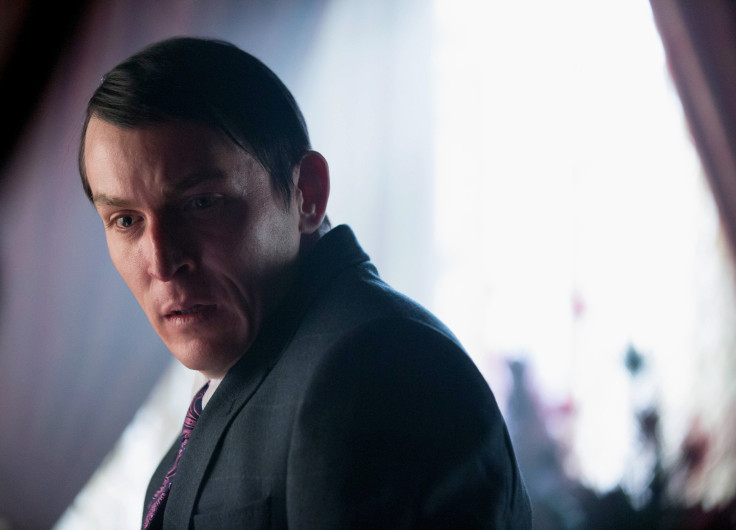 After spending time in Arkham Asylum and getting brainwashed by Hugo Strange it looked like the Penguin fans had come to love was gone on Fox's "Gotham" Season 2. Penguin finally snapped in episode 17 after putting up with abuse from his stepfamily and learning they killed his father. The "King of Gotham" will now set his sights on getting his throne back.
In an interview with TV Guide, Robin Lord Taylor said Penguin has been humbled by everything he has gone through in Season 2, including losing his father Elijah (Paul Reubens), his mother Gertrude (Carol Kane) and his sanity. He added that Penguin will try to get back to where he was, while fans will sympathize with the villain more even as he descends further into darkness.
"The first thing that's going to happen is he's going to re-evaluate his strategies and try to learn from the mistakes that he made in this last season so when he comes back to being King of Gotham, people won't be able to get one over on him so easily," Taylor dished. "He became the most human this year, and yet because of that going forward he will become the most ruthless animal he can possibly be. It's a balance between the two."
In episode 17, Penguin committed one of the most evil acts he ever has on the series. After constant mistreatment by his stepmother Grace (Melinda Clarke) and stepsiblings, Charles (Justin Mark) and Sasha (Kaley Ronayne), the Batman villain once again became a killer. He killed Charles and Sasha then cooked them and fed them to his stepmother before he stabbed her. It's expected Penguin will next turn his attention to the crime underworld of Gotham City.
When Penguin went away, Butch (Drew Powell) took over the crime scene and Tabitha Galavan (Jessica Lucas) joined him after the murder of her brother Theo (James Frain). With Penguin set to try to take back what is his, the final episodes of "Gotham" Season 2 should be very interesting. Theo is expected to return in episode 18 thanks to Strange (BD Wong), while it has also been reported that Fish Mooney (Jada Pinkett Smith) will be back for a few episodes. The fight could be a major one as the three crime lords battle it out with one another for control of the city.
"Gotham" Season 2 airs Mondays on Fox at 8 p.m. EDT.
© Copyright IBTimes 2023. All rights reserved.