Government Shutdown 2013: The Impact On National Parks, Museums And US Travel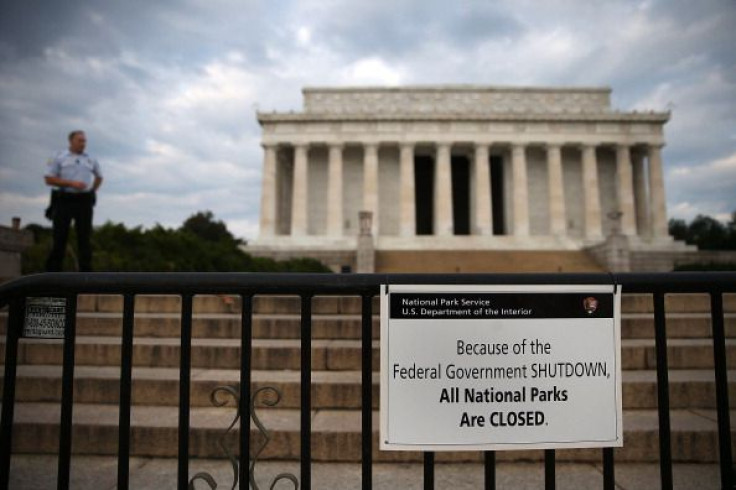 After failing to pass a continuing resolution to fund the government Monday night, the U.S. began a partial shutdown on Tuesday that could affect one group much more than others: travelers. And it's not just the travelers themselves, but the businesses that depend on them.
"Previous experience tells us that a shutdown unnecessarily disrupts economic activity in communities large and small that depend upon travel spending for employment and tax revenue," explained Roger Dow, president and CEO of the U.S. Travel Association.
Though furloughs are expected to have minimal effect on travel by air and land, many processes integral to the travel experience may be delayed. Moreover, several popular destinations across the country will be forced to shut their gates.
"The closure of national parks and federal historic sites to millions of travelers -- coupled with the general perception of an uncertain travel process -- would do serious and immediate harm to the economy," Dow continued. "While we recognize that basic travel functions will continue, we are concerned that federal agencies will quickly be forced to implement shutdown policies that will damage the travel experience and derail long-term, bipartisan investments in our travel infrastructure."
So what exactly will happen Tuesday? Here's a look at how the shutdown will affect five components of U.S. travel.
National Parks
Anyone looking to get in an early fall trip to watch the leaves change at Yosemite, Yellowstone, the Great Smoky Mountains or any other U.S. National Park will likely find gates closed Tuesday. If it's a park without a gated entrance (or one bisected by a major highway), visitors can expect all facilities to be shut down. Those currently camping or hiking in the parks will have just two days to vacate, depending on the remoteness of their location. But it's not only the natural wonders that will be off limits to tourists. The National Park Service manages everything from Philadelphia's Liberty Bell and Independence Hall to New York's Statue of Liberty, meaning these historic sites will be shuttered to the thousands of people who visit them each day. All told, some 401 federally run parks and attractions will close until the government can reach a funding deal, potentially affecting the travel plans of millions.
Museums
The federal government shutdown will hit tourists to the nation's capital the hardest, where all 19 museums and galleries run by the Smithsonian Institution will close their doors. To put into perspective just how many people that will affect, last week the institutions saw a combined 400,000 visitors. Monuments like the Lincoln Memorial will also be closed, as will the National Zoo, where the beloved baby panda cam will go dark. Further north in New York, two other Smithsonian-run museums will close Tuesday: the Cooper-Hewitt National Design Museum and the National Museum of the American Indian George Gustav Heye Center.
Airports
Transportation Security Administration Press Secretary Ross Feinstein has said that nonessential employees (such as himself) will be furloughed Tuesday, though the majority of employees who screen passengers and luggage will remain on the job. The agency said there is a possibility of some delays, but he said there would be the same level of security as always. All scheduled federal air traffic controllers will remain on the job, while airlines have told passengers to expect business as usual.
Passports
While the U.S. State Department will continue to issue passports and visas (funding for these services comes from fees rather than appropriations), some passport offices located in federal buildings may shut down operations. The U.S. State Department said all U.S. embassies and consulates around the world will remain open, but history has shown that one should expect delays. A report by the Congressional Research Service found that during the previous government shutdown in 1995-1996, 20,000 to 30,000 applications from foreigners for visas went unprocessed every day, as did another 200,000 U.S. applications for passports.
Borders
U.S. Customs and Border Protection said it was unsure how the shutdown would affect processing, but it assured that officers would remain on duty at all checkpoints on Tuesday. Delays, however, may be inevitable, with staffing more limited than usual.
© Copyright IBTimes 2023. All rights reserved.